ArtCenter College of Design
IF: Journal of Interactive + Inclusive Futures
Future Shoppertainment
Darae Kim, Yihan Luo, Ruoxiao Sun
Future Shoppertainment
The shopping experience keeps evolving in both physical and digital areas. The pandemic has rapidly accelerated the technology and service to adopt in many businesses. Along with this trend, customers' needs for shopping experiences became more specific not generic anymore. Our team starts to think about how we can empower the customers with a seamless shopping experience not only digital but also physical approaches.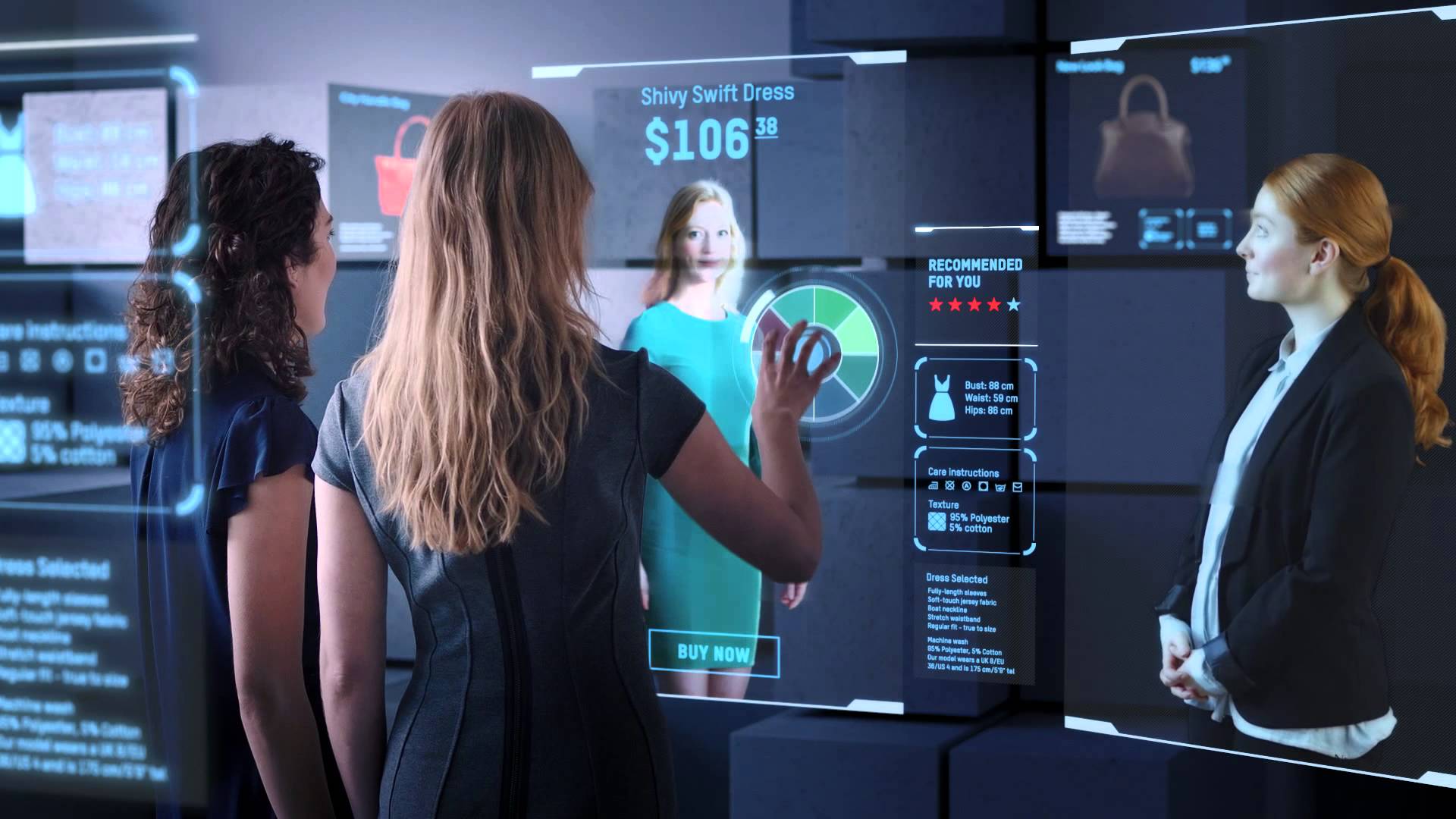 Mission
To provide seamless and personalized cross-functional retail shopping service to get a new interaction and engagement in physical and digital space. We want to help sustainability through this service and encourage people to buy more viable products that last longer. Through this shopping experience, people can collect digital things to reduce consumption to support environmental issues around us. We believe these approaches will integrate their value with their consumption in everyday lives.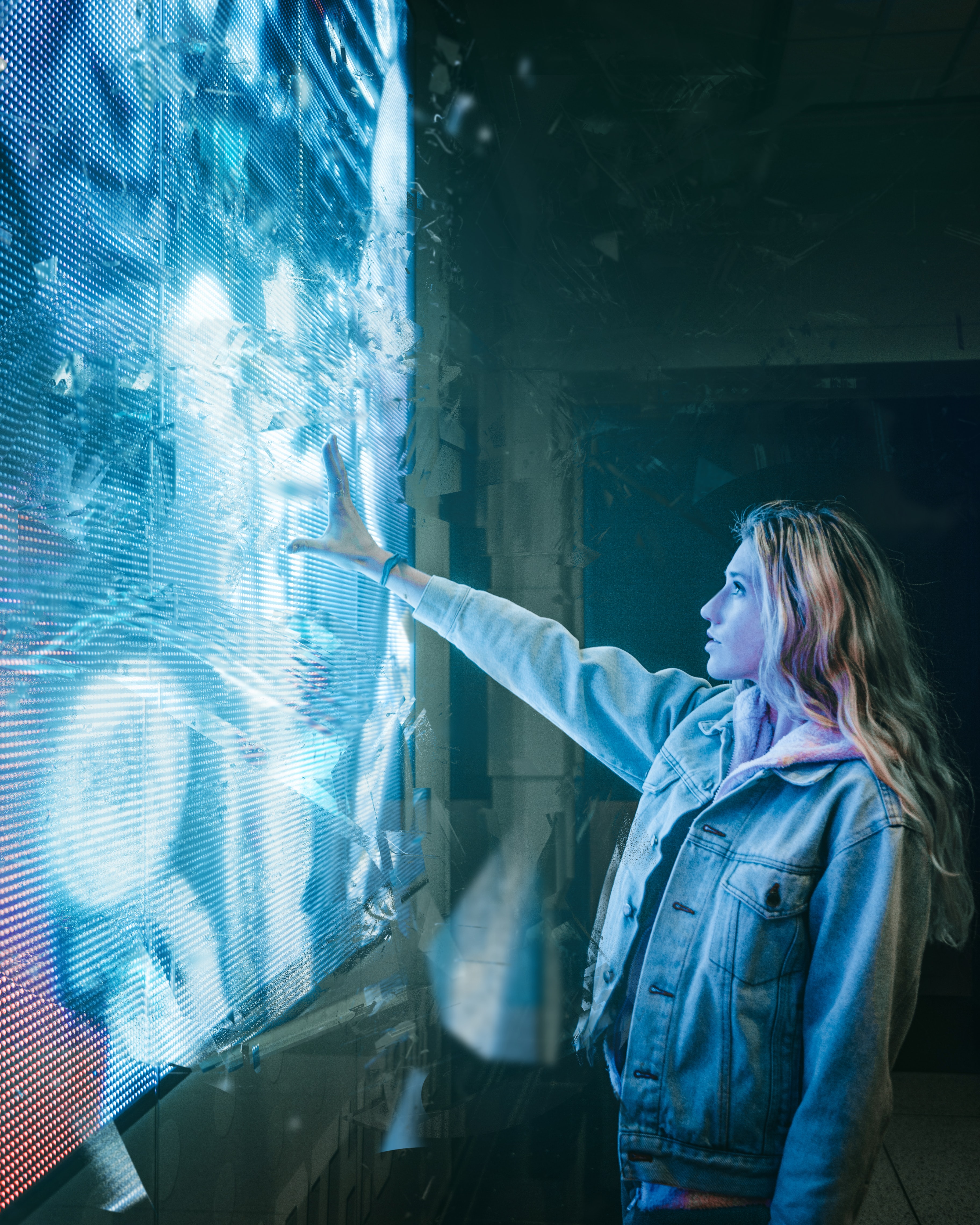 Future Retail Experience in 2030
By 2030, technology improvement and innovation will lead to the changing of human lives vastly. AI personal assistants become ubiquitous to be applied to improve human lives online and offline. Furthermore, business practices, individuals' work lives, and the larger economy will substantially change by 2030. In this period, massive unemployment will happen due to replacing labor with the automation system. Climate change is a significant issue in that era, and other environmental problems will inspire innovation out of necessity.
The retail industry expects to get a "second wave" to put more value in delivering value to the customers wherever they want to be rather than physical stores compete with e-commerce. The store will no longer primarily focus on selling products and try to find more opportunities to establish the way of relationship with customers in various approaches. The digital shopping experience will become more diverse by adopting different technology types to make them personalized and customized. Our system can contribute to reduce the carbon footprint and enhance sustainability by using less energy.
Energy Trends
Renewables energy, No more fuel energy, Self-generating power
Climate Trends
Global warming, Sea-level rise globally, High-tide flooding in East coast of USA, Slower and stronger Hurricane, Drought, Wildfire, Rise of sea temperature
Fashion Trends
Genderless fashion, 3D printing accessories and more, Color-changing clothes, Self-cleaning textile, No seasonal fashion, Clothing using as interface, Automatic temperature control
Economic Trends
Increase using cryptocurrency, Increasing automation for replacing the blue collar job, Increase of digital commerce, Appear of Information poverty.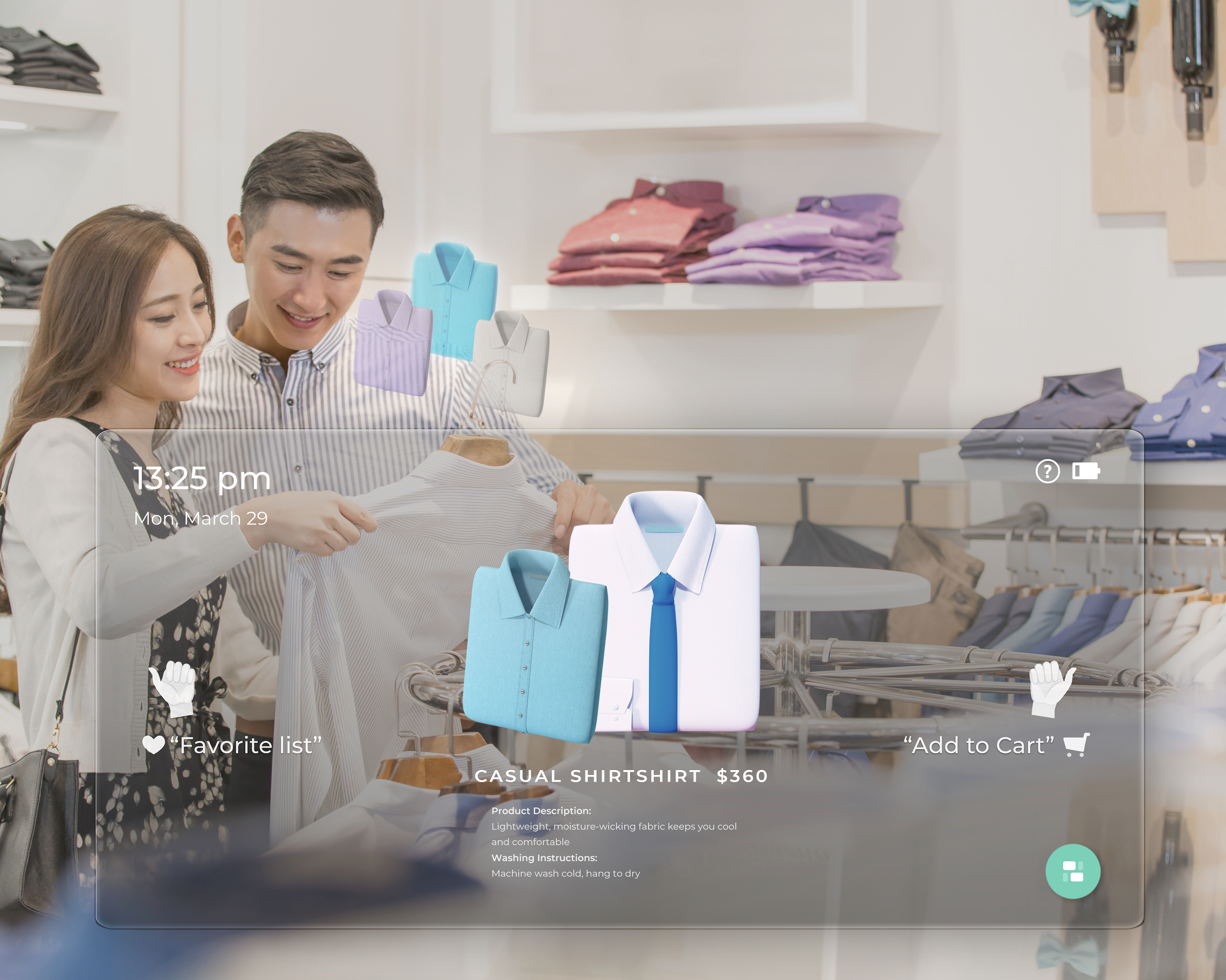 Smart Lenses
The retail experience in smart lenses will address a new way of shopping experience for the customers. People can scan or take photos of other people or the environment to find what they want by using AI and machine learning technology. These smart lenses activate with gesture and voice control for an accessible and seamless shopping experience.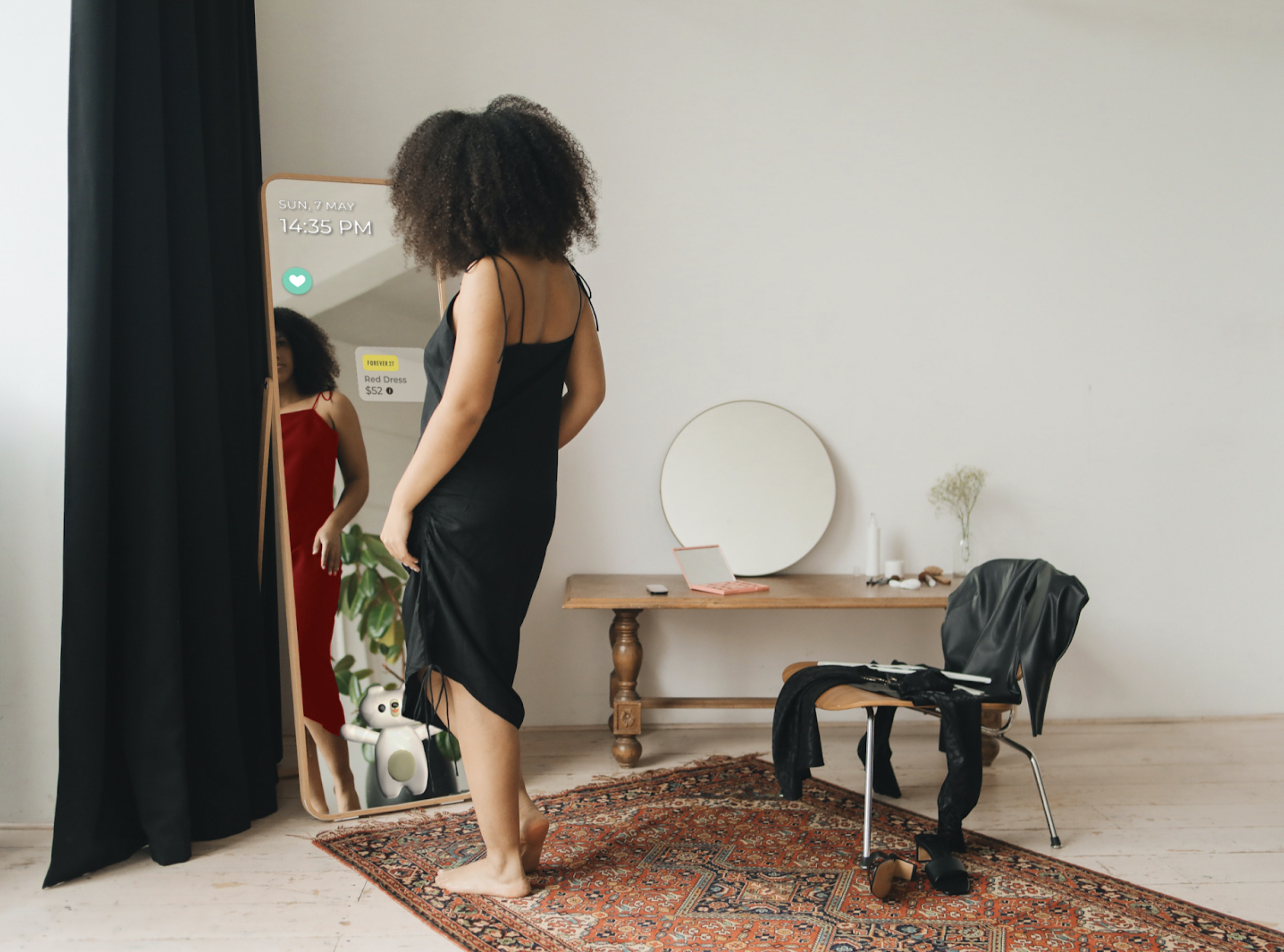 Smart Mirror
The smart mirror will enhance the in-home retail shopping experience by giving the advantage of online stores while reducing returns and environmental waste by creating more sustainable and customized experiences using AI-enabled digital technologies. Users could try on the air clothes to check if it is adaptable for them and easily check out the item.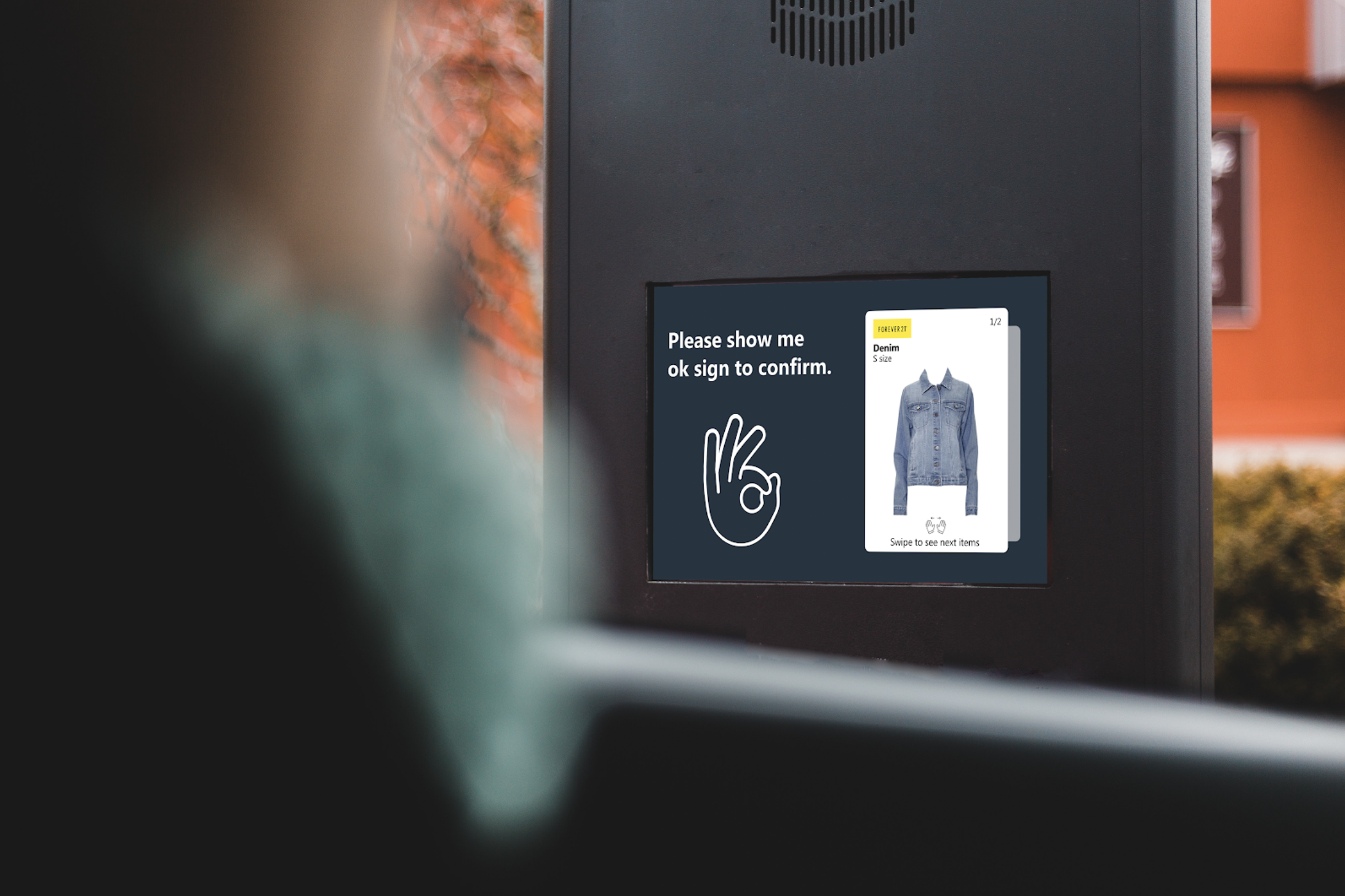 Pickup Station
The importance of retail spaces is declining instead retail experience becoming a virtual experience. Pickup stations, delivery, and drive-through will replace the walk-in store experience for many consumers. Pick up station will be the place to connect the online experience to the physical environment as an omnichannel hub. It will reduce the long waiting time in the physical store and delivery time to get the packages. Drive-through and walk-in pickup stations will help people get items very quickly using facial recognition, voice interaction, and gesture recognition.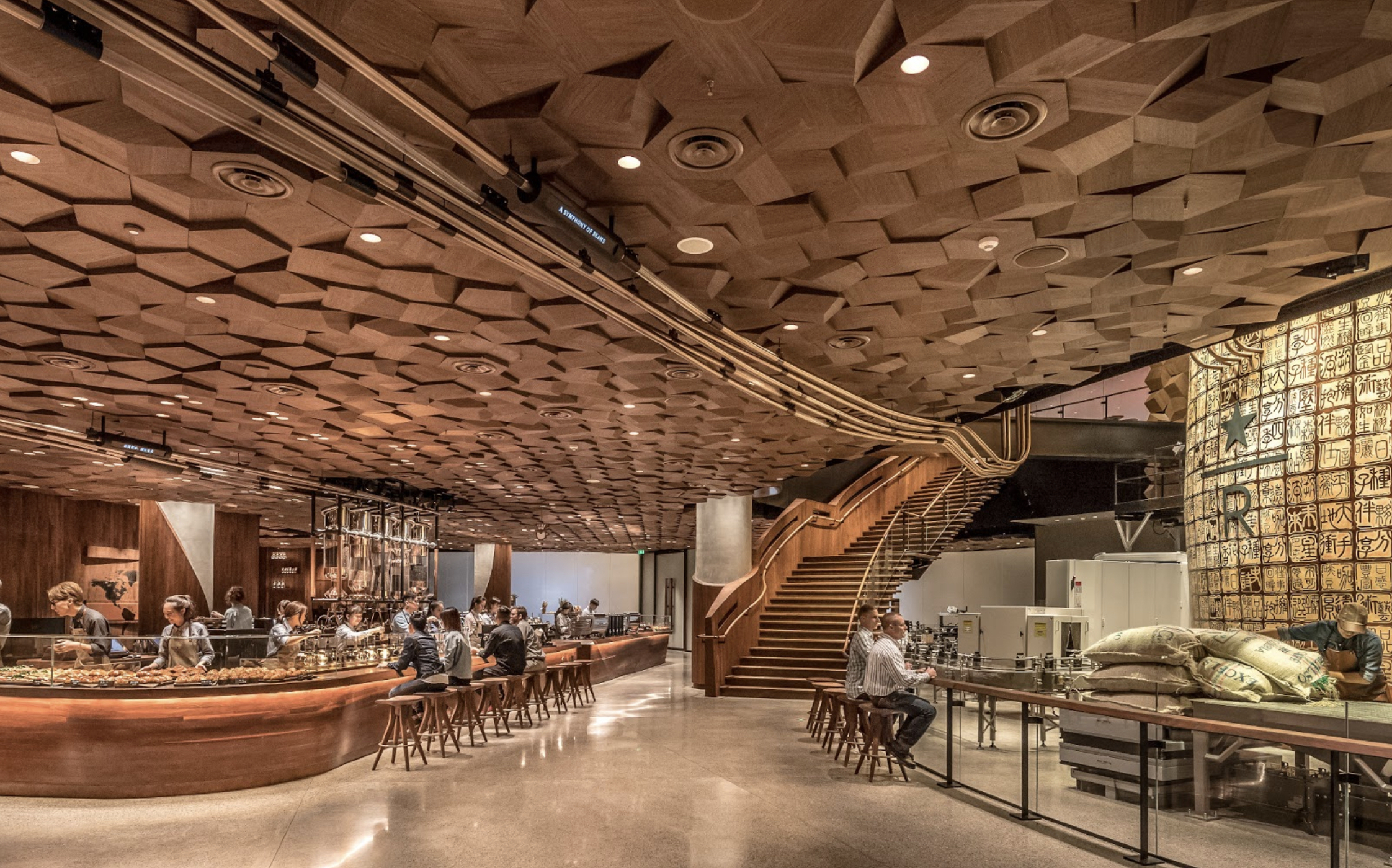 Research: Culture
When online shopping gradually becomes mainstream in the retail market, physical stores are trying to attract the original customers by creating concept stores, which is a multifunctional space or union of culture and commerce. For instance, Starbucks in Amsterdam made a laboratory store for selling coffee-making experiences and coffee-related products. The delivery of in-store experiences captures customer engagement and loyalty.
Also, each brand started to think about building unbreakable brand culture. Deep and rich cultural connotations may make communication channels form a high degree of consumer identification with the brand in spirit to have substantial brand loyalty.
Even some brand culture or concept stores could be virtual, such as Moore Park, which is a website game that players can choose mole- avatars, decorate their virtual homes, adopt pets and socialize with other players. They can wander through the virtual streets, chat with users, go shopping, work, and play games.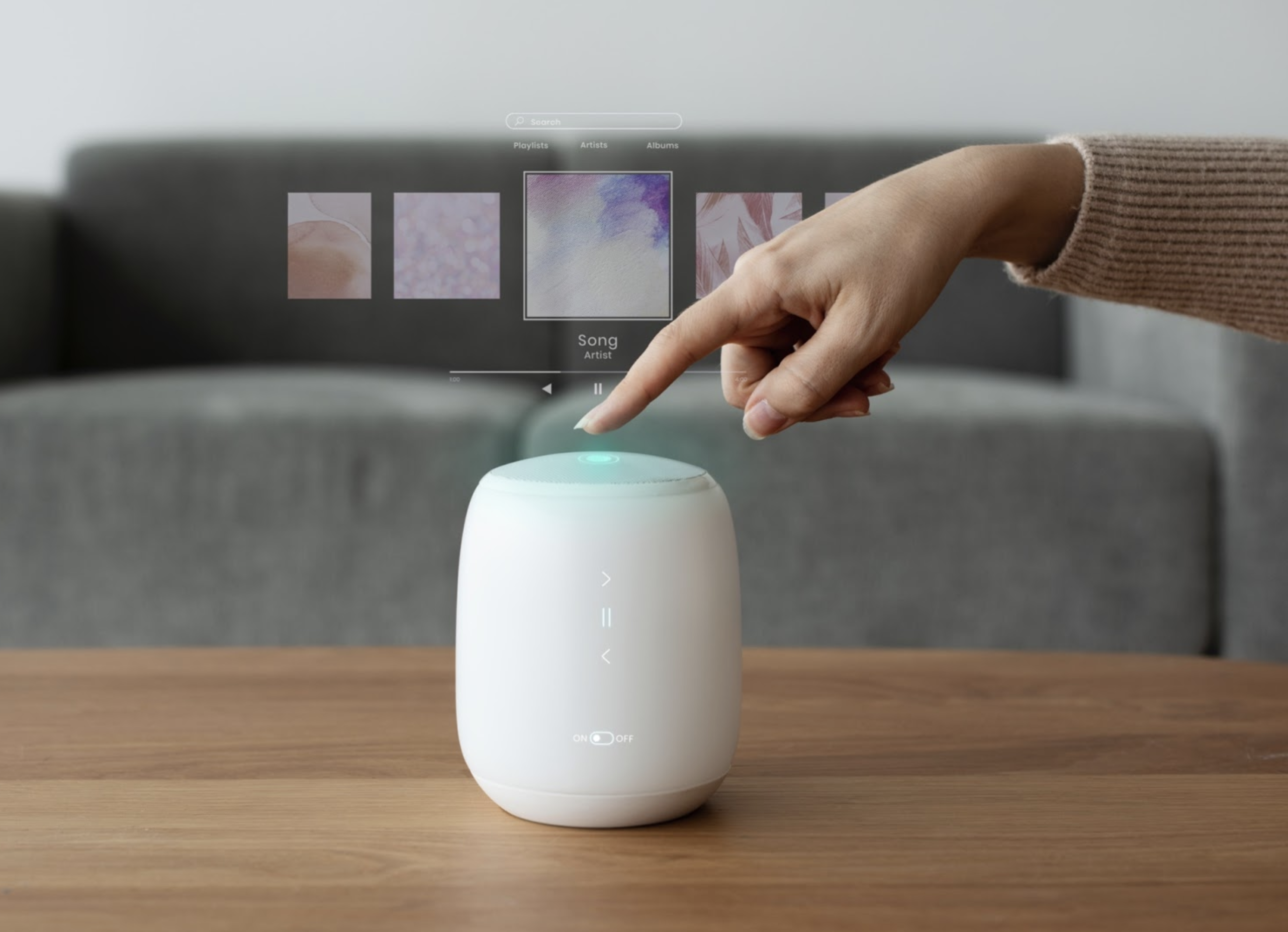 Research: Technology
In the next decade, AI-driven personalization, AR/VR interfaces, and sensor-geared smart environments could turn today's "shopping center" into a booming, invisible platform for education, entertainment, digitally enhanced community, and new business models we've never even imagined.
- Modified Wii sensor and motion capture in smart mirror or phone (map body precisely for sizing)
- Variety of cameras and sensors (instantly deducted pay from people's bank account)
- AI assistant(after sale, orders other things from the manufacturer and texts an employee to restock the now empty hanger.)
- Lenses
- Bio-recognition sensors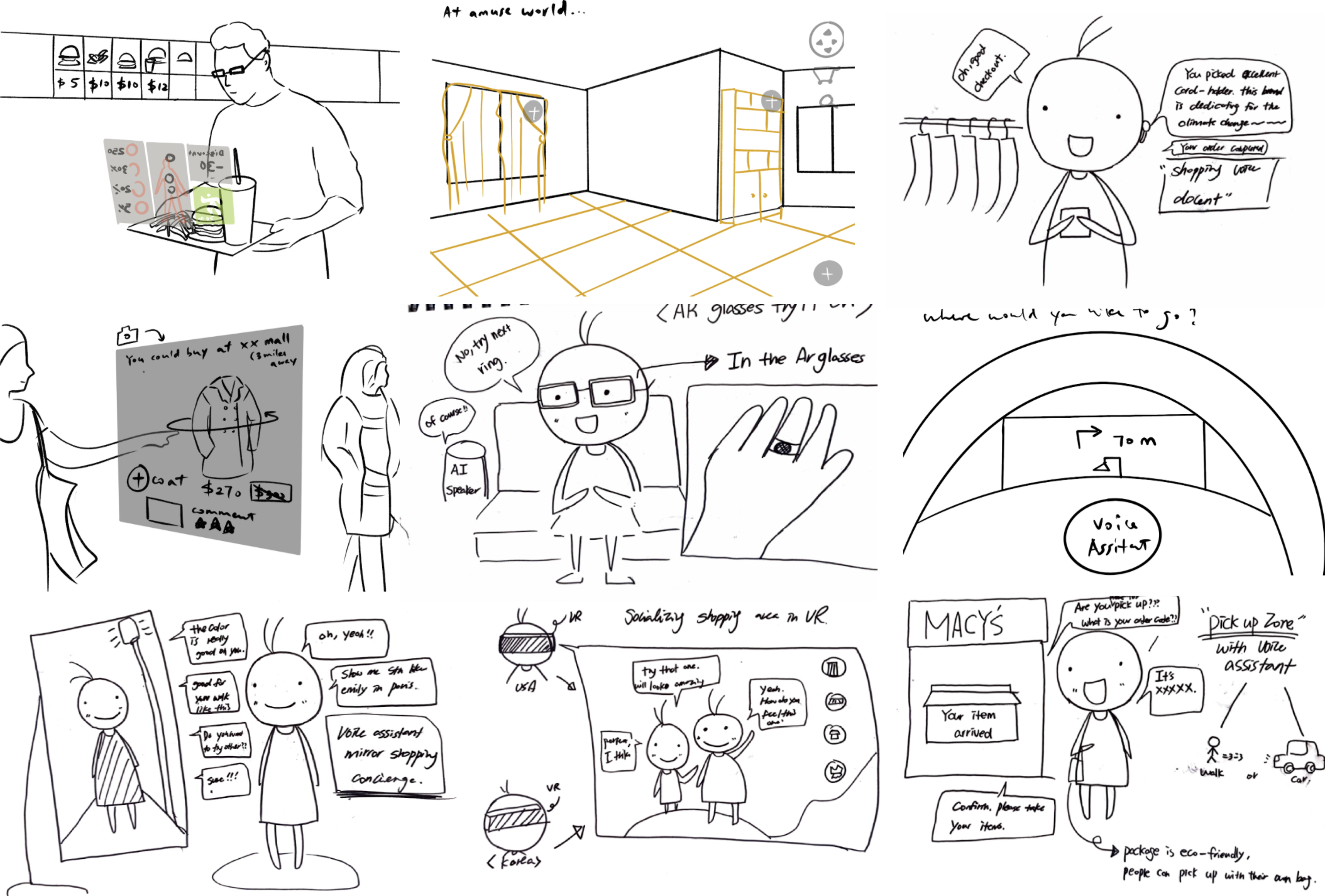 Ideation
We rapidly ideated the products and services by using our research, future persona and CLA map as guides. We came up with 10 different concepts. We chose 5 concepts to think about what/ why/ when/ how to think deeper.
- Smart Mirror
- AR glasses
- AI shopping tools
- VR social shopping
- Pickup zone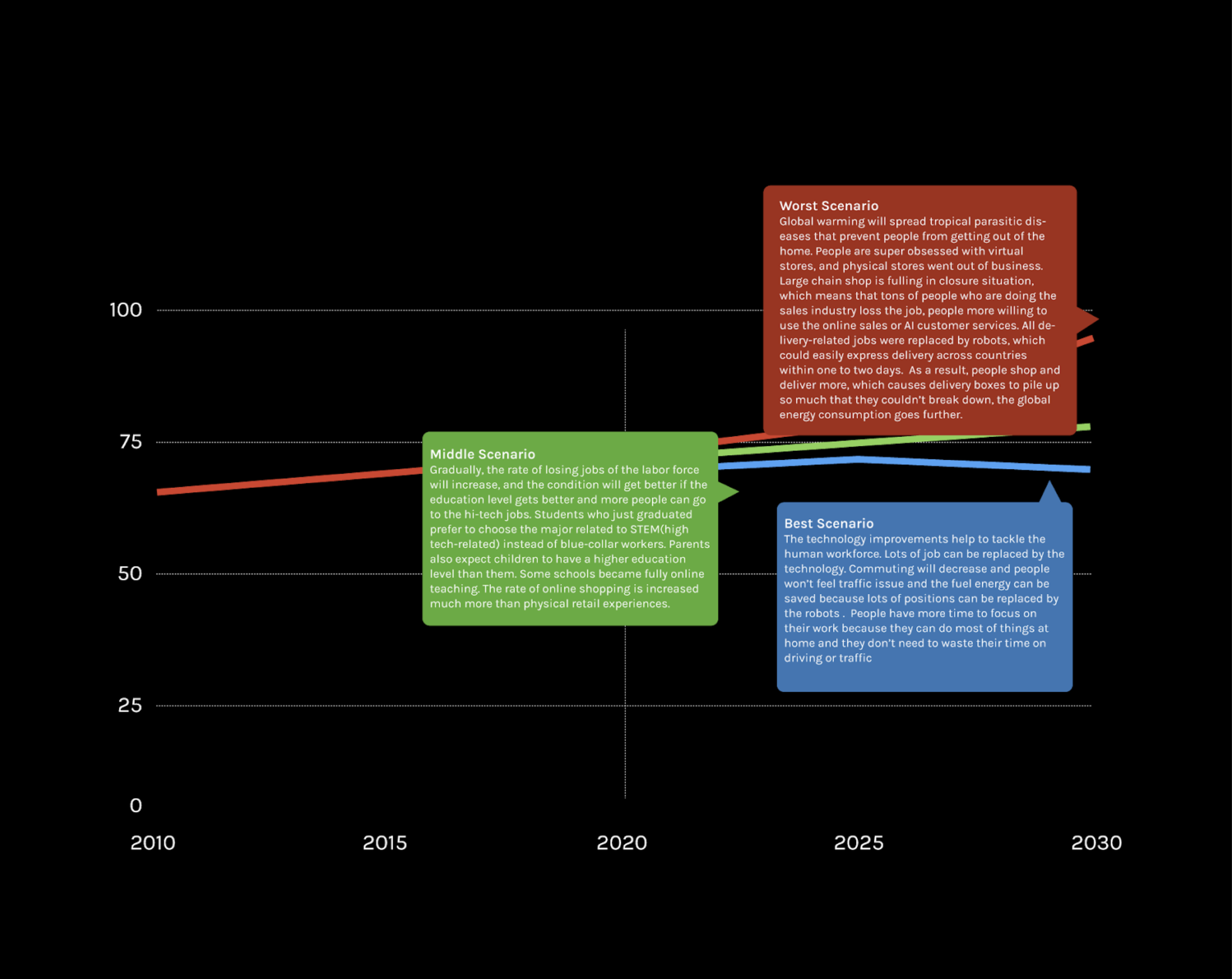 Scenario Planning
Scenario Planning is a strategic planning method that some organizations use to make flexible long-term plans. We utilize scenario planning to envision a range of possibilities to account for over-and under-predicting future retail markets.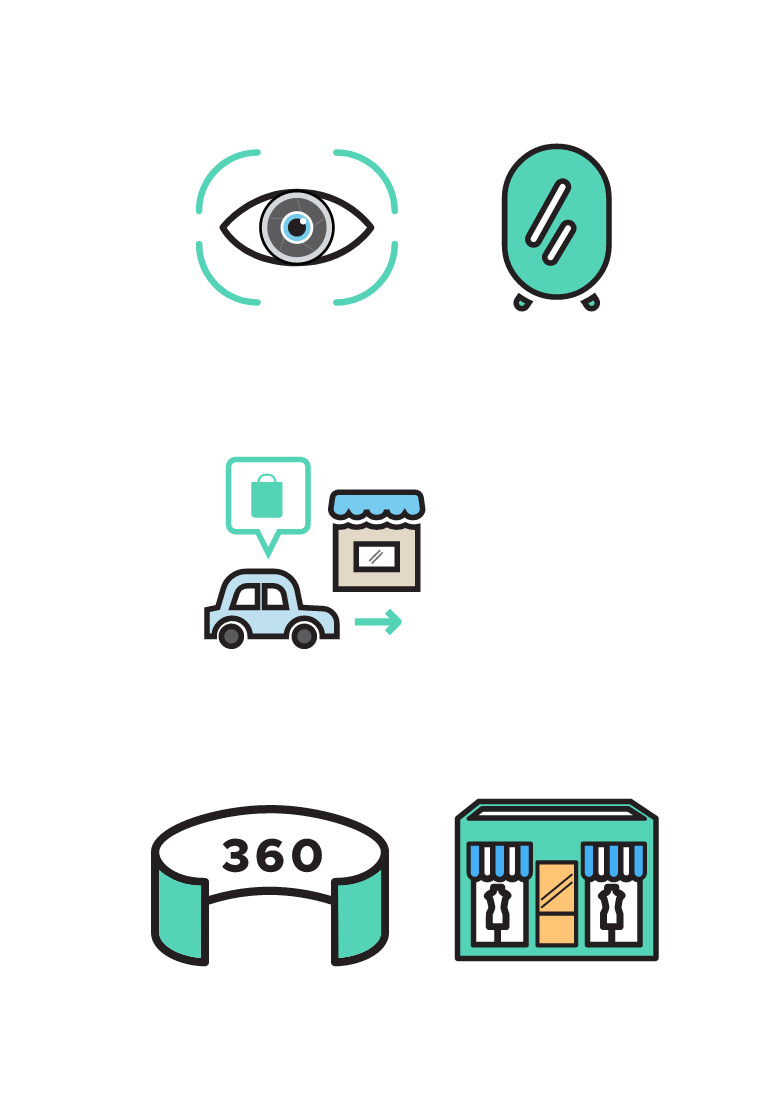 Ecosystem
The smart Lenses and mirror with voice assistant: Customers have their own account and they can both log in to the smart lenses and mirror. After the user browsed their favorite clothes, the data can be memorized by the lenses and the mirror would show the information on the mirror and he/she can try and order at home.
Future Pickup Zone: When people receive the message about products that arrived, they can walk or driving a car to pick up directly in the pickup station by asking for the voice assistant or scan the QR code.
AR Experience in Physical Store: Physical store is more like an interactive gallery for the brand and the customers. When people go to the physical store, they can interact with characters and gain coupons or gifts through the AR.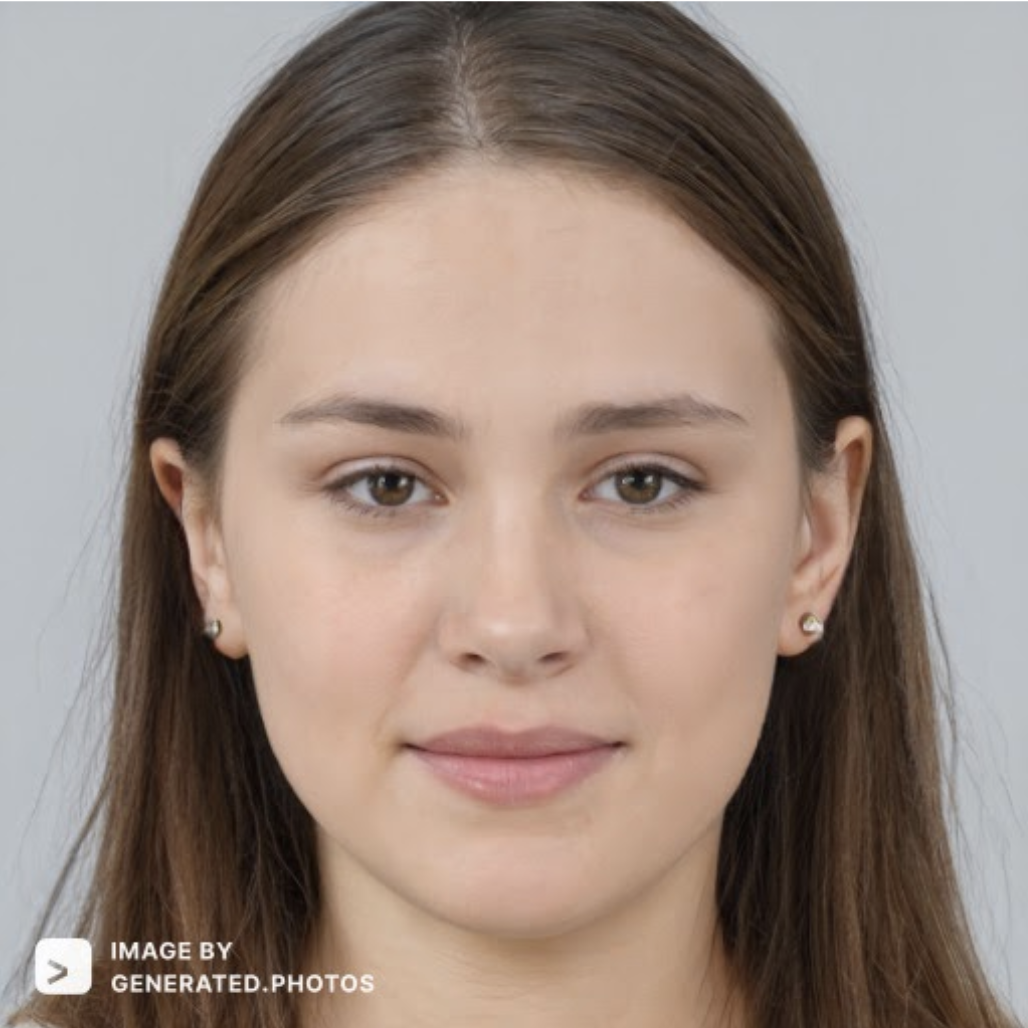 Catherine, 23
Time Frame: Near Future 2030
Zoomer and alpha generation
Live and work in Santa Barbara, an American who loves k-pop.
Love affordable brands like Forever 21 or Zara or Target.
Enjoys using a high technology device such as Alexa to enrich her daily life.
- Remote worker, hectic schedule, living in suburb area
- Influenced media before the shop (Tv show, Influencers, movie, etc)
- Shopping is a way of relieving stress.
- Frequently fail online shopping (wrong size, not matching with the clothes they have. )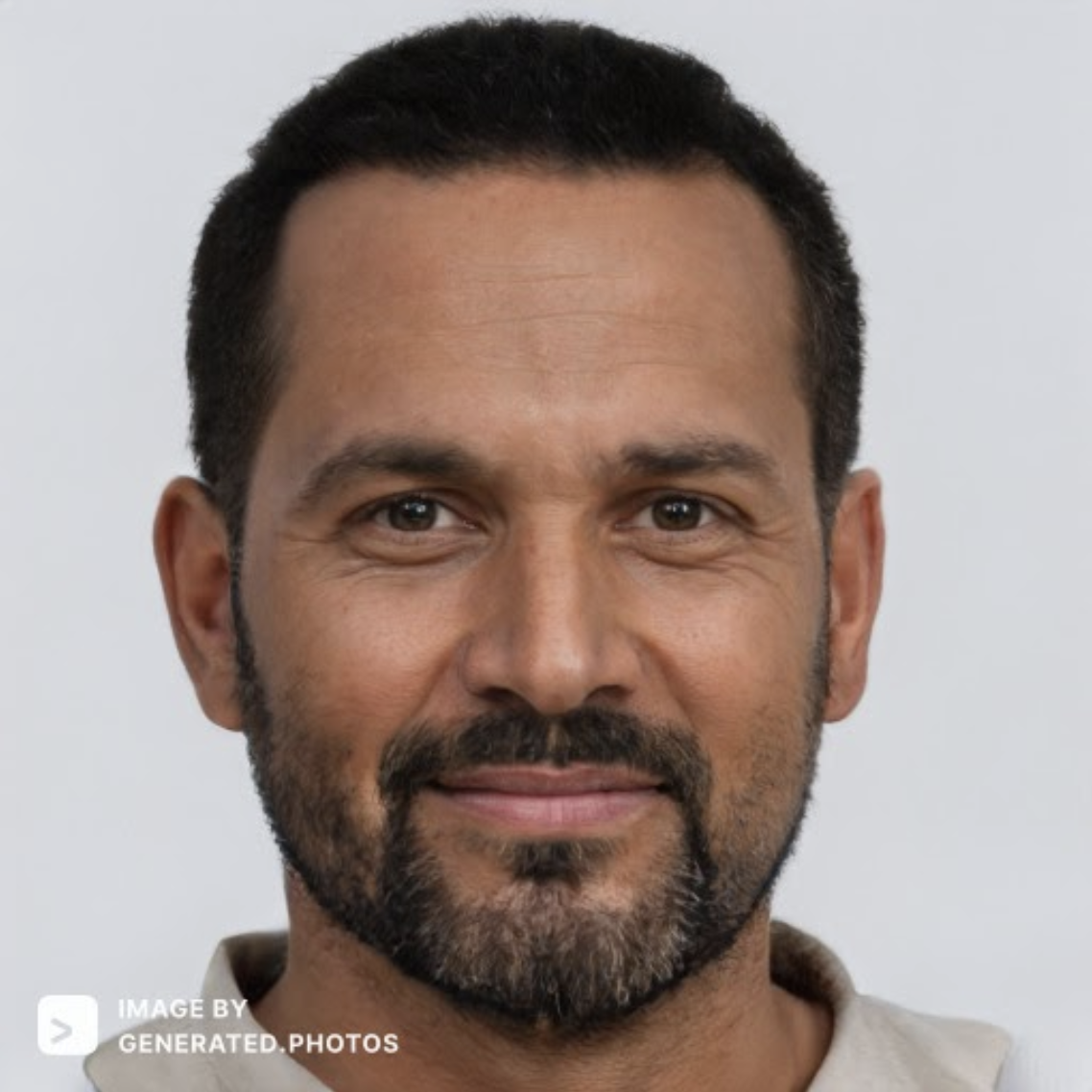 David, 39
Time Frame: Near Future 2030
Live in London, European who loves luxury brand like Hermes or Gucci, Organic supermarket
Adapt new technology since the 20s, and start to fall in love with social media and influencers.
- Shopping luxury and designers' brand
- Likes to explore new experience in the physical and digital space
- Wants to communicate with others through social media
- Not hesitate to adopt new technology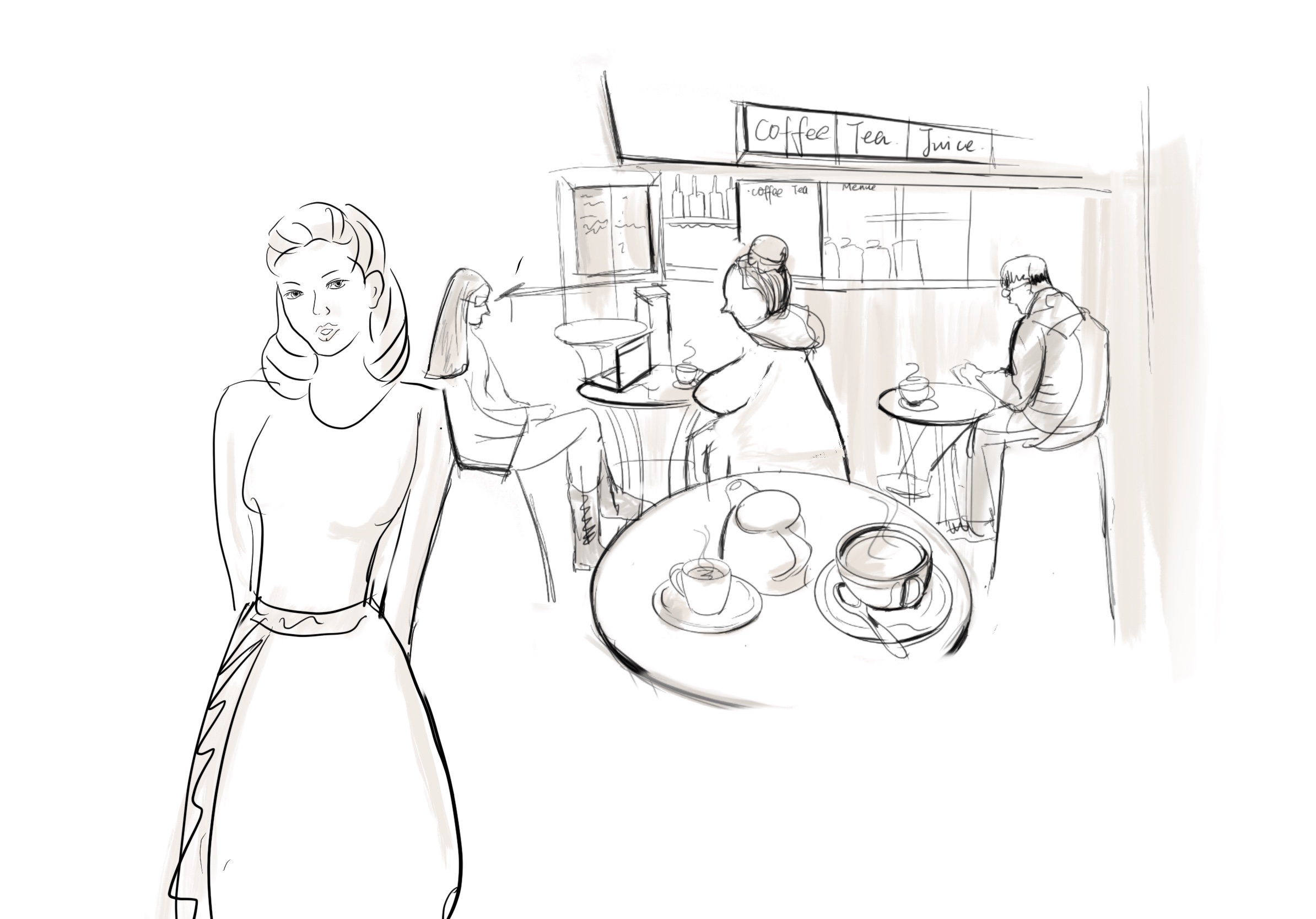 Primary Scenario
In 2030, AR technology has been fully integrated into people's glasses or contact lenses, and people can easily open or close the AR interface.
Catherine is an alpha generation woman who works remotely and has a busy schedule for studying but enjoys online shopping when she has free time. One day, she scheduled to meet her friends in the coffee shop to study together.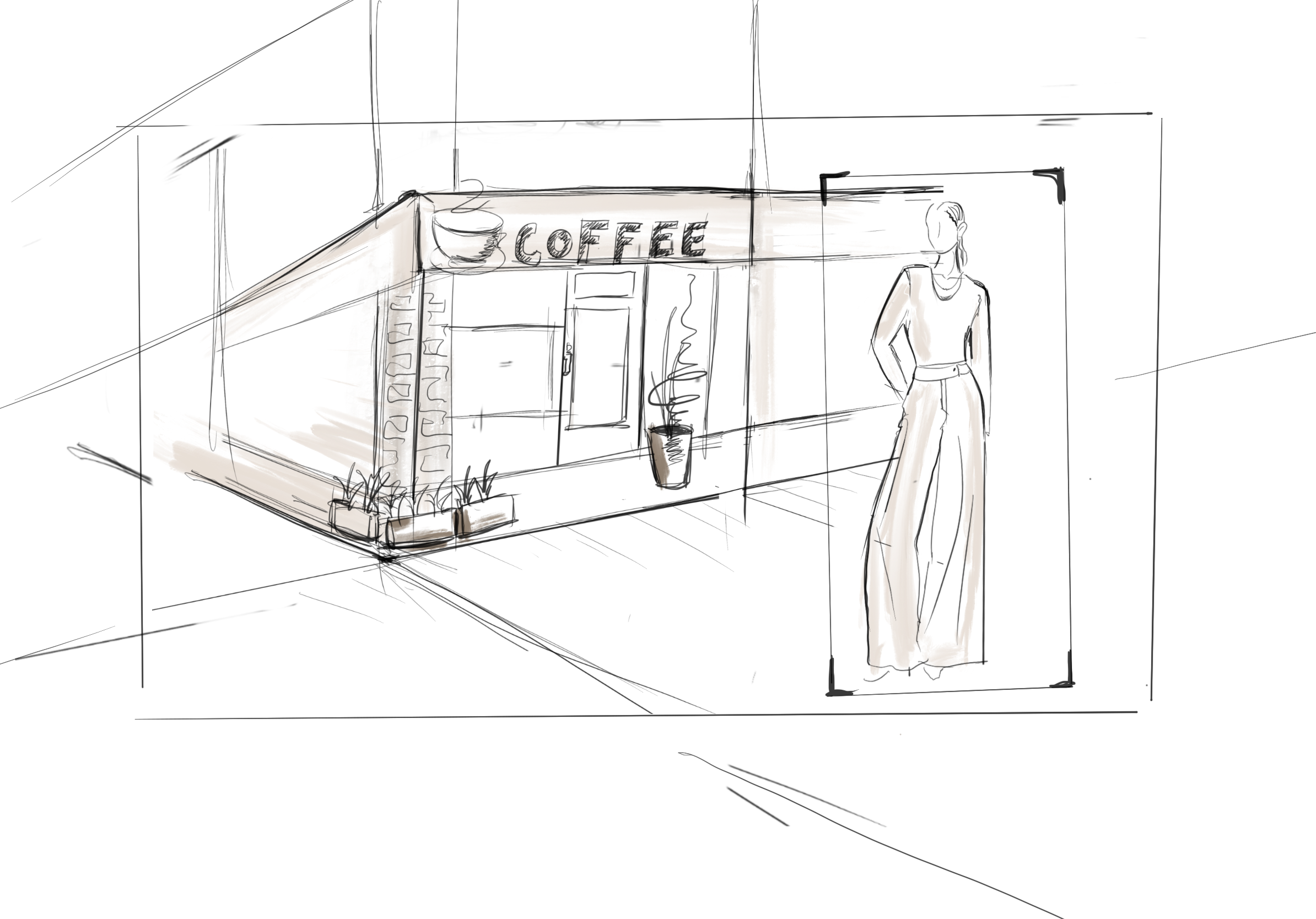 While she was on the way to the coffee shop, Catherine saw a fashionable girl wearing a cool dress on the street. To save the looks for her shopping lists, she took a photo and scanned it with her smart lenses.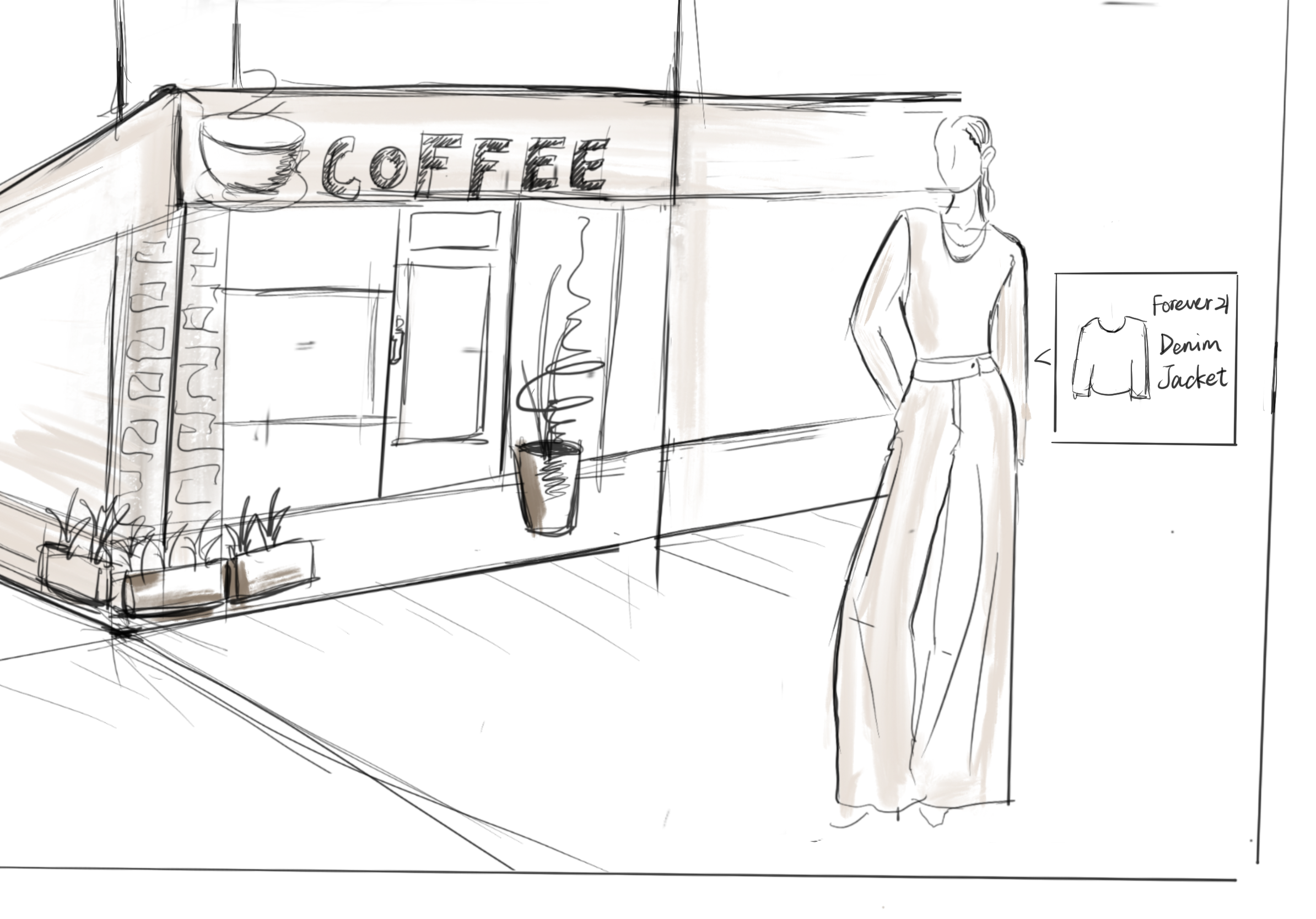 After checking the outfits, the system started to identify the brand of the dress. Catherine noticed the jacket is from Forever 21's latest collection that could be easily bought online.
She saved the dress in her favorite list with her smart lenses. After studying with her friends, Catherine and her friends went in-and-out for lunch and ordered a burger.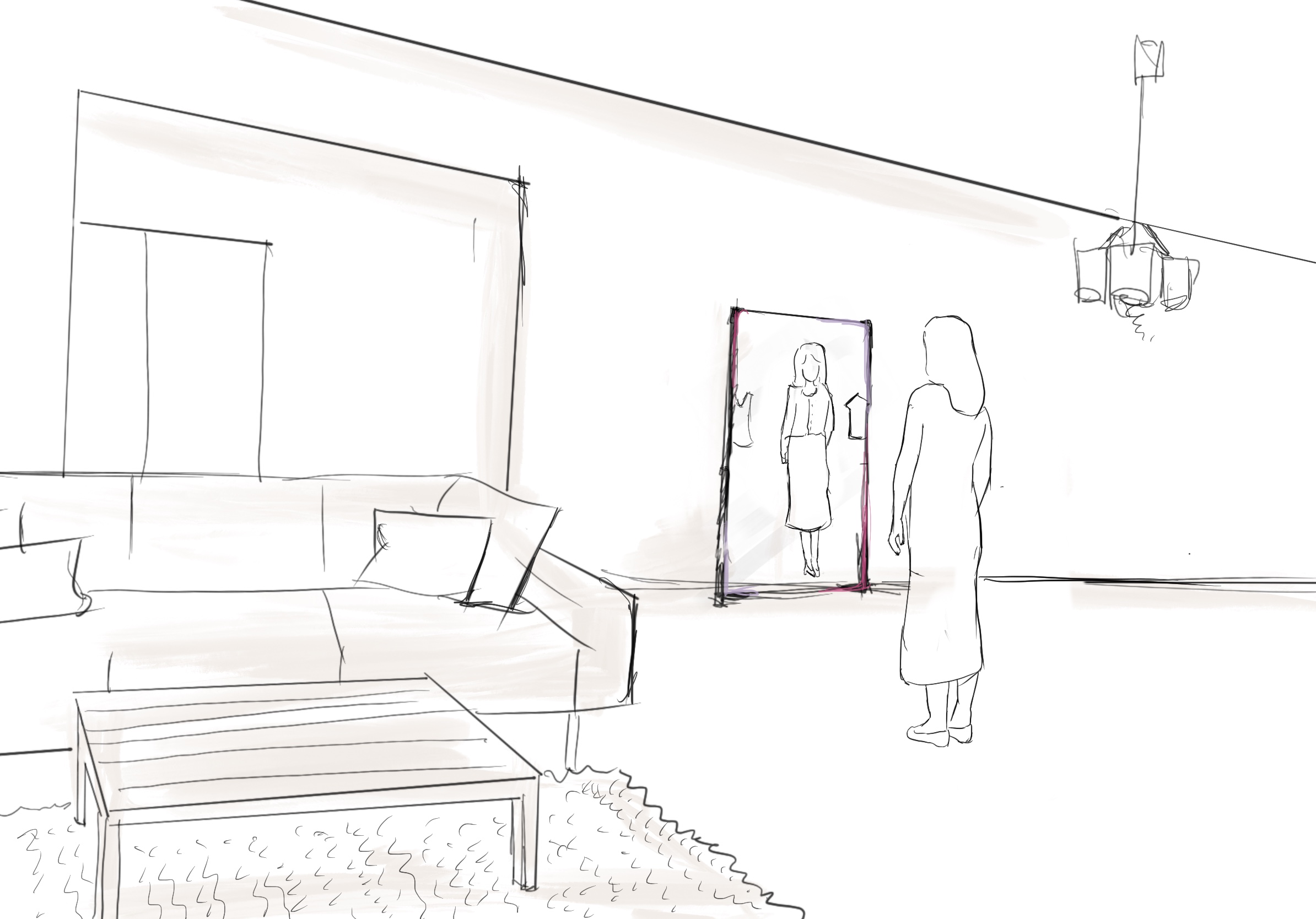 When she came back home, she approached the smart mirror to check the dress from Forever 21. The smart mirror automatically reminded her that she has new items to try on and suggested her right size.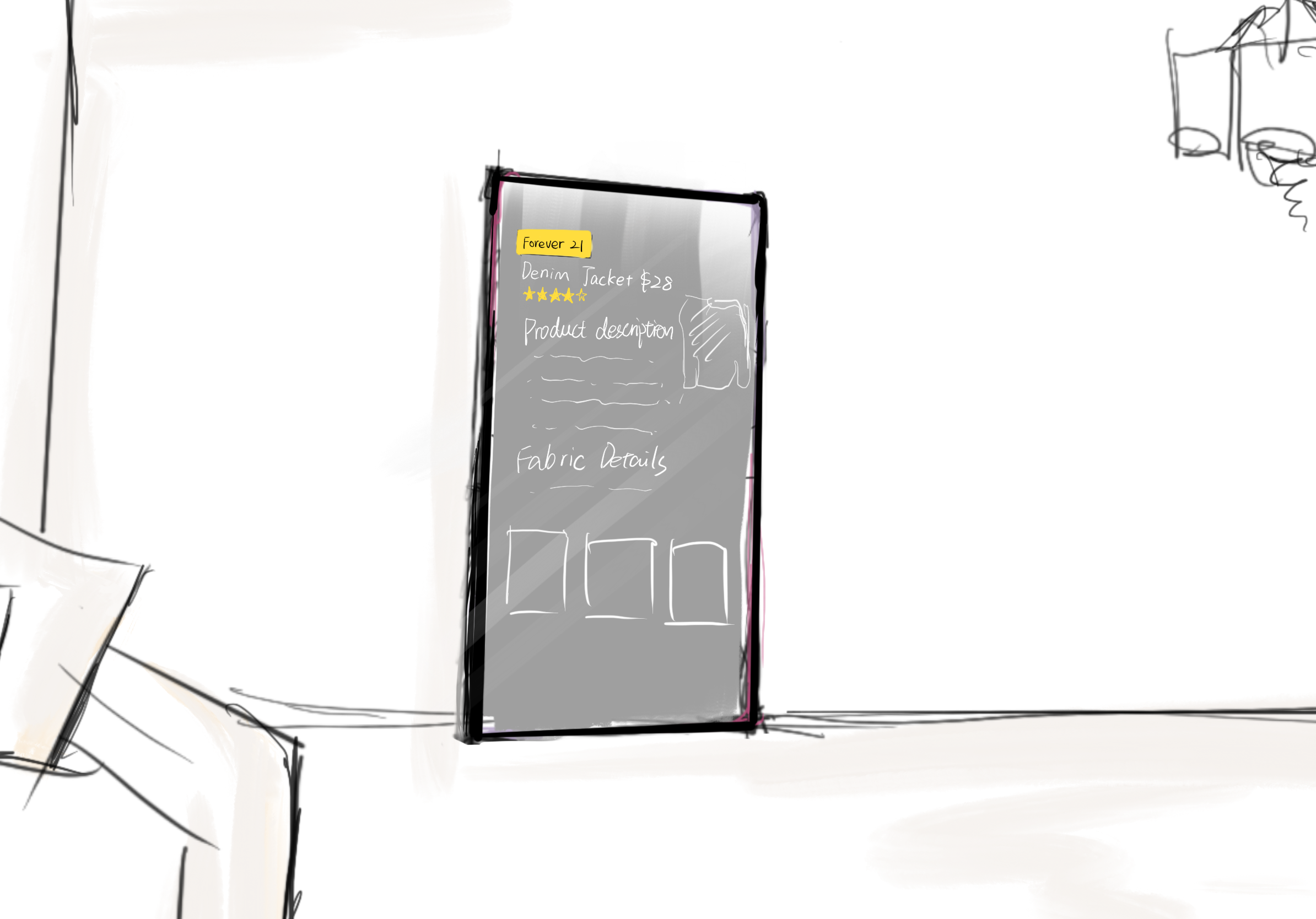 Catherine liked the dress after trying it on, so she directly ordered the dress by using a voice assistant. In the delivery option, she found out that delivery will take 2 days, but she could pick it up in 20 min at the Forever 21 pick-up station near her house.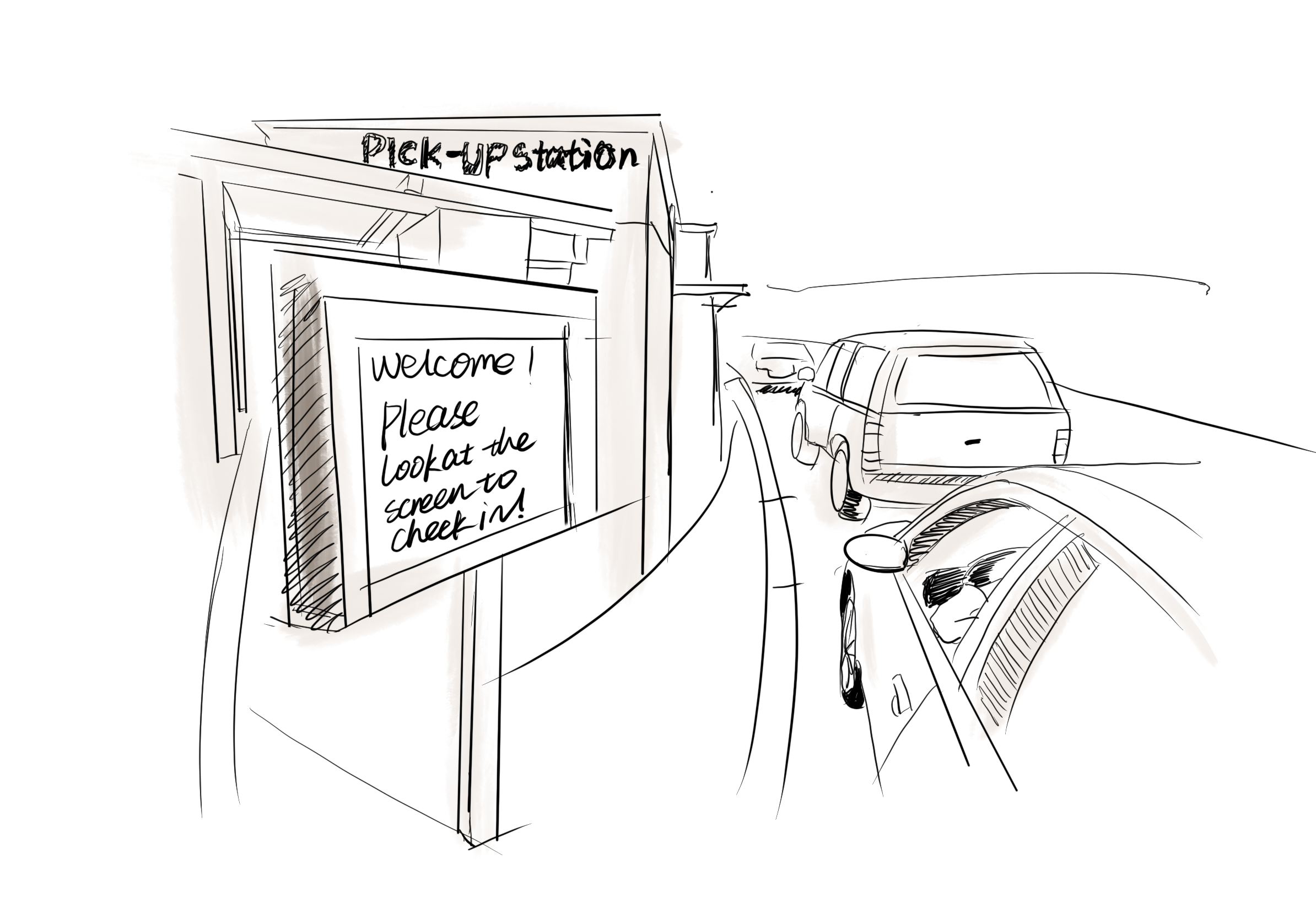 When she placed an order, she could get the confirmation code from the system. Catherine drove to the pick-up zone and confirm the number with the pick-up zone's voice assistant.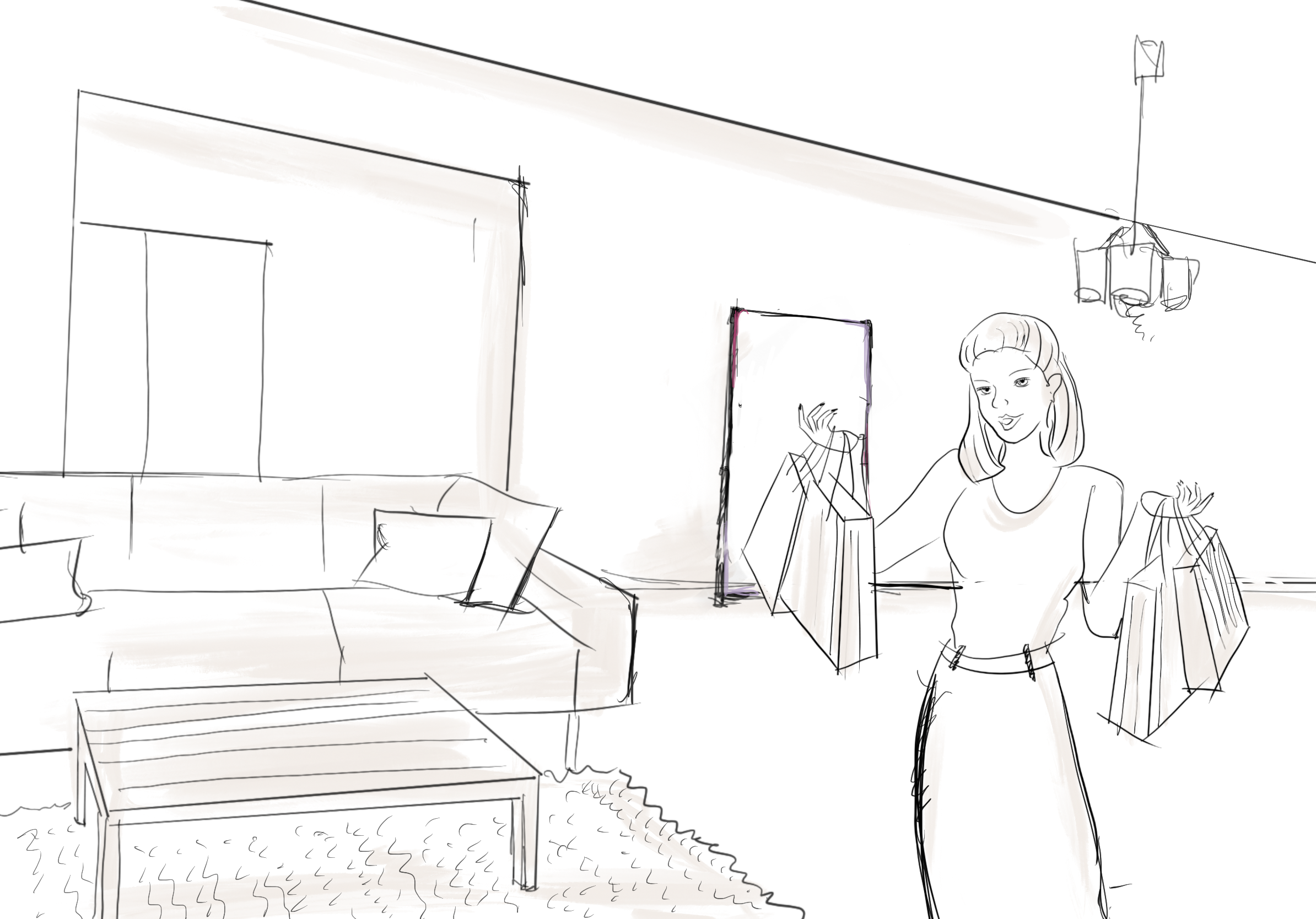 She spends only 2 minutes getting the dress after she arrived. Catherine went back home happily with the pretty dress, and she enjoyed the day so much.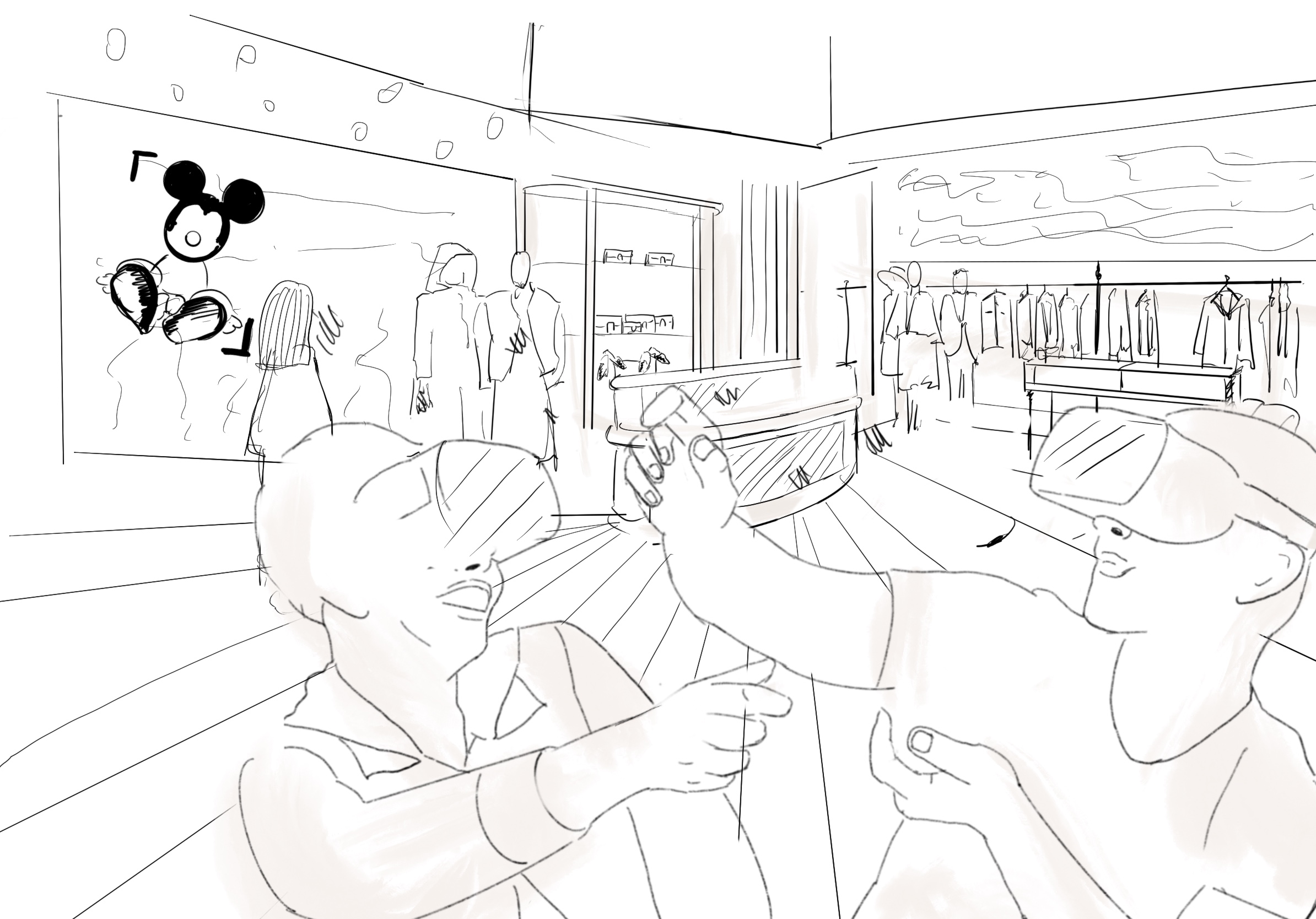 Secondary Scenario
In 2030,physical shop's purpose is not only for shopping and these are more tend to let customers experience as a gallery.
David is a designer who likes the high-end designer brand and exploring new experiences. One day, he got Gucci's invitation that they have a AR experience new collection in Gucci store near his house. Excited, David drove to the Gucci store with his friend to explore the new Mickey Mouse concept store experience. As soon as he arrived at the store, he could see the Mickey mouse virtual assistant through his smart glasses. David and his friends played the game with the virtual characters and got the special discount coupon for the new collections. David found a nice blue shirt to buy. He wears it and checks with the smart mirror to match with his other pants. After he bought the shirt, he explores more in the store, takes lots of pictures, and posts it on his Instagram. David came back house with his satisfied blue shirt. He thought he definitely wants to go back to the store later to browse more items.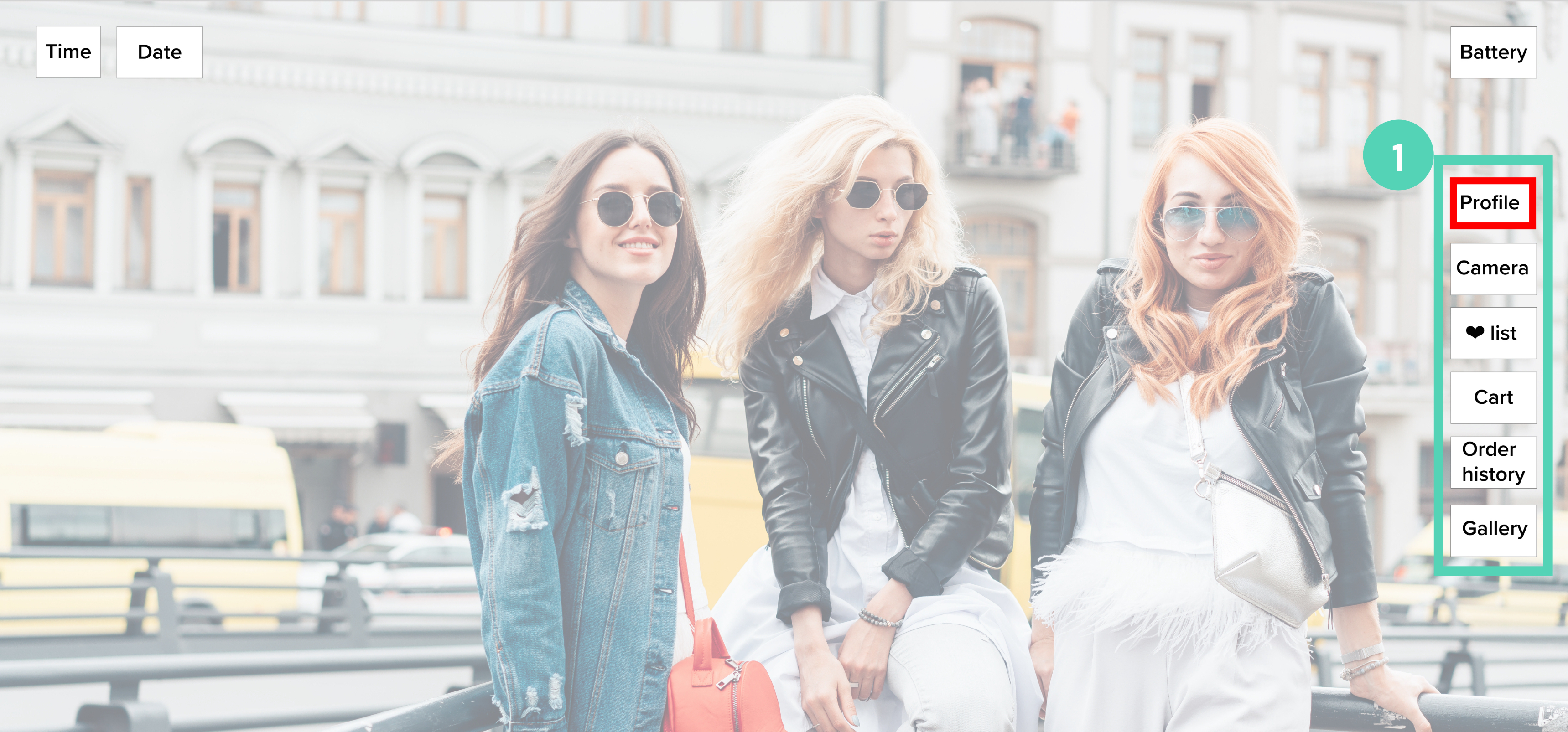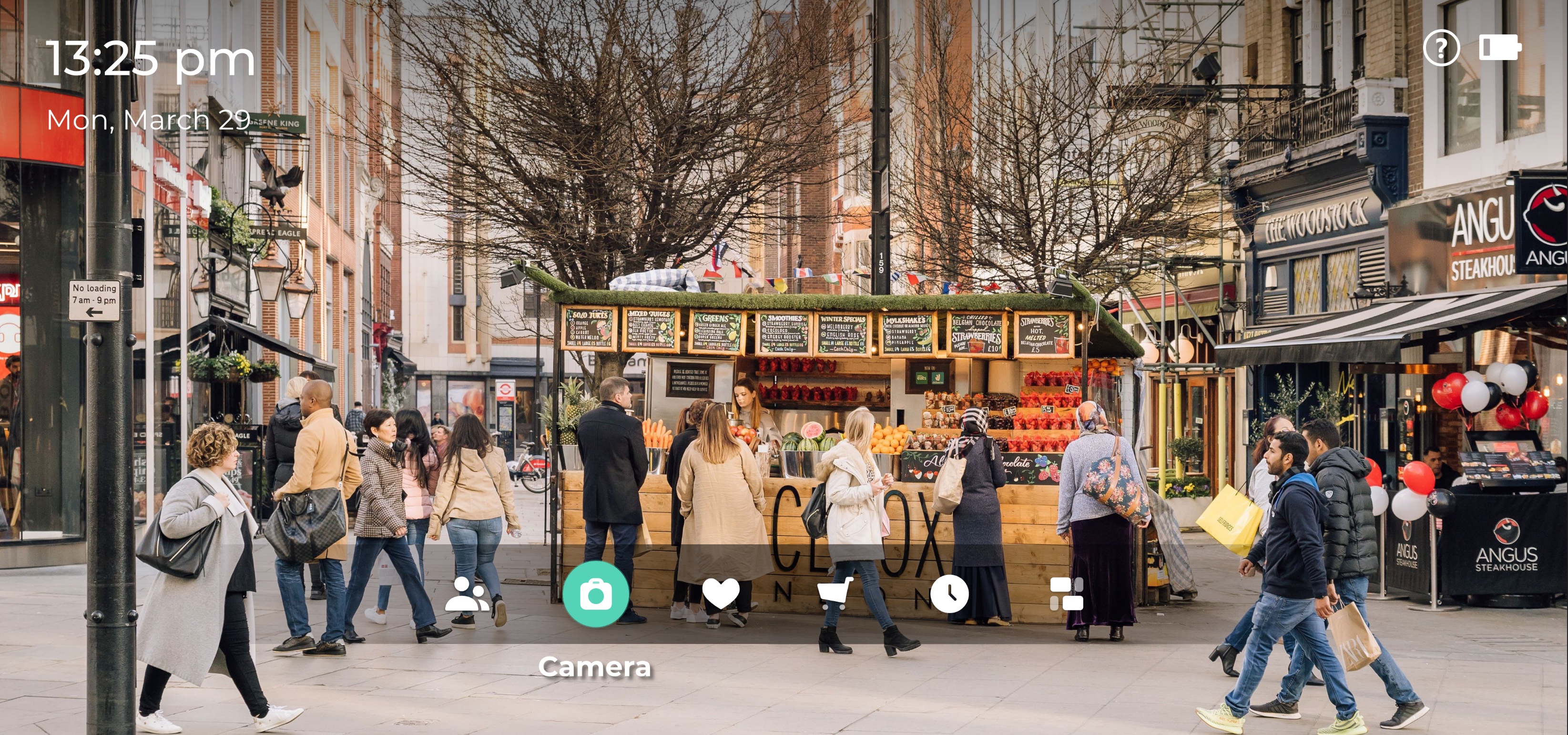 1. Position of the menu
In our first version, we put the menu bar to the right side to have a clearer vision. However, our team noticed if there is a menu bar, always right side would be distracting their right side of the eye vision. We used voice interaction to show up the menu for the users and positioned the menu bar to the center to navigate the menu options more easily.
Smart lenses design iteration
The most critical thing we considered was minimizing the distraction of users' views for the smart lenses. We kept all the information concise to make it visually clean for the users.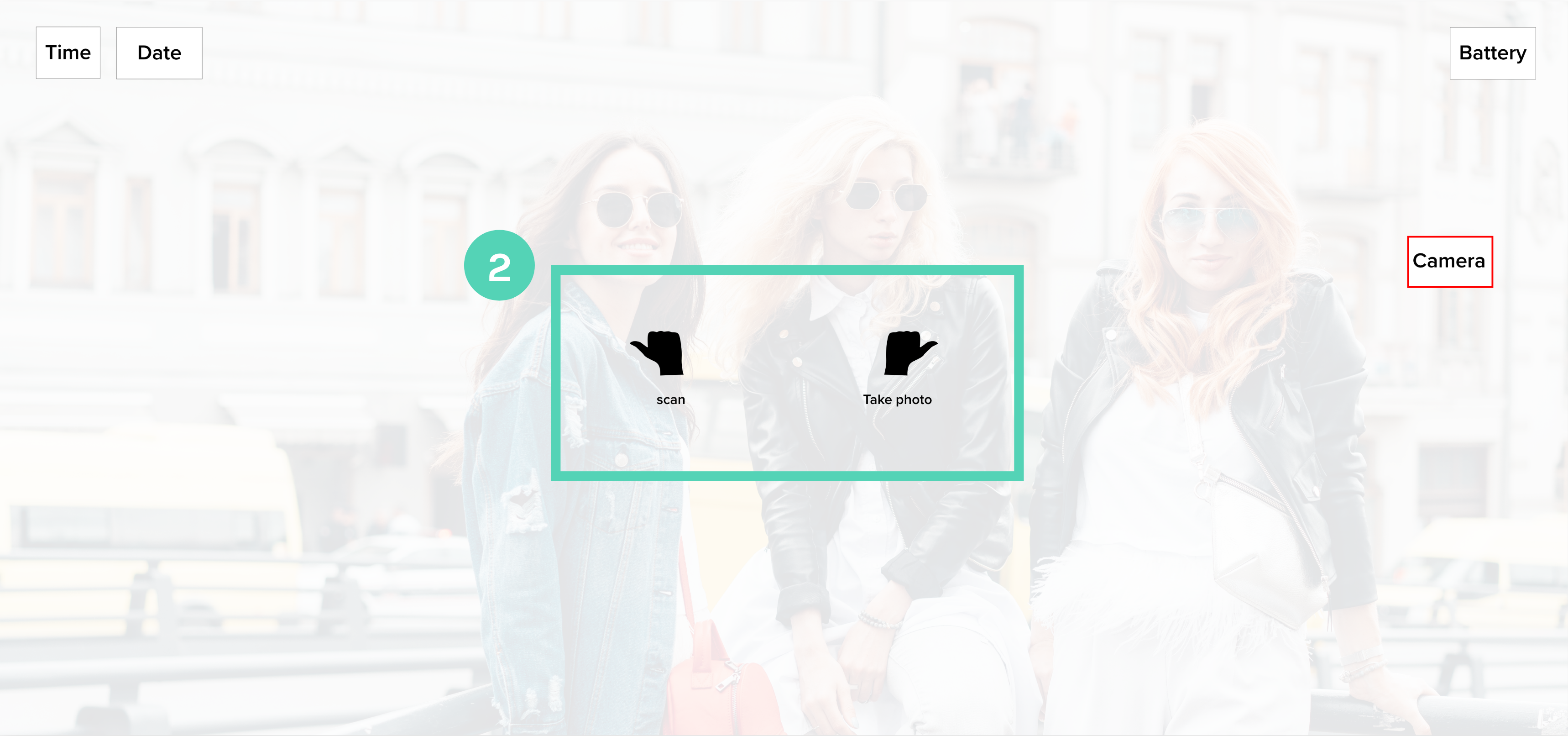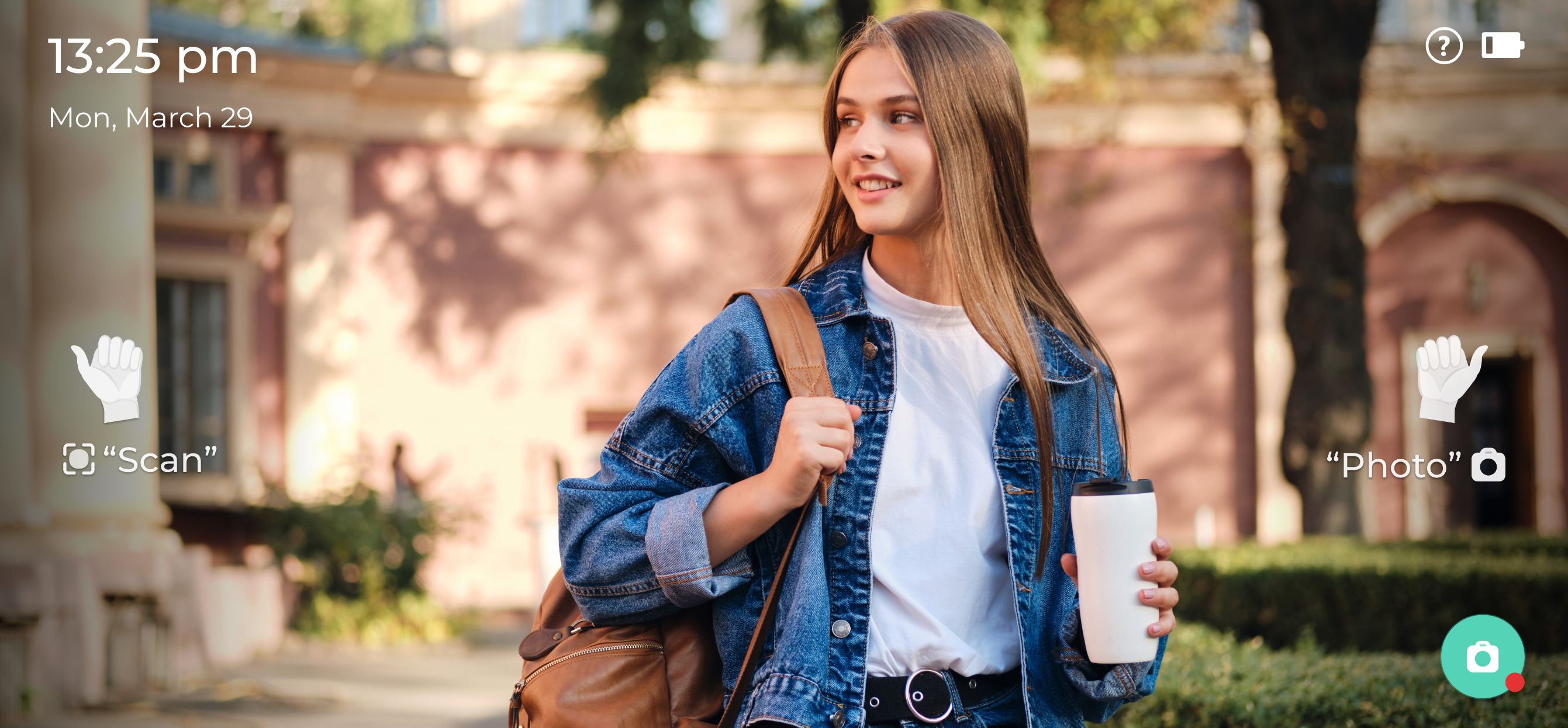 2. Too simple information for command
The smart lenses require gesture interaction, so we put the hand icon with the text to understand the command. The text looks to give explicit instruction for the users, but they need to read every text for the control.
Smart lenses design iteration
Therefore, we put the icons for the action and group with the hand gestures to make it glanceable. Furthermore, we put the " " to visually show that users can do the voice interaction with the system.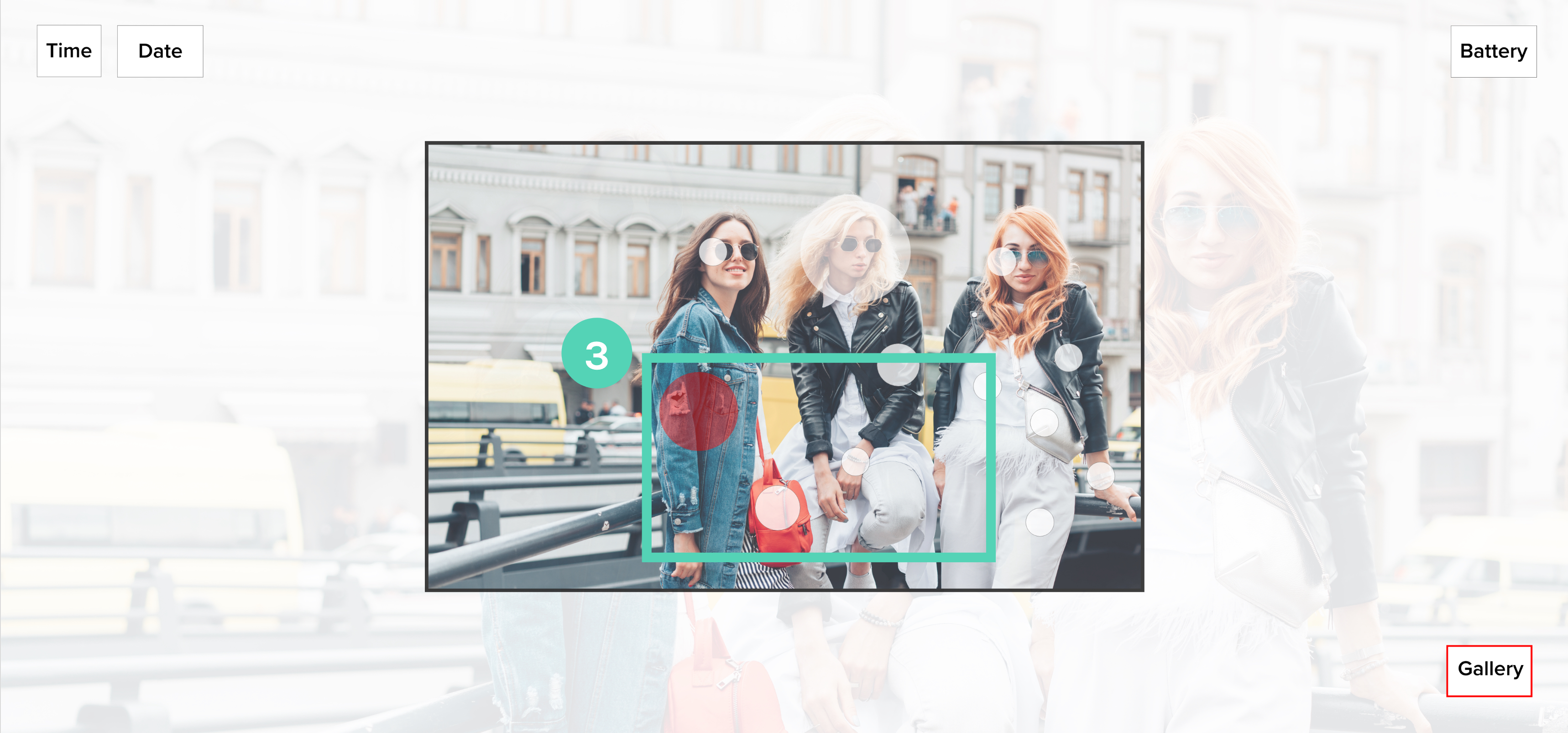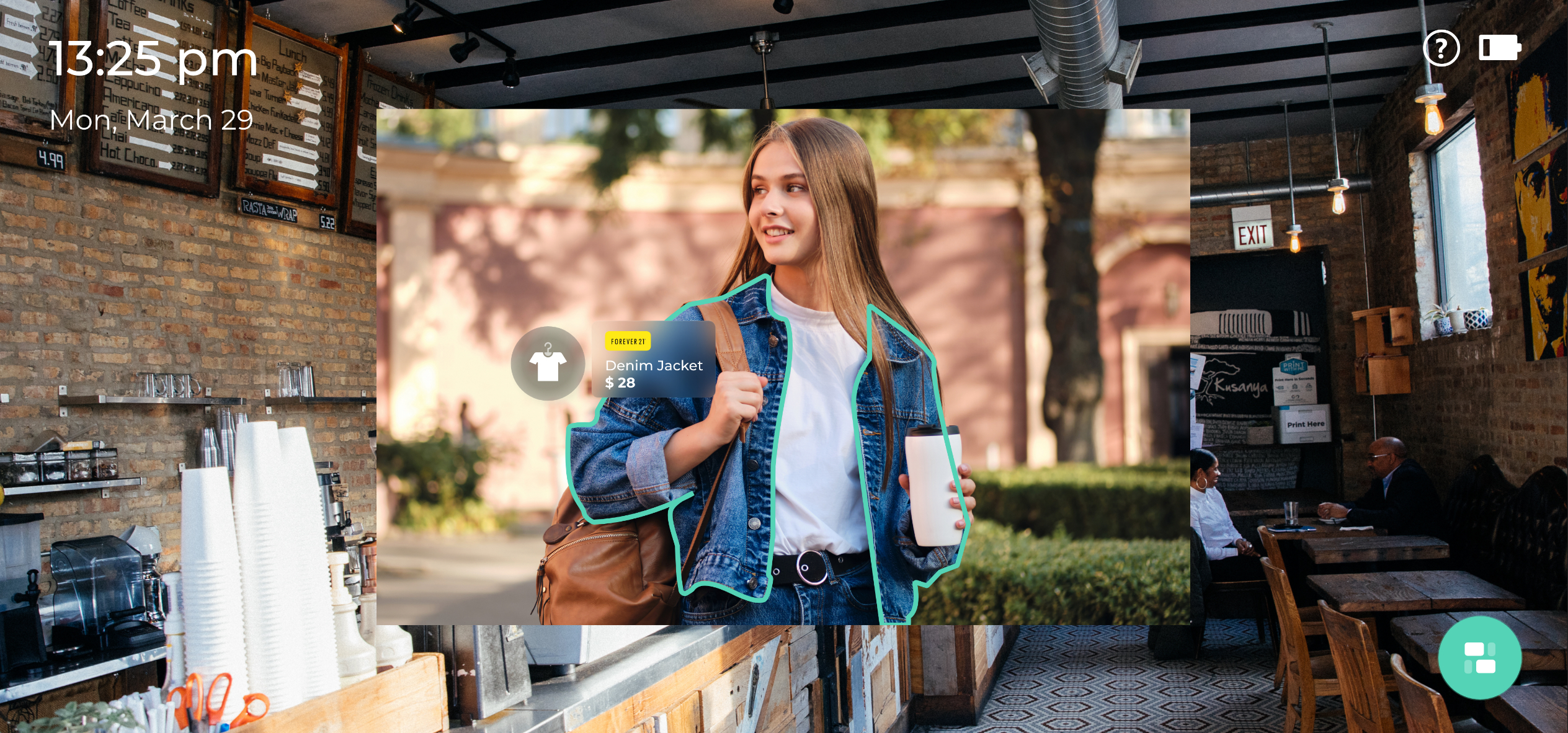 3. Hard to distinguish items
When the user tries to scan the photo to look up the items, the system's previous version shows the dot to select the items. It requires lots of effort for the users because the dot can overlay with other dots.
Smart lenses design iteration
To make a more apparent division, we outlined selected items that users can notice which items they are selecting with brief information.

1. Switch to the next product
In the low-fi version, we deliver the following product in the favorite list with just icons, and several random detail information is floating around the user. But this would only work on touch screens. To keep our whole system's consistency, we add gestures to represent how to go next, which is a better solution for control across space.
2. Related Products
By showing related products, we create a more efficient shopping experience for customers since they don't have to search for relevant items. Getting related products in front of users is one of the marketing tactics to nudge customers to browse a little bit longer in our application.
3. Showing of Pickup Location
In the low-fi version, we display complex information like address and distance on the screen, but those will not help users imagine where the pickup station is and choose the one they want. Therefore, we add the map view in hi-fi to ensure users' convenience.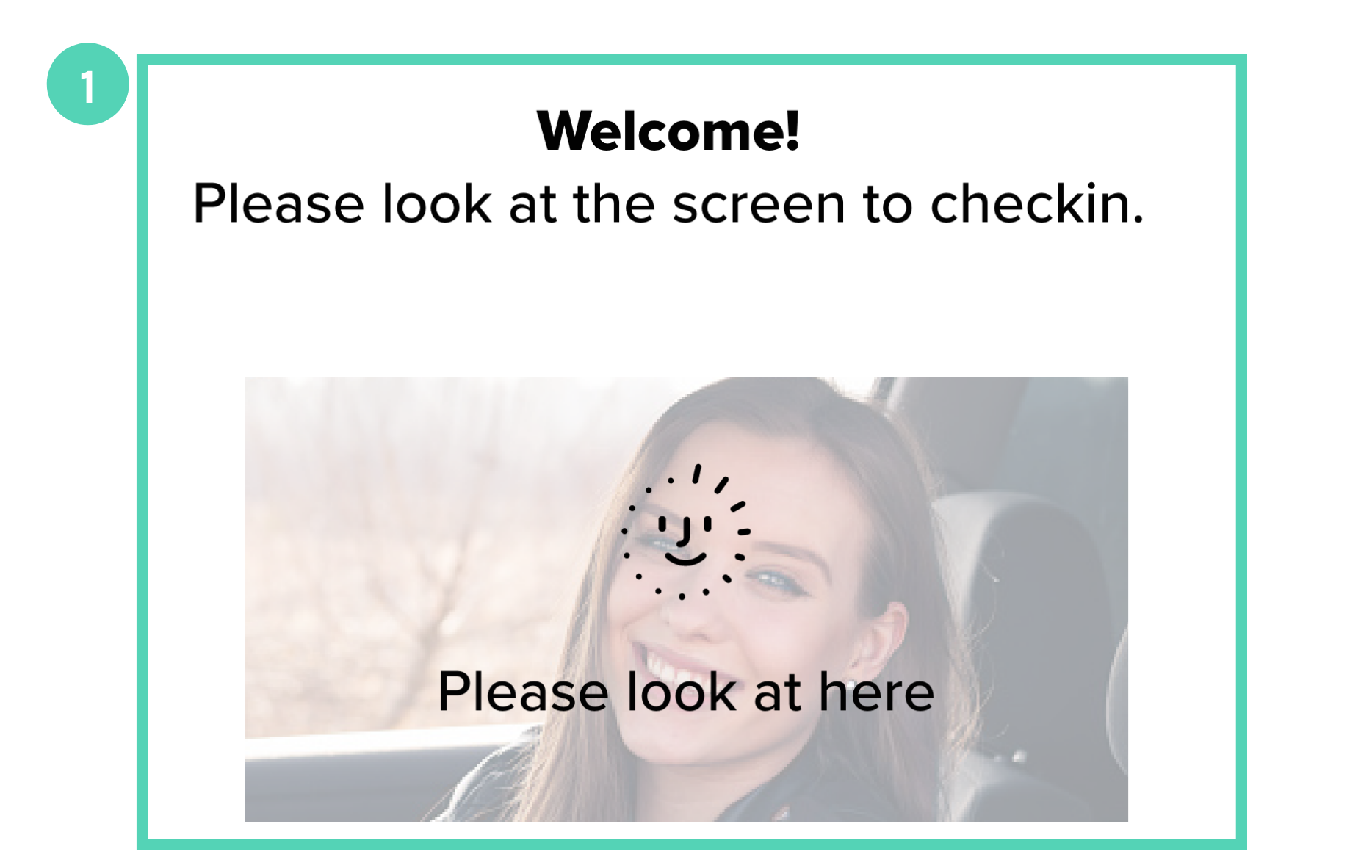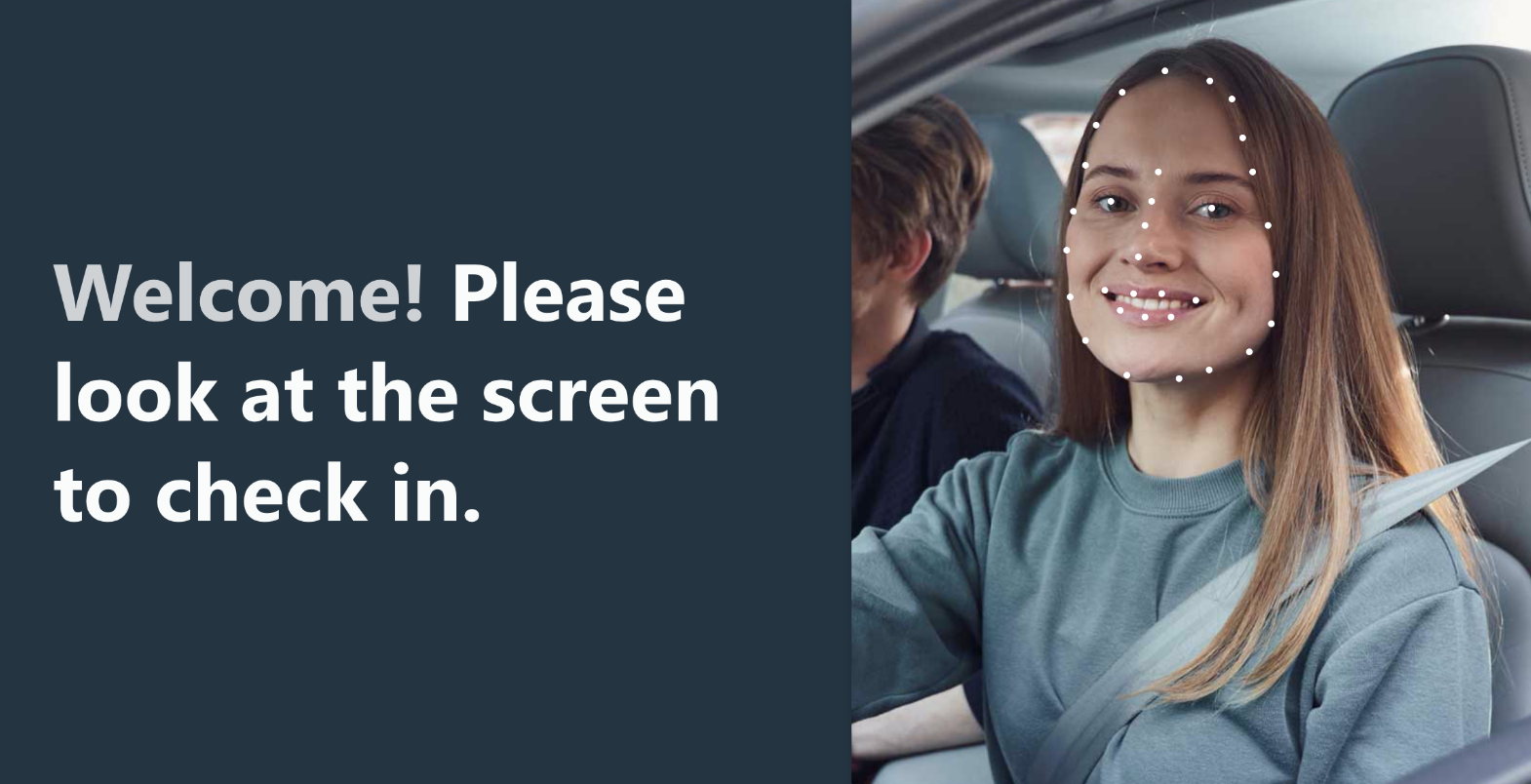 1. Expand Steps to Make Clear Interaction
In the first version of the pick station screen, we condensed all the information to one screen to reduce the step. It led users hard to see the text in the distance. Therefore, we expand steps to make the font size larger and focus more on each task. Therefore, we expand steps to make the font size larger and focus more on each task.
Pickup Station Design Iteration
One key characteristic of pick-up is the users need to interact with it at a distance. Our team tried to make the screens as simple as possible, not to pay attention to the text too much.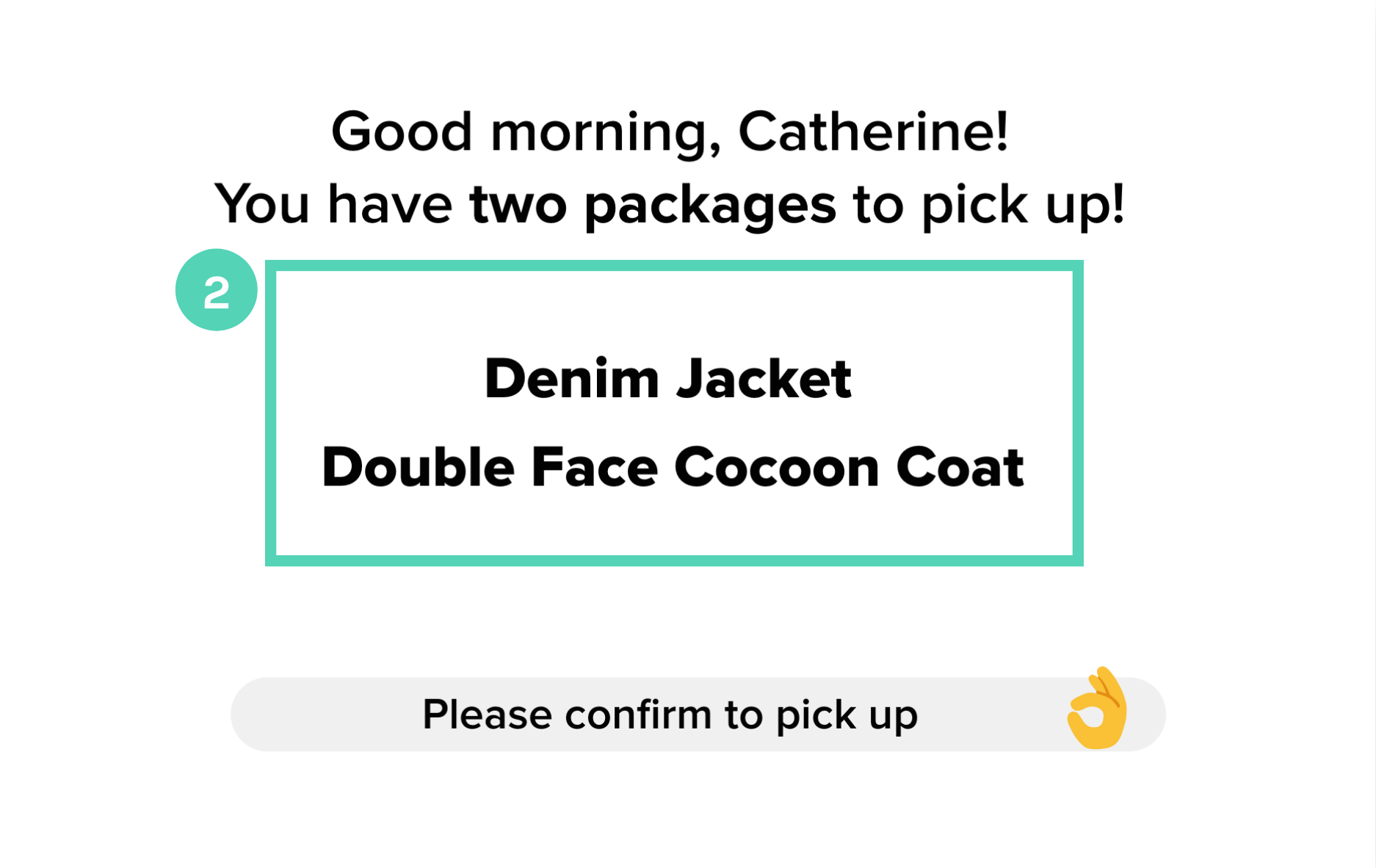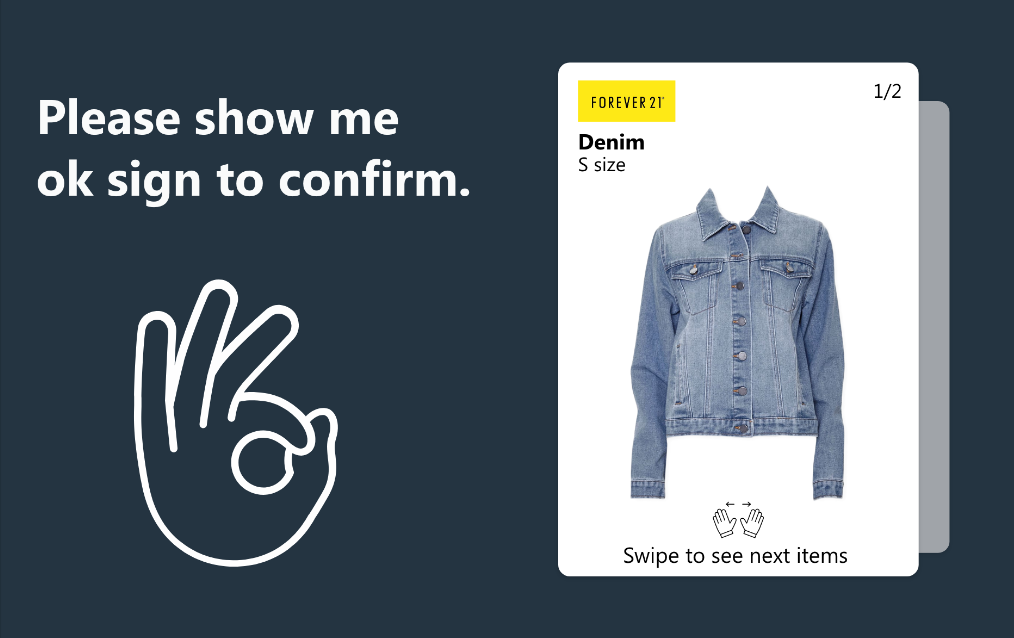 2. Show More Details
When people want to check their list of items, they can not identify the items only with the text. So we tried to put the image and little more information for understanding what and how many things they need to pick up.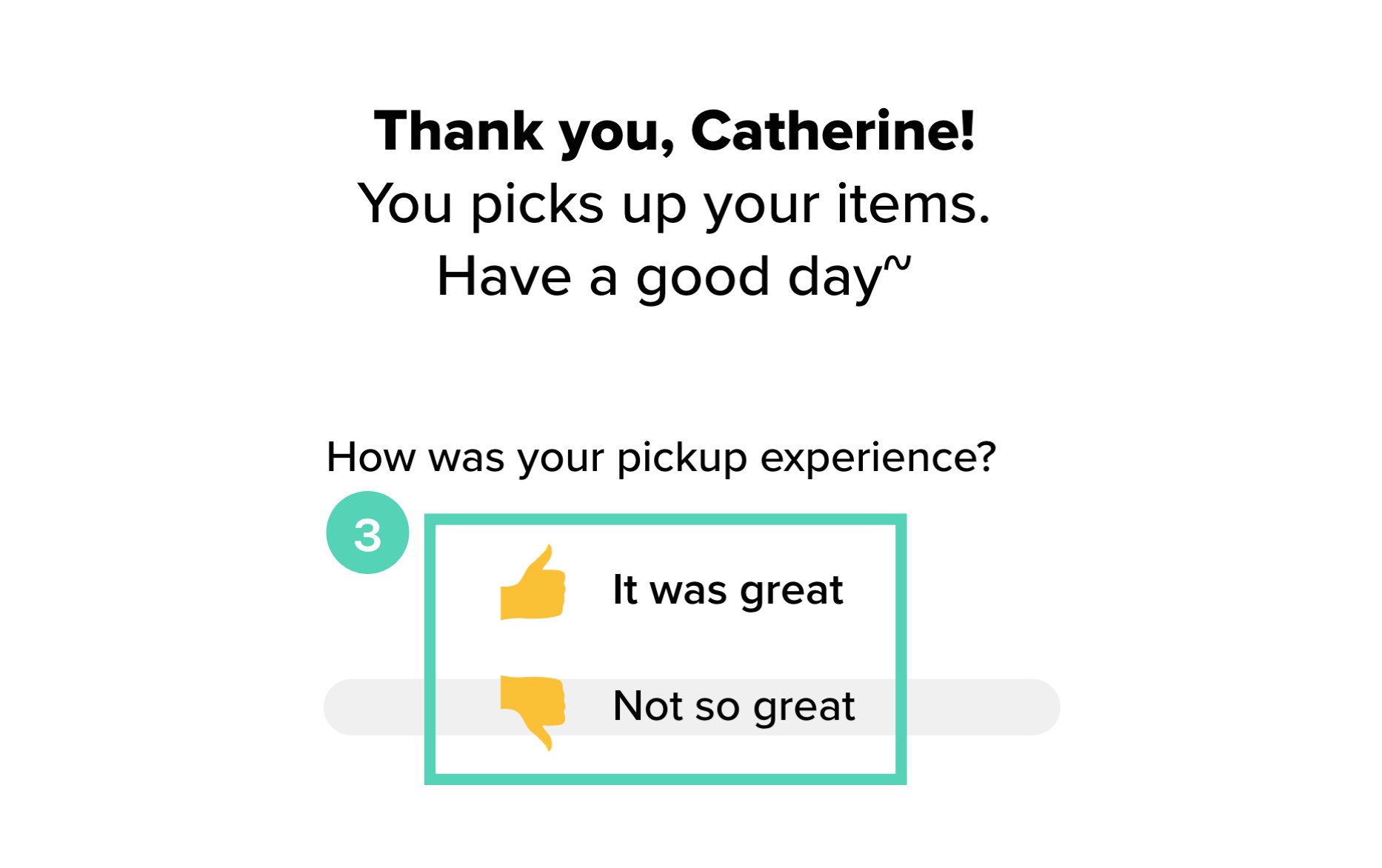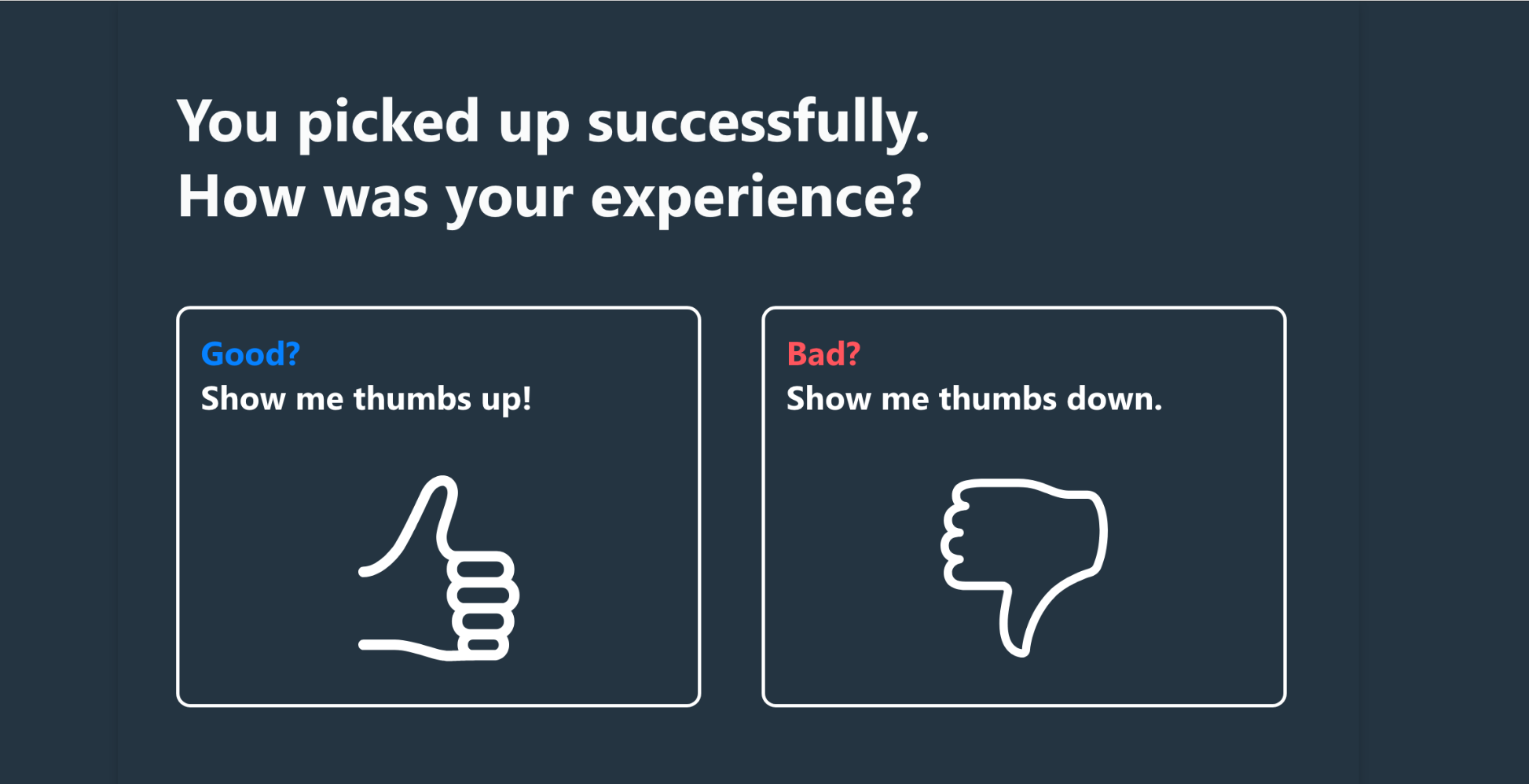 3. Hierarchy of Information
When users receive items, they have to go through several steps using gestures. Since the screen's information was not divided according to the order and importance of information, people can not see the clear direction from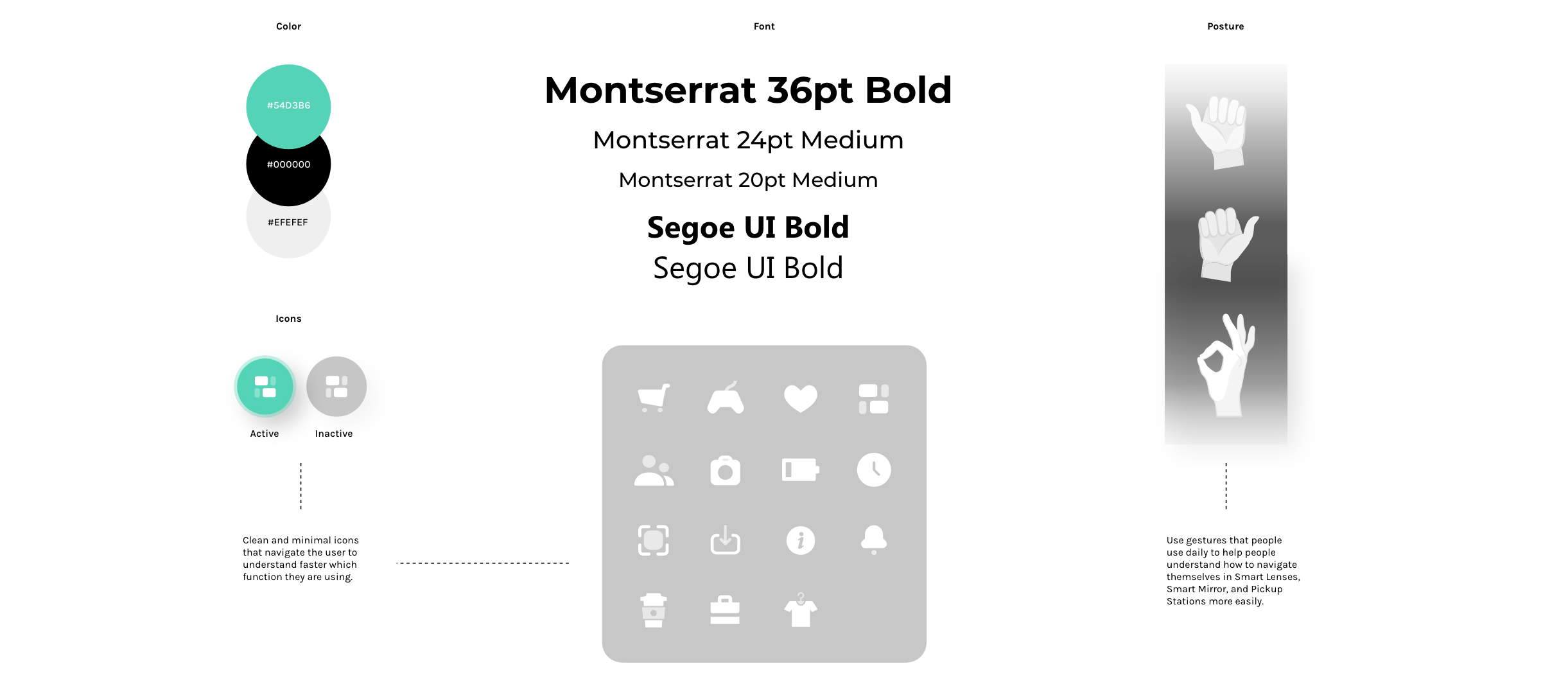 Take Away
During 14 weeks of the class, we explored an omnichannel approach for the customers in 2030 with a fully integrated shopping experience by using user experience from digital to physical space. We could see the retail experience's expansion by thinking most advance but yet acceptable principles and technology to apply in users' everyday lives. Especially, thinking about the sustainability aspect to supporting the environmental issue allows us to think about commercial viability and social impact through the services. As a next step of the project, we wanted to think about how brand physical retail stores can transform as a cultural hub to encourage social interaction among people to deliver their brand values and experiences.