Brief
Our team explored what directions CalEarths SuperAdobe technology could go in the next decade. SuperAdobe's unique low barrier to entry and inheirant insulatory cooling features make it an ideal technology to build communities out of and we explore speculative futures under the lens of global warming and the coming climate shifts.
Team Members:
Project Description
Today when a house or building is built there is a mountain of paperwork, zoning, planning and permitting done. It is costly to spin up individual projects as it requires employing some 30 odd roles to complete.
Our project explores a system where non-designers could design their own homes to take advantage of the heat insulative properties and other advantages of superadobe. The system also explores how future communities might be planned without the massive overhead.
Research
To gain a better understanding of the housing/community space, our research started finding articles about smart home technology, smart cities, and sustainable/modular housing. The following are some highlights from articles that we read in these subject areas.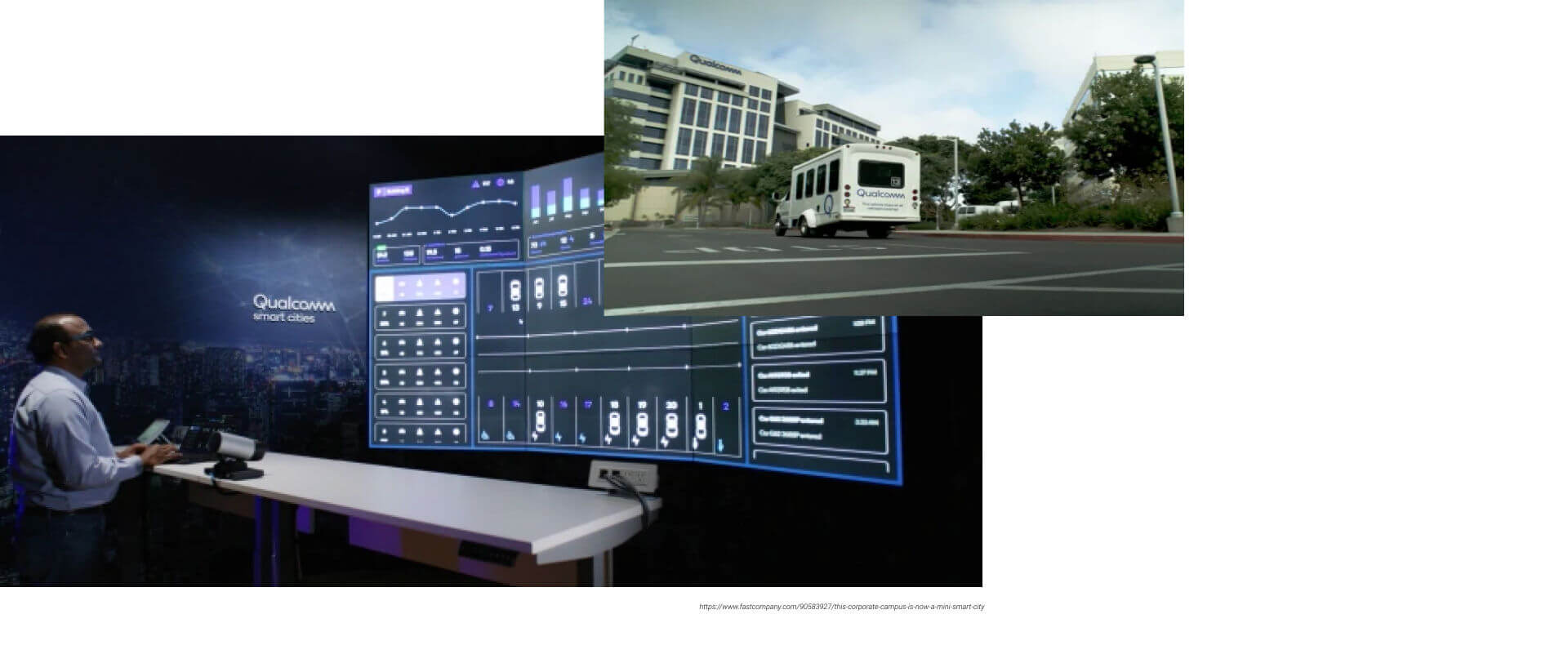 Qualcomm
36 Buildings, 25k employees

Sensors: Camera, shuttles, trackers

Internet hotspots in light poles

Surveillance/tracking in the name of efficiency
Critique:
Who owns the telemetry data?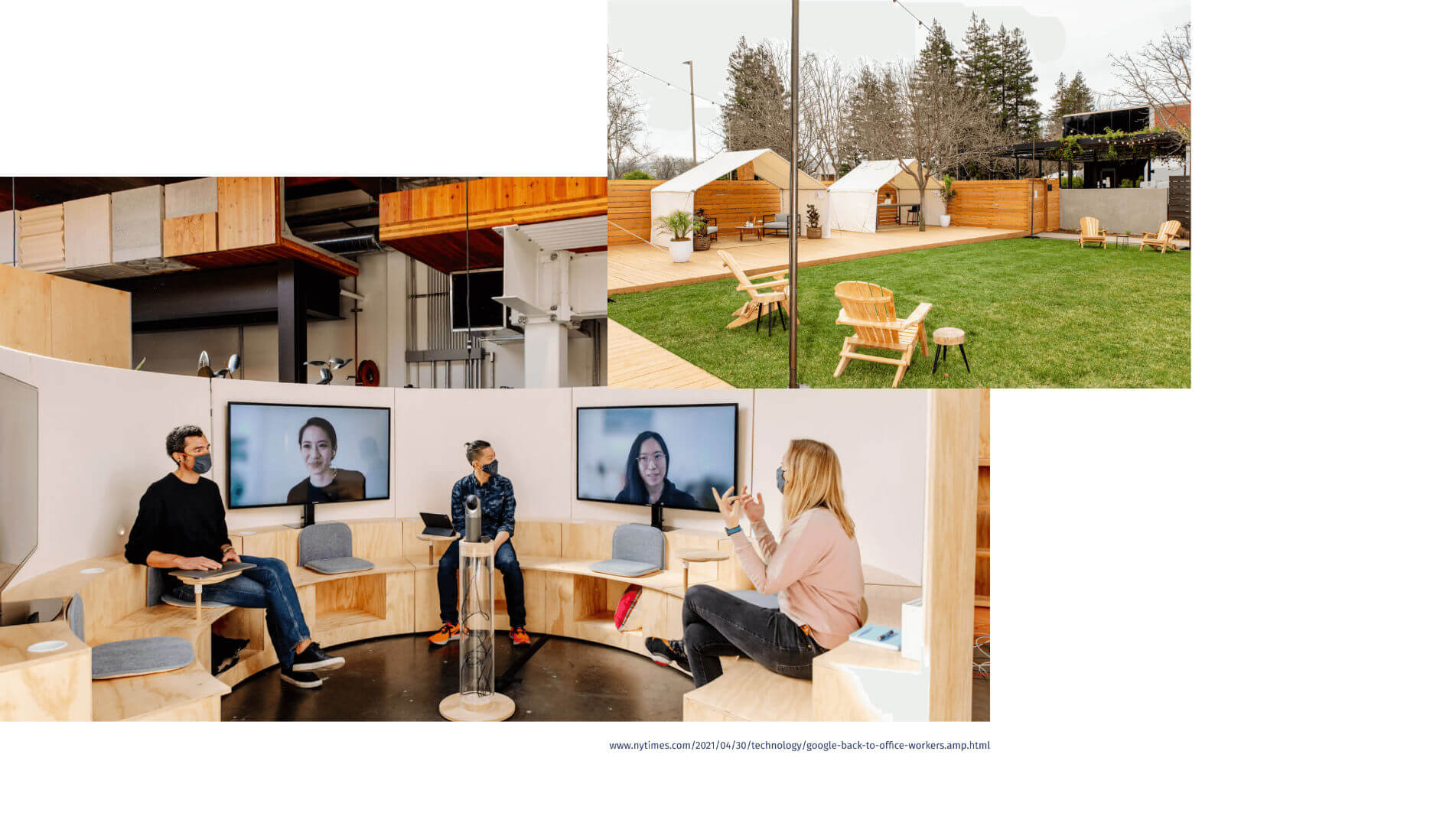 Google "Inside"
Moveable Air Ducts

Robotic Walls

Modular Spaces

Parking lot "Camp Charleston"

Transient Space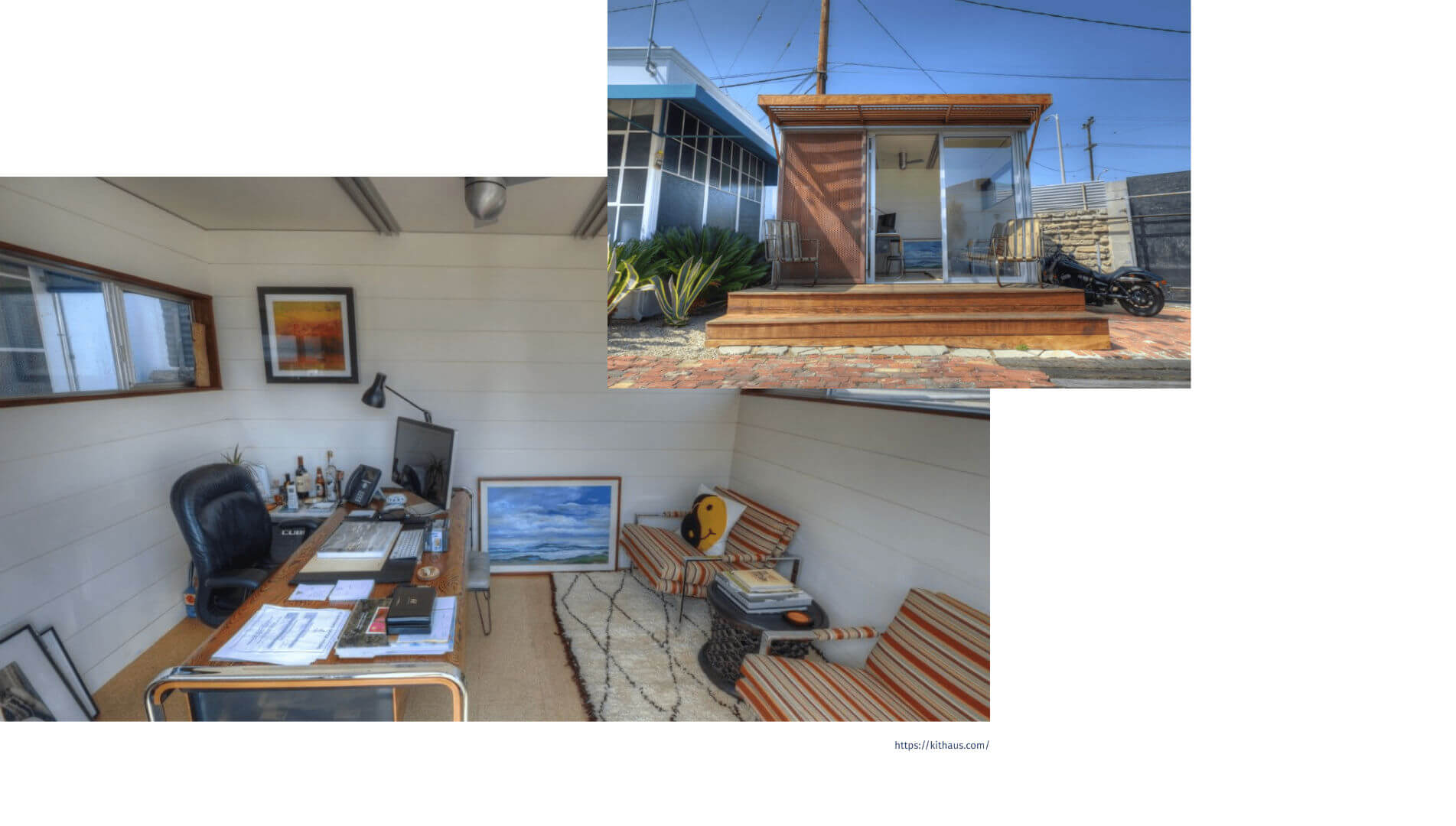 KitHuas
"Reality Escape Pod"

"Custom Configured"

Pre-fab-Aluminum

Multiple grid options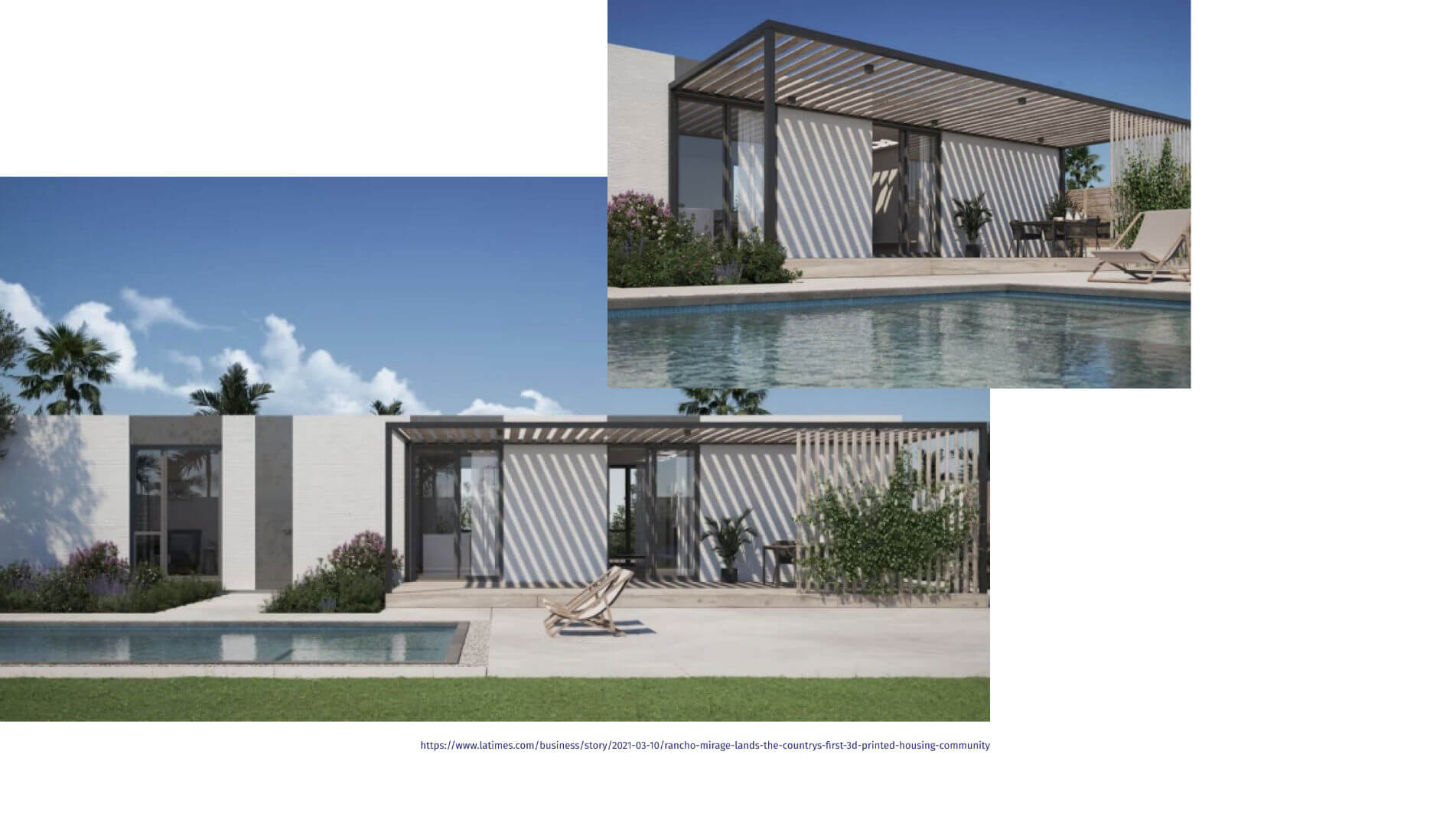 Mighty Buildings x Palari
3D printed wall panels in Oakland

swimming pools

"Eco-Friendly" - "Light Stone"

Limits waste

$595k
Critique:
Almost 500 miles between installation place and manufacture.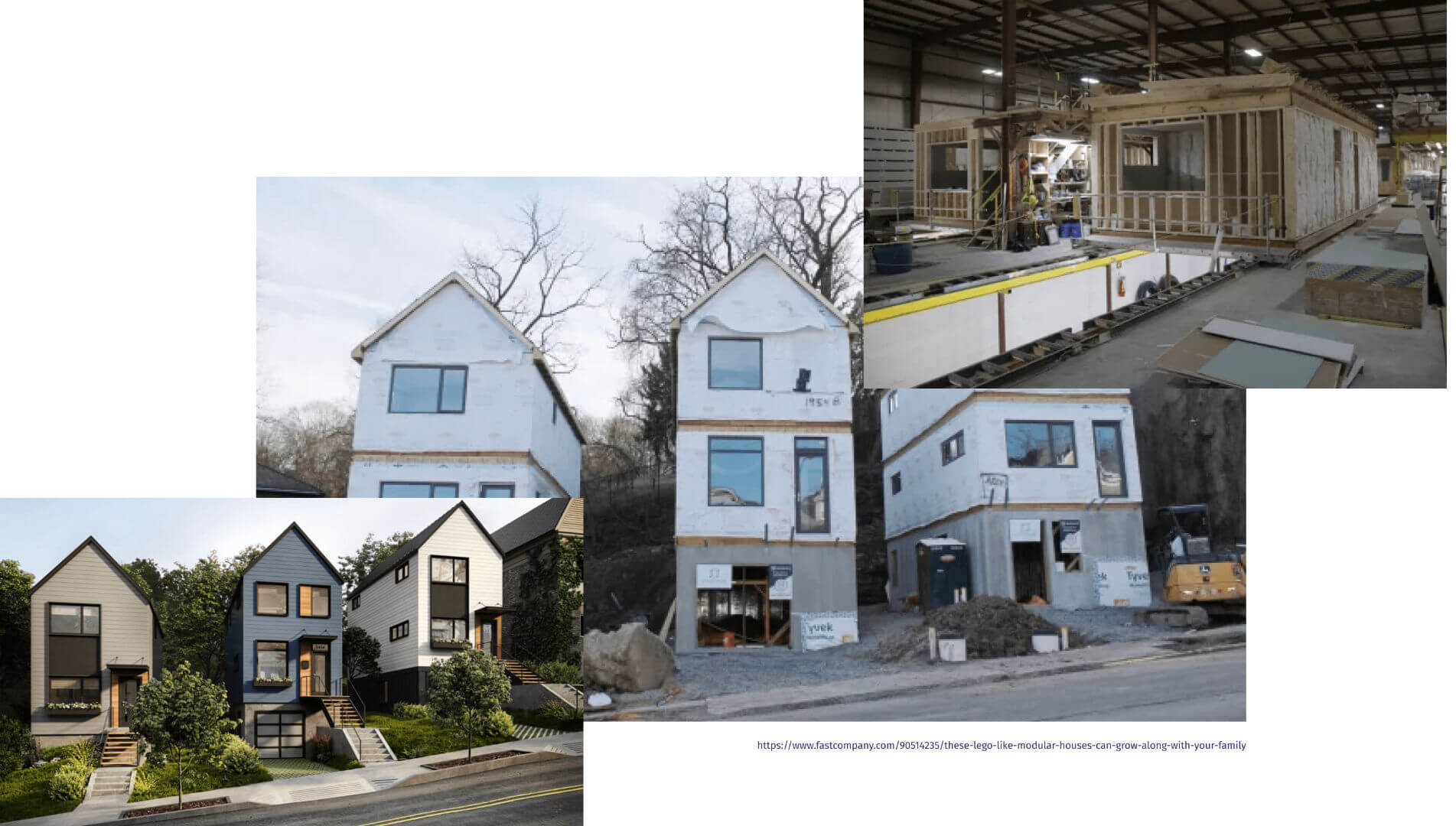 Module
Factory building is good in cold climates - 25% faster year-round

Removable roofs - expandable

Grows with the family
Critique
Dubious ADA compliance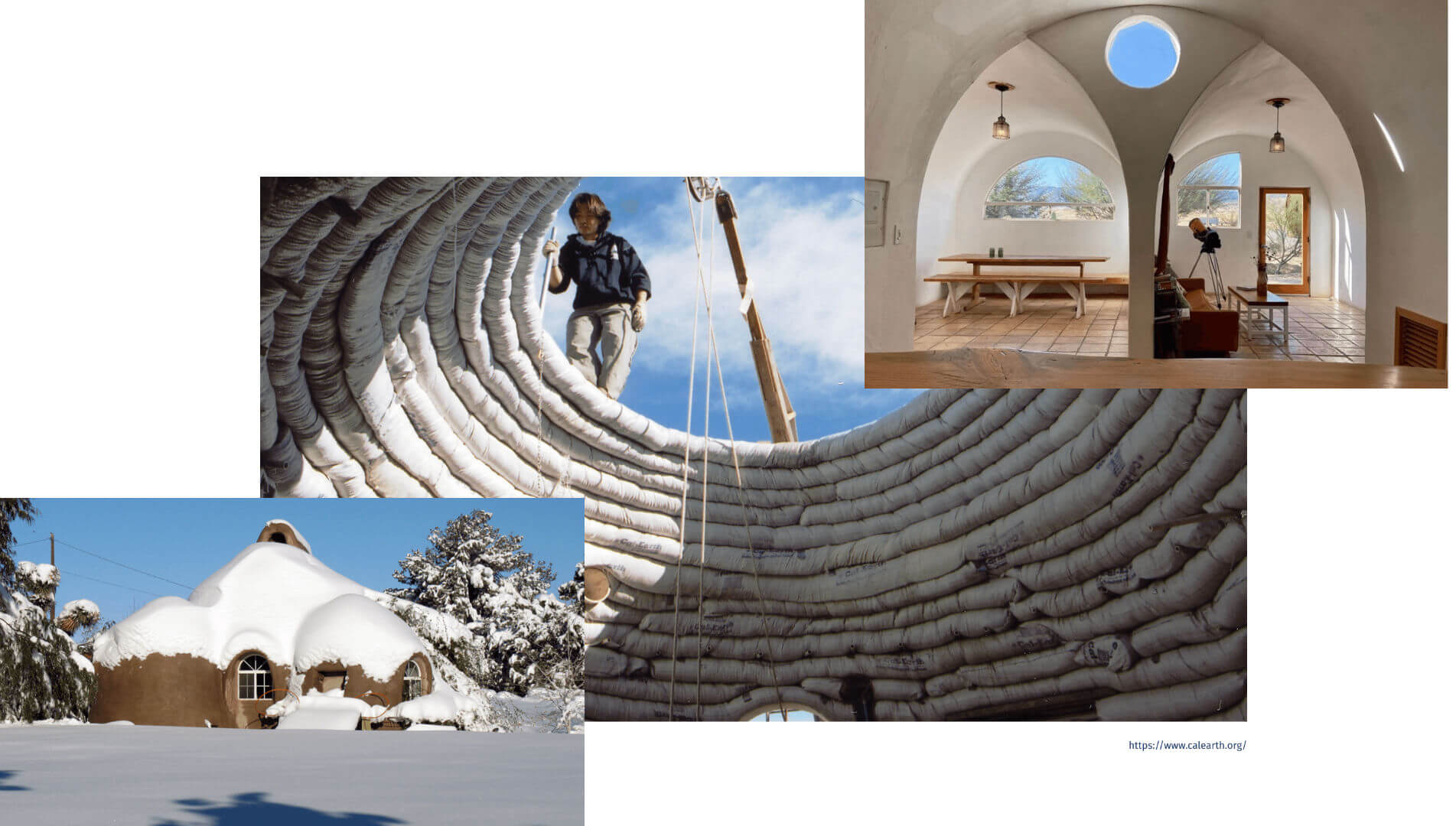 CalEarth: SuperAdobe
Duffle Bag - 16' high 23' wide

Open-source plans

No concrete foundation needed

Earthquake and highly insulated

Bags, Barbed wire, Dirt

Sandbag Alternative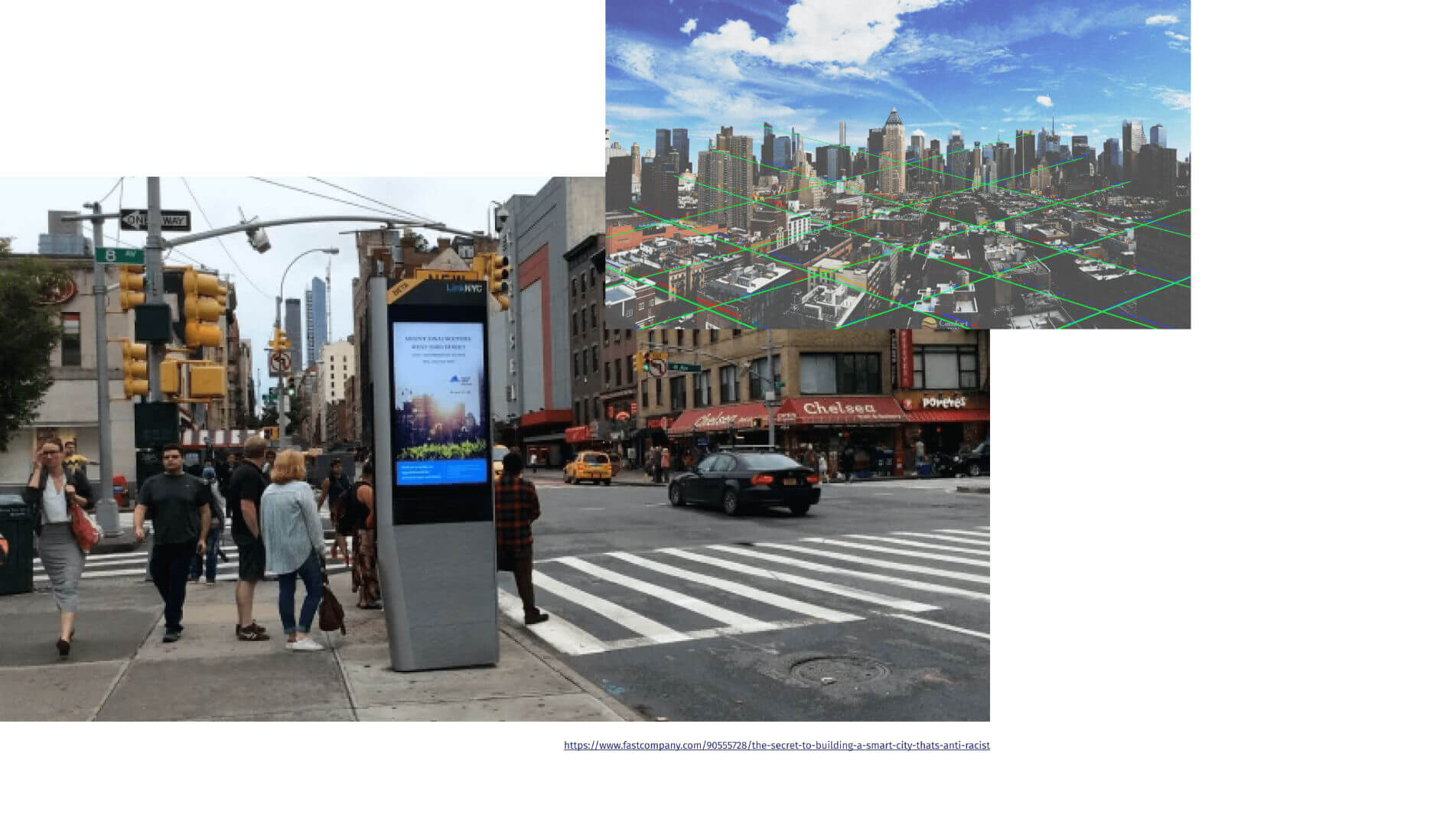 New York City's Project COSMOS
Personal data traded for access to the internet

Most common search terms:

"work," "housing health," "public benefits"
Uber Labs x NYC
Uber user's data sold to the city to optimize mobility
Critique
Gentrification
"...this experiment will be powered by mobility data, such as vehicle and pedestrian movement patterns, from Harlem's residents who are predominantly people of color."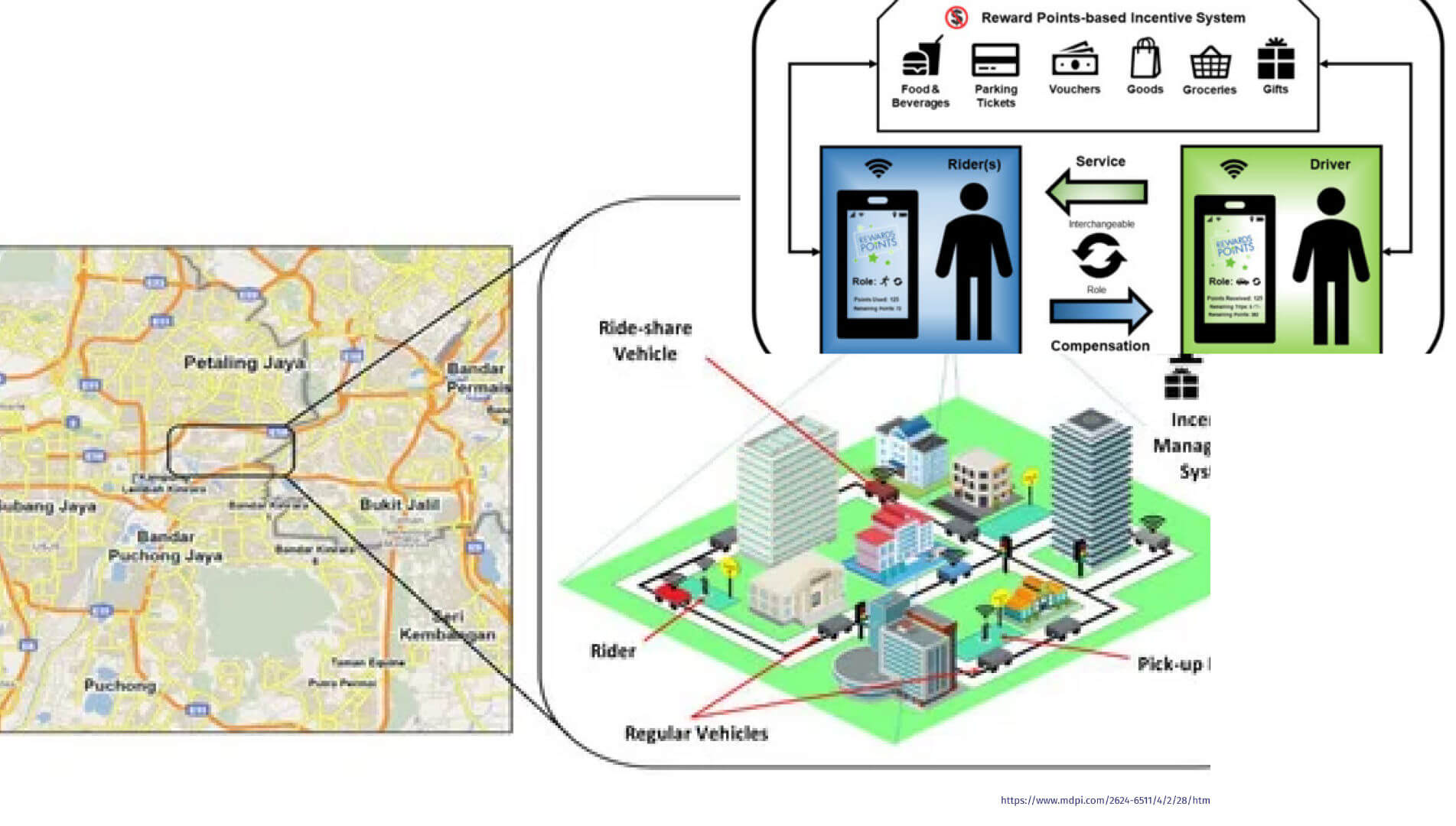 Incentive-based Dynamic Rideshare
Different non-environment destroying models.

Lyft/Uber/Didi has increased # of idling cars and increased emissions

Non-monetary point-based incentives

Limits

Not a binary of autonomous vehicles
Critique:
Biased against those with set schedules
Contextual Inquiry
In order to better understand the workings of the CalEarth institute, we went to visit the site and got a chance to explore the project on a deeper level. In addition to the direct value we got from being able to understand the materiality of the SuperAdobe firsthand, we also gained valuable insights about the process and scalability from the team. Particularly, the importance of soil quality was a key insight that helped inform how we approached the accessibility of our project. In addition, by getting a chance to see CalEarth homes built with varying missions in mind from flood-proofing, to Americana, to Mars-ready layouts, we gained a greater appreciation for the scalability of the technology at hand.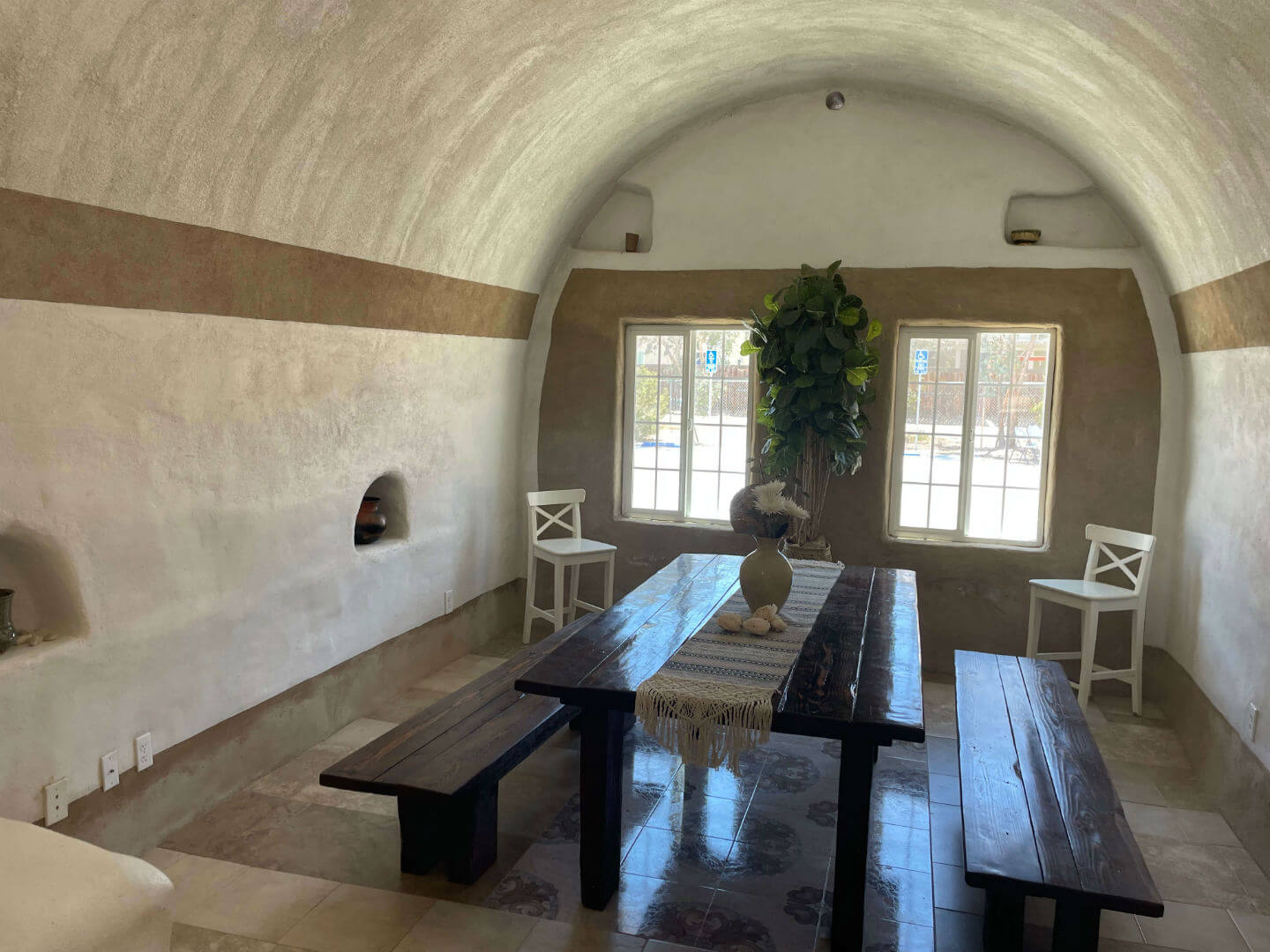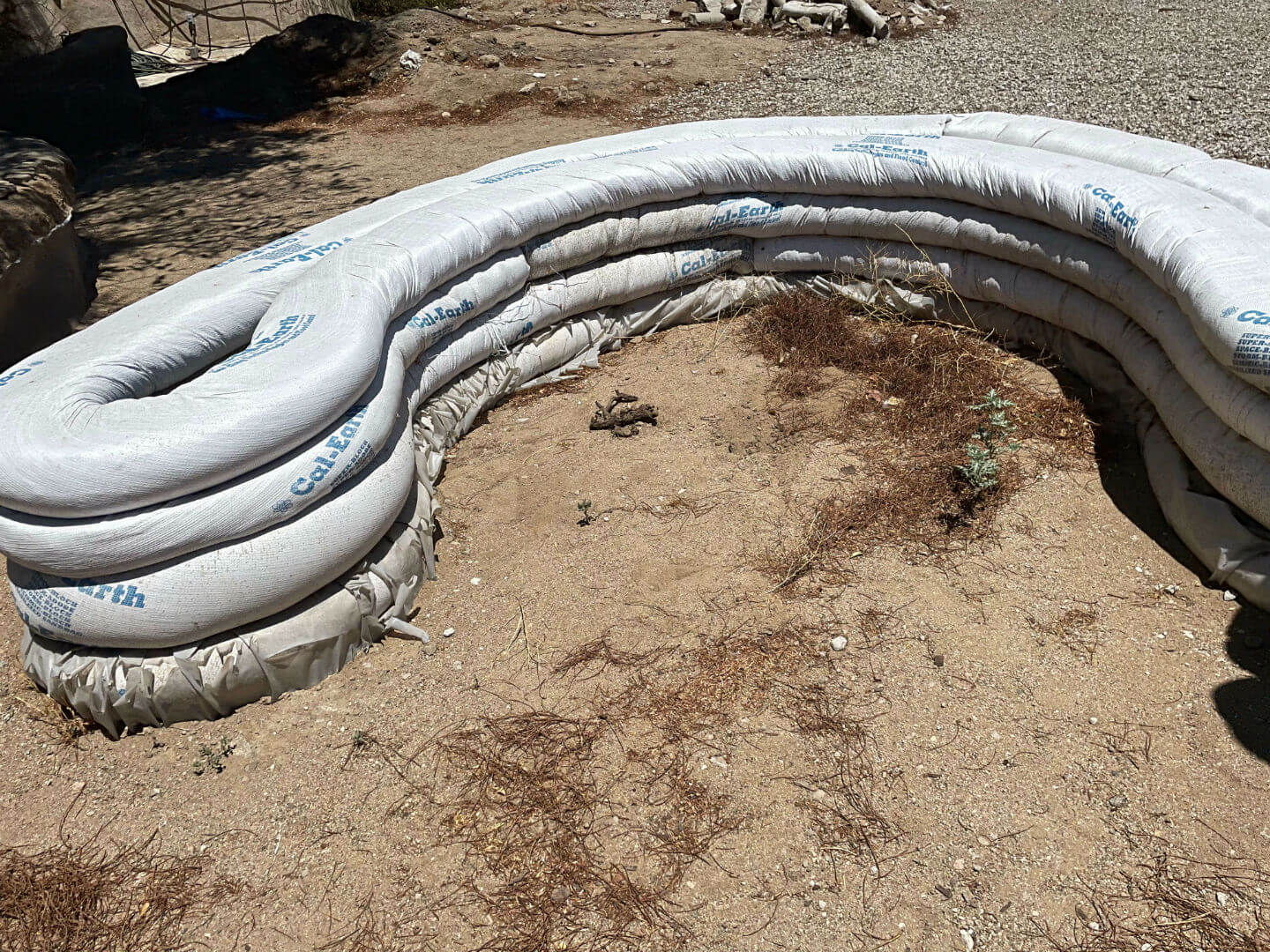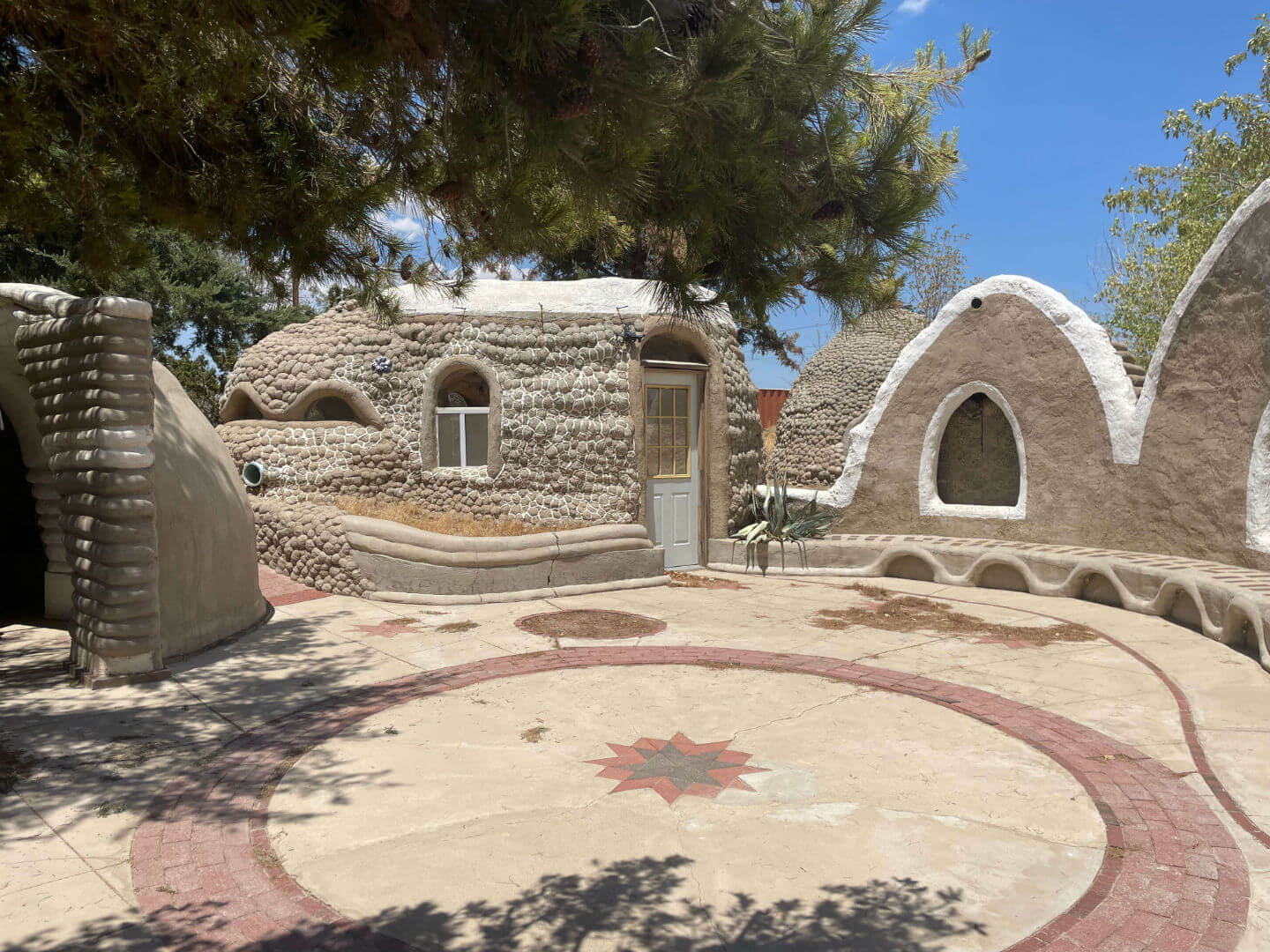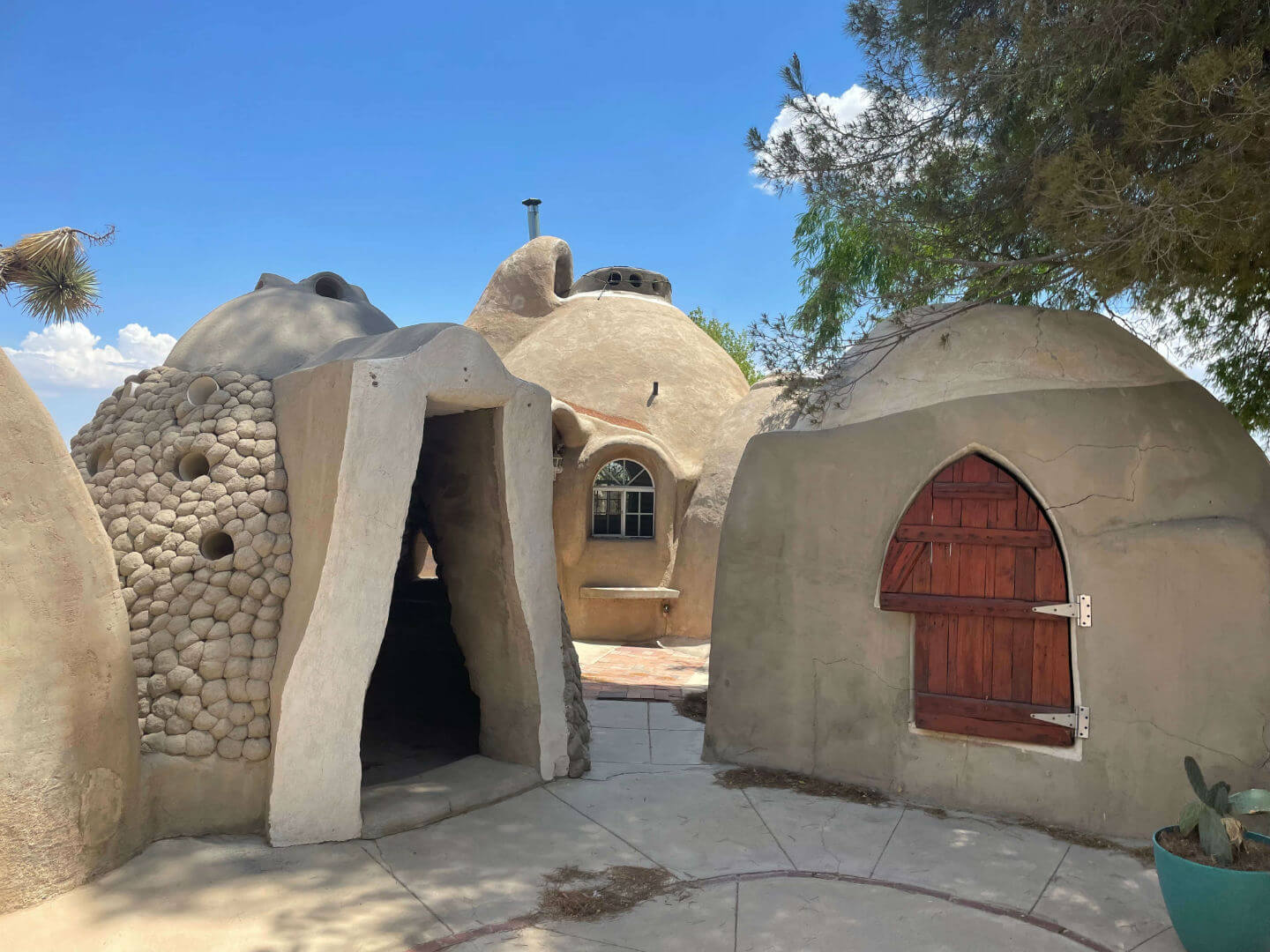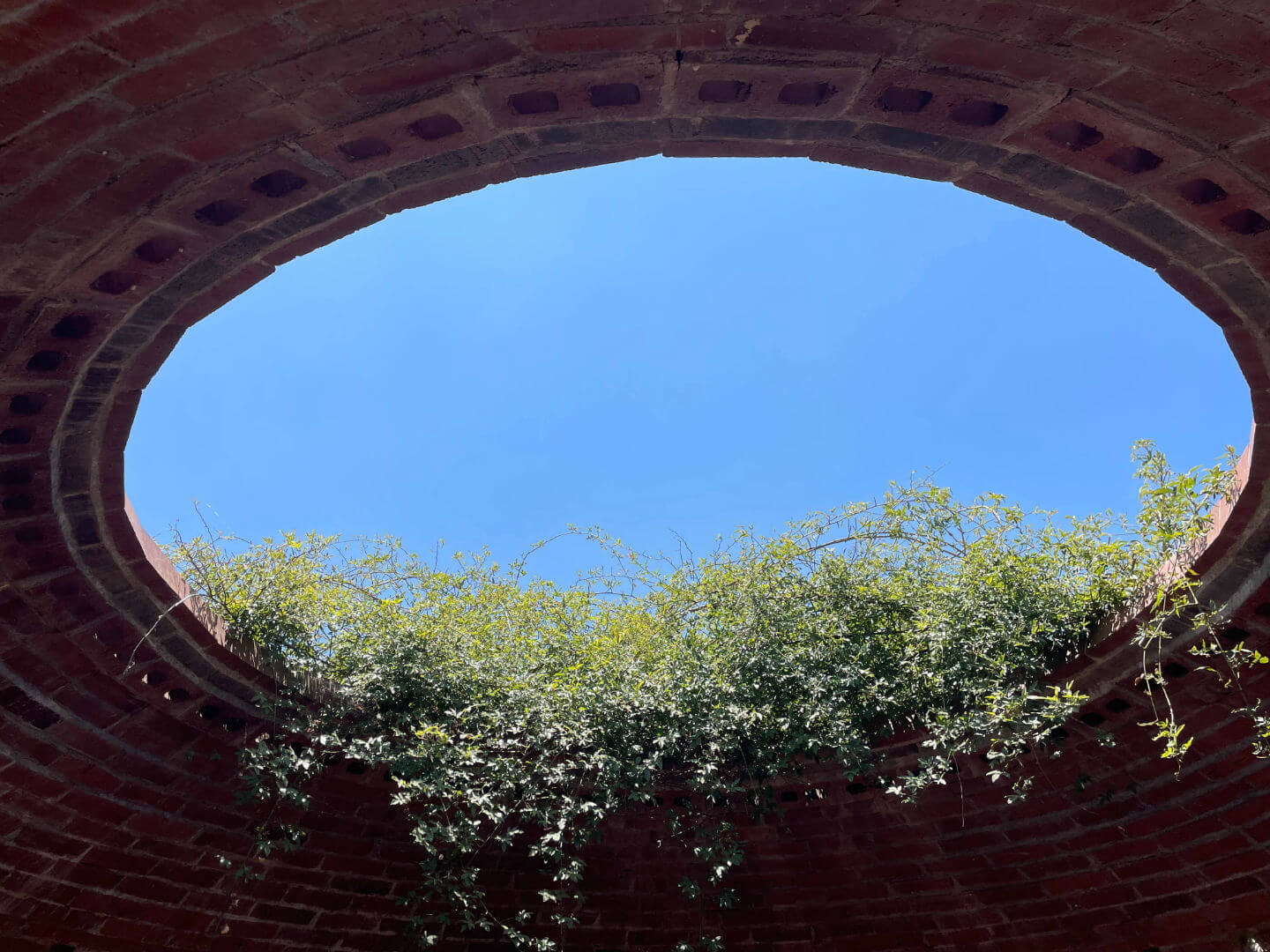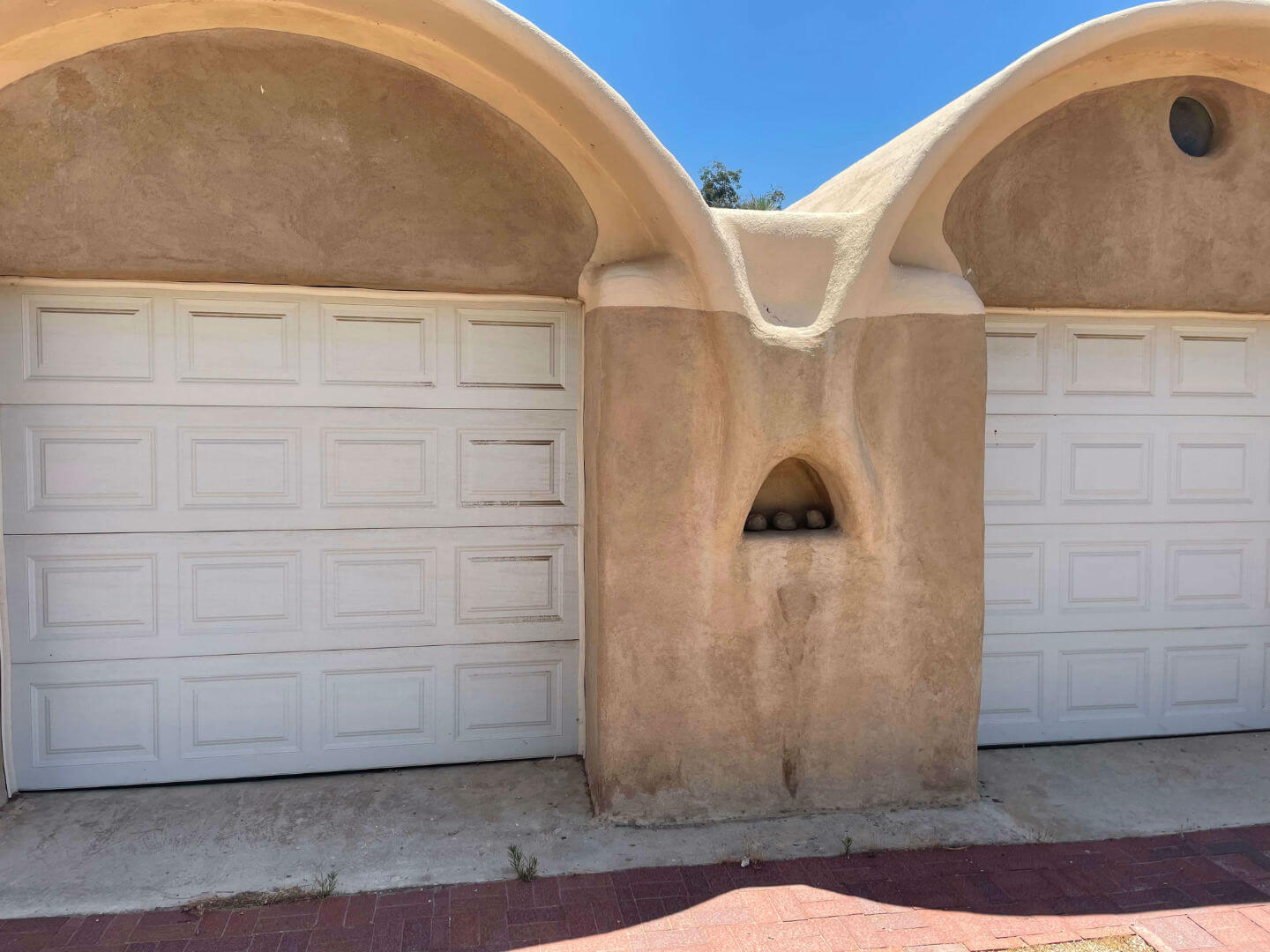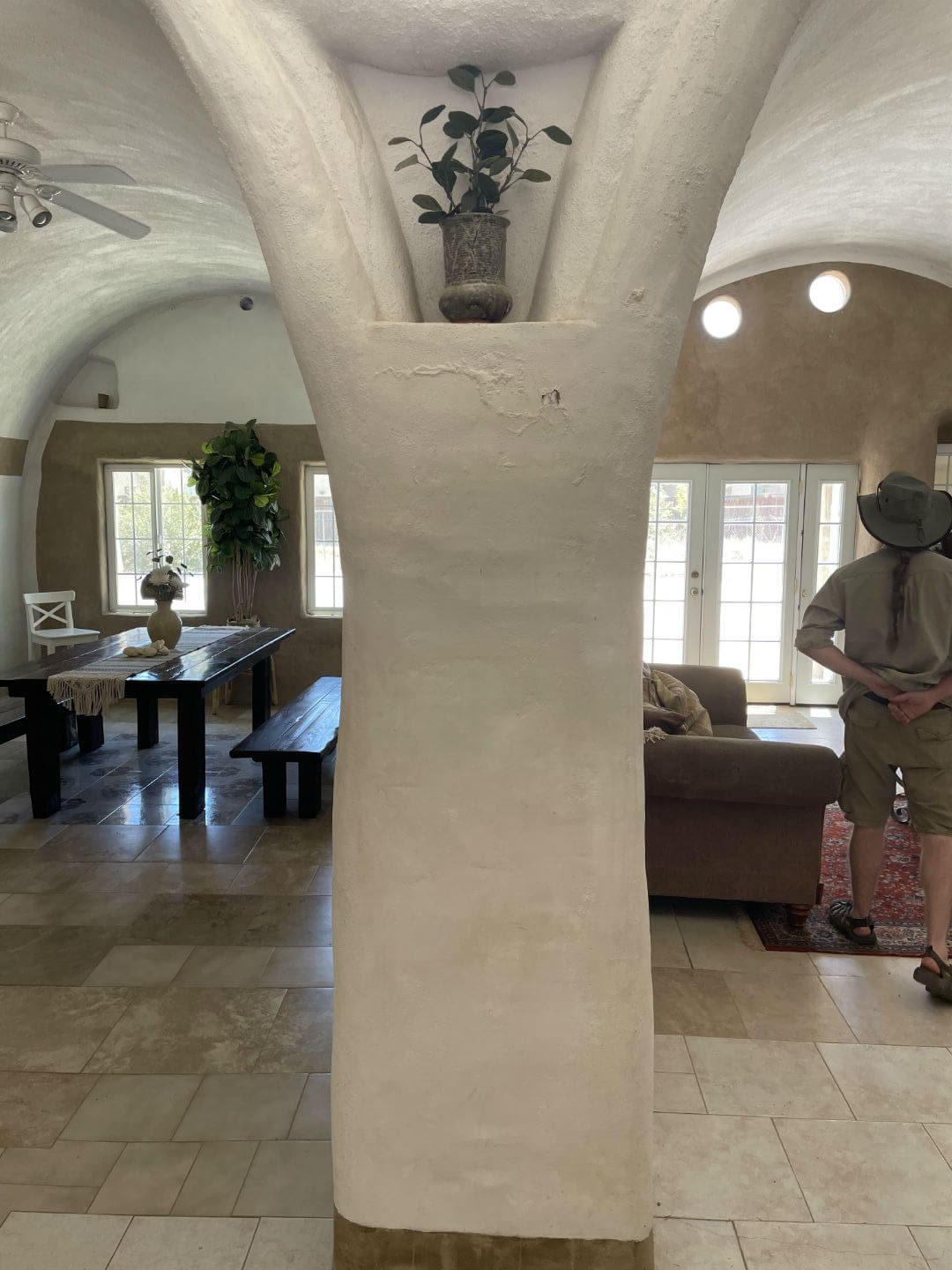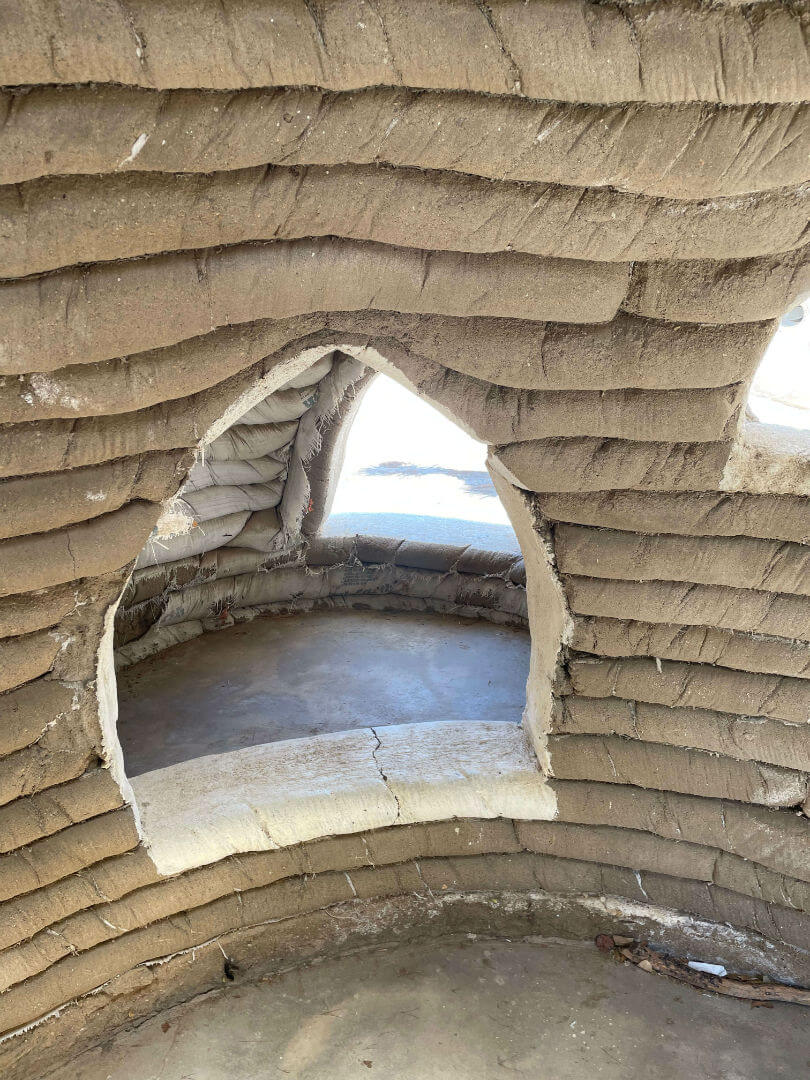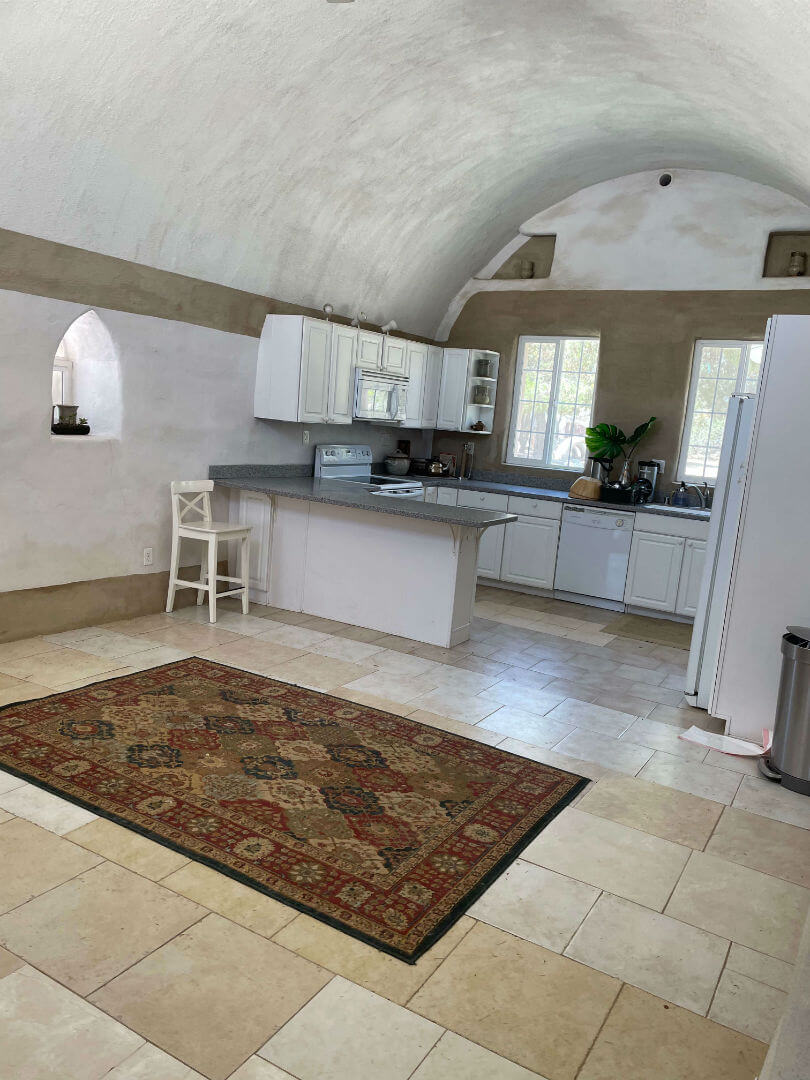 CLA
We conducted a CLA method mapping exercise to talk about the current infrastructure collect the ideas of the "land property" space.
After doing the current and near-future (2021-2025) we did the same for 2025-2035. (Yellow Post-Its).
We discussed the core beliefs surrounding property, how people talk about property today, the systems in place to support this, and the products that exist today as a result of these systems. (Orange Post-Its)
In our review session, we did an inverse thinking session of how individual parts of these layers could go wrong. (Gray Post-Its)
In retrospect, much of our thinking was limited to the consumer aspects of property management and we could have expanded this thinking to how organizations (ie: education and government) would manage the property.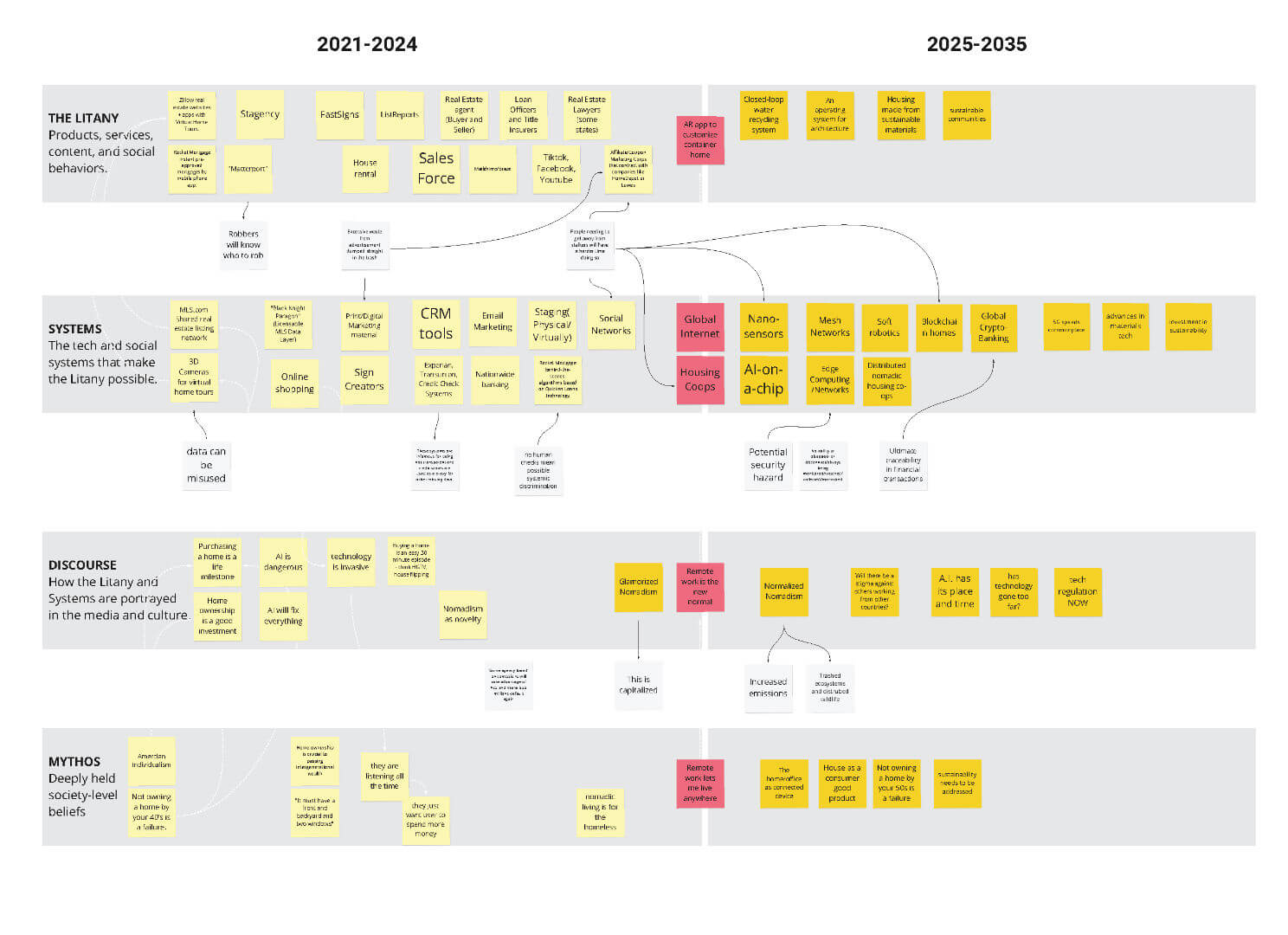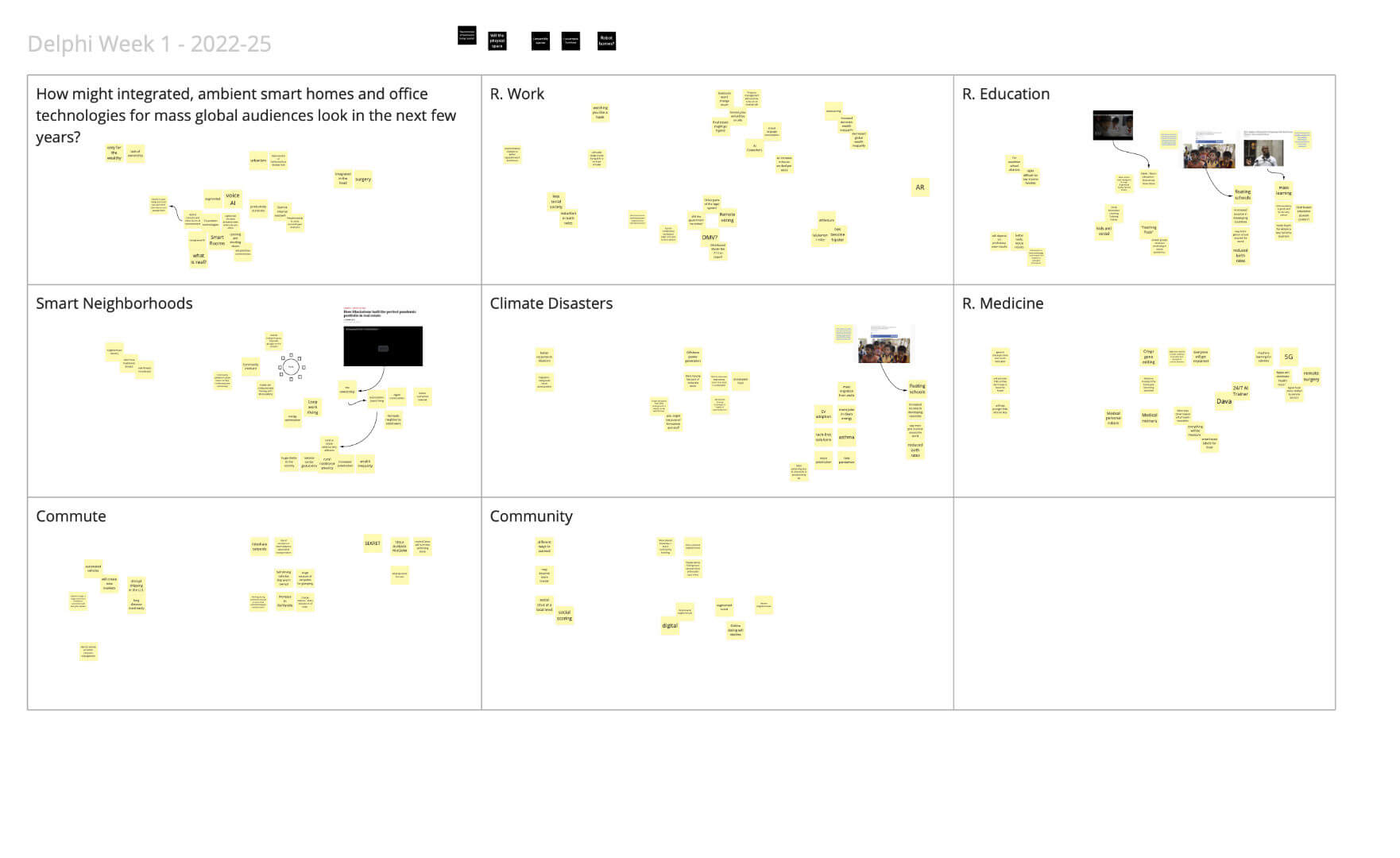 Delhi Workshop Part 1
In our first Delphi workshop, we contemplated remote work, education, medicine, smart neighborhoods, climate, commute, and community.
We see a variety of trends across these key focus areas. In areas like remote work, we see trends ranging from a reduction in socialization to a rise in athleisure. In remote work and education, we predict economic changes that lead to increased domestic inequality but decreased global inequality. At the same time, we see the effects of climate change on things like education, with a rise in floating schools and both fortunate and unfortunate effects from the proliferation of online education.
In terms of medicine, we see 5G offering radical accessibility to remote surgery and analytical tools giving people greater access to their health. At the same time, we see changes in commute and community, creating more insular societies, with augmented social behaviors, and a rise in social credit scores.

In our second week, we focused on customizing, financing, purchasing, leasing and remotely managing homes and workspaces.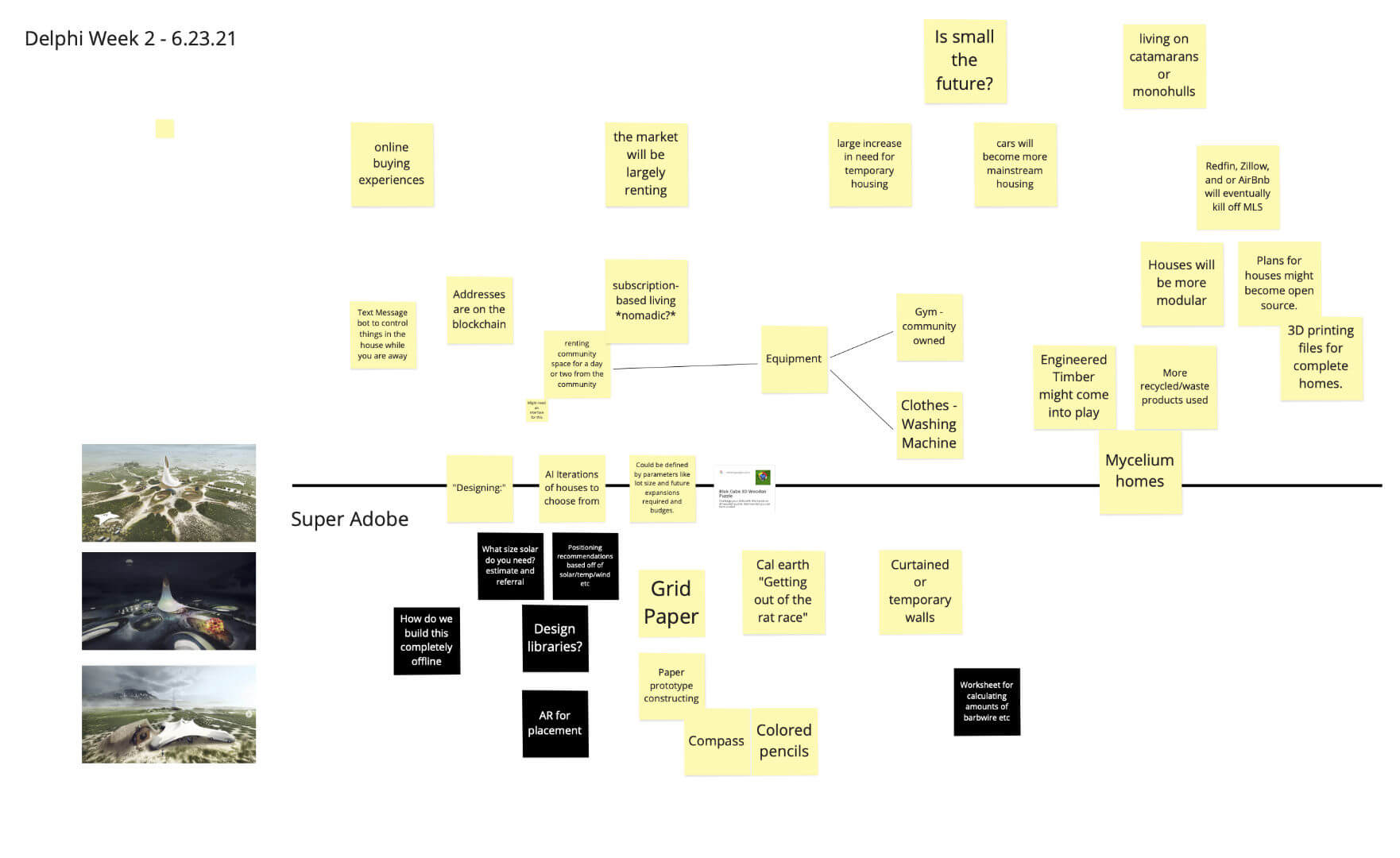 Delhi Workshop Part 2
We predict an increased proliferation of renting, with large-scale communities of single-family homes being built entirely for rent. This reduction in homeownership can be conducive to a rise in nomadic lifestyles, with people preferring subscription-based living. This may also coincide with a large increase in temporary housing as well as, more modular living. We forecast automobiles will become increasingly acceptable forms of housing, being supplemented by virtual, blockchain addresses. The automobile revolution will be presented as a rise in freedom but will likely be a societal change driven by the rise in unaffordable housing.
We see technological innovations like engineered hardwood and 3D printing changing home construction and allowing for open-source forms of development. Mycelium may also be an eco-friendly alternative to traditional materials.
Interviews
We wanted a deeper understanding of attitude towards space, what was considered "smart", "Public", and "Outdoor". We wanted to understand ownership and want it meant to be in a community and what people's ideal community spaces were.

We knew that to move to the next steps we would need detailed persona's.

We had a hypothesis that people's attitudes towards their spaces had shifted over the course of the pandemic. We also hypothesized that people generally had limited engagement with their community.

We created an interview discussion guide, here are some of the questions that we asked.

What is home? Where is home?

How would you rate your space?

How was your living situation two years ago?

What is your "community"

What do you do with other people in your neighborhood?

Describe your ideal community space.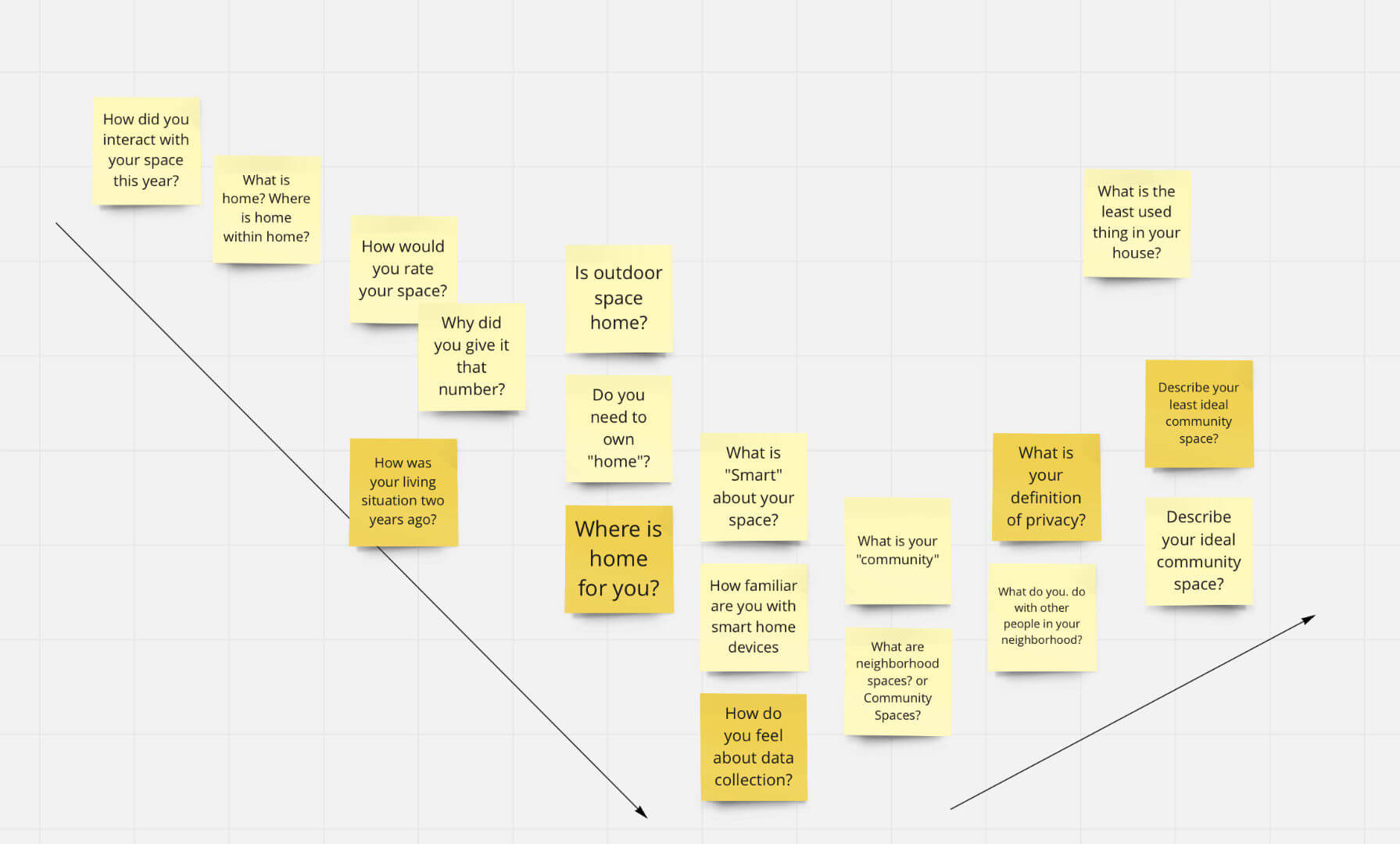 KJ Method
After interviewing we affinitised the results and using the KJ method distilled the following patterns.

Most rated their spaces highly, 10/10, their reasons for rating were quite interesting. In the realm of privacy, on one hand for many people it meant security, comfort, stability, and peace. On the other hand, it helped people feel isolated, that they didn't have ties to their community and it was hard to meet new people.

When asked about where home was or what it is, some responded philosophically while others stated physical aspects.

"Home is what I pay into"

"Home is where I have full control over what goes where, and I don't have roommates."

Most of the responses clustered around themes of emotional, comfort, and relationships.

"This is where my roots are and where my story starts"

"Home for me is someplace where you can detach yourself from work"

"My significant other and my kids are my home."

Some of the themes we found with "what community was" were heavily skewed far from the physical aspects of "geographical community".

"the teacher that teaches my son, the man that picks up my garbage."

"Scarcity brings people together"

While it wasn't a repeated theme these quotes from one of our interviewees really spurred our thinking.

"Some spaces are predetermined and not truly a community [space], like amusement parks, this isn't technically an open space, there is an expectation to do something."

"Hachiko in Shibuya Square became a community landmark, it is where many people go to wait for their friends that get off of work out of the subway.

When asked about how they interacted with their community. We found some patterns of interaction:

Some people had neighbors they considered friends, some had limited to no interaction with others, and some interactions could be categorized as "incidental only".

"A child came up to my significant other, so we spent a few hours finding their parent"

"I fostered a dog, and my dog would go and lick people and then you have to talk to them"

In terms of limited interaction, this consisted mostly of saying hello, or waving at each other.

"I am not a social butterfly, if I see the kids in the street I wave at em"

Some were fortunate to be able to share ideas and food with each other and work in communal spaces.

Watch house or pets if the neighbors leave town.

What surprised us the most were some communities getting together to get active!

"Badminton in the New Balance Pasadena parking lot"

"Great way to meet new folx that just want to join in!"

"Football in the park"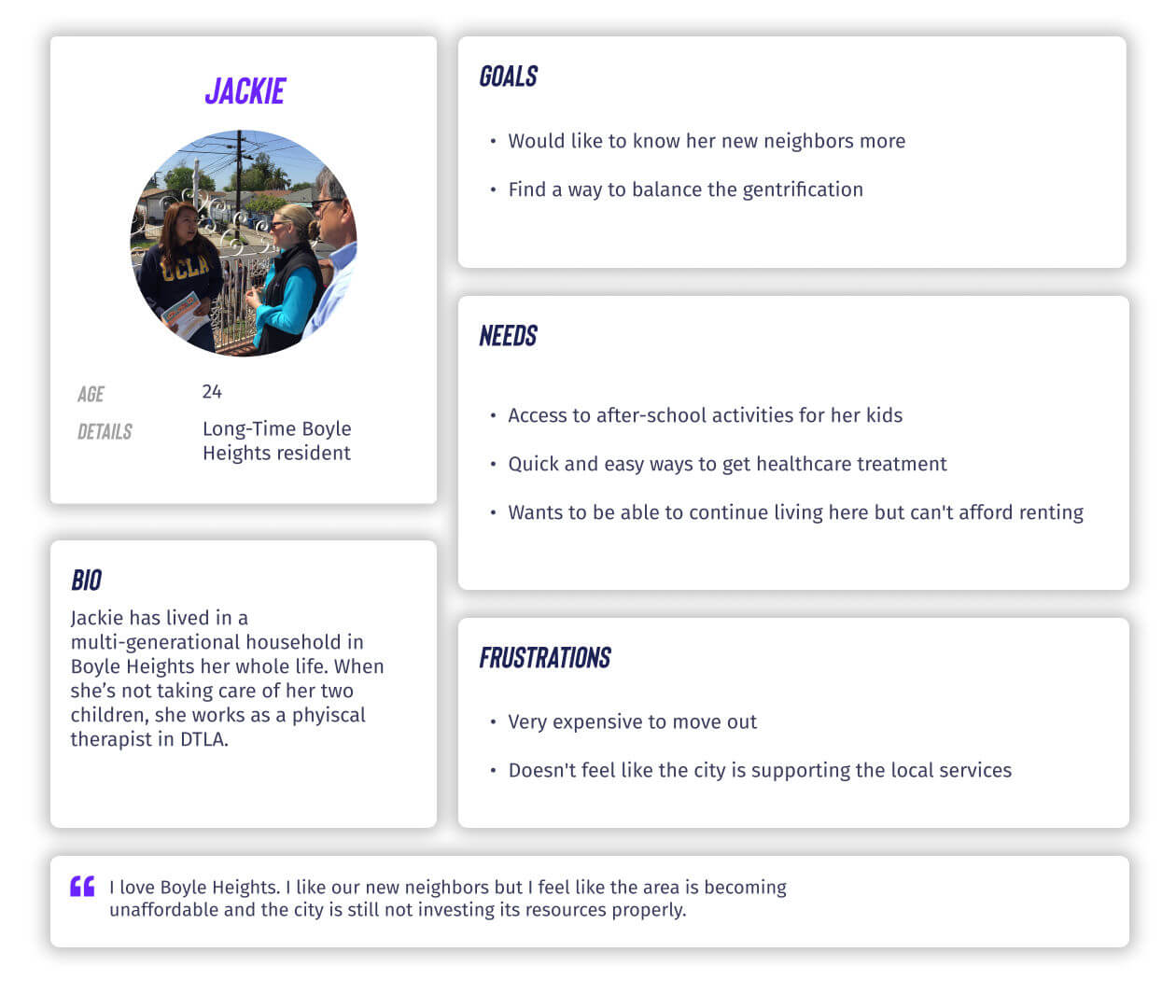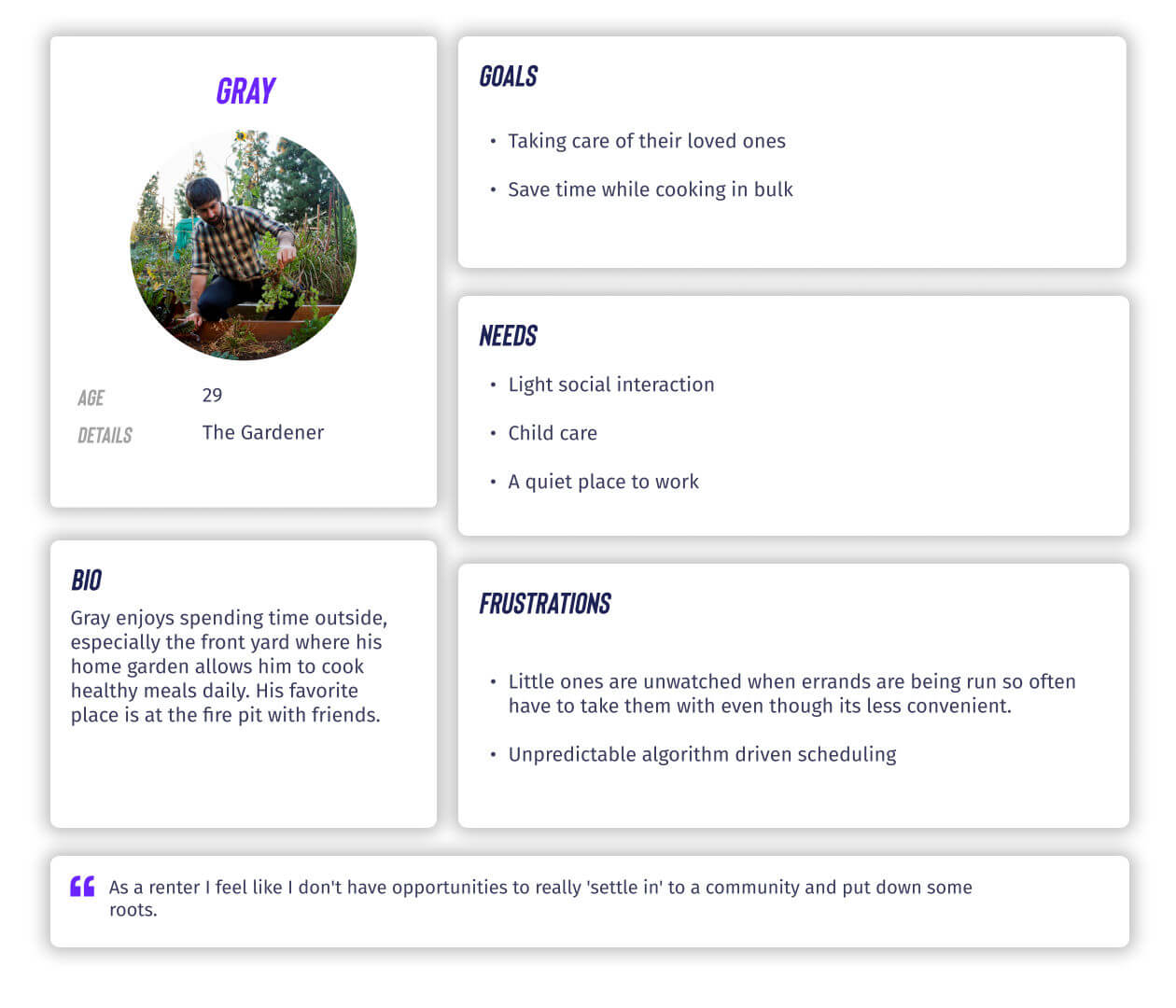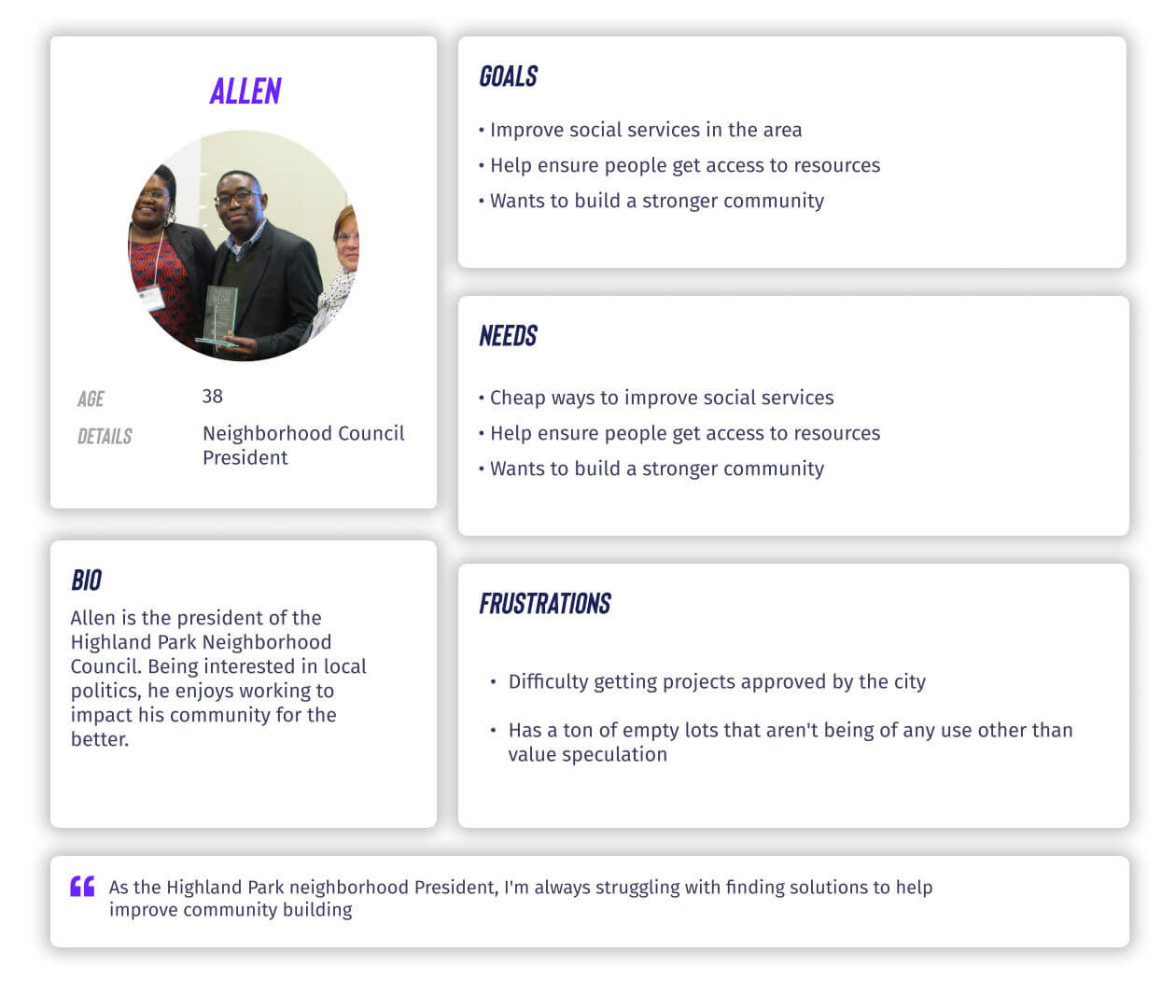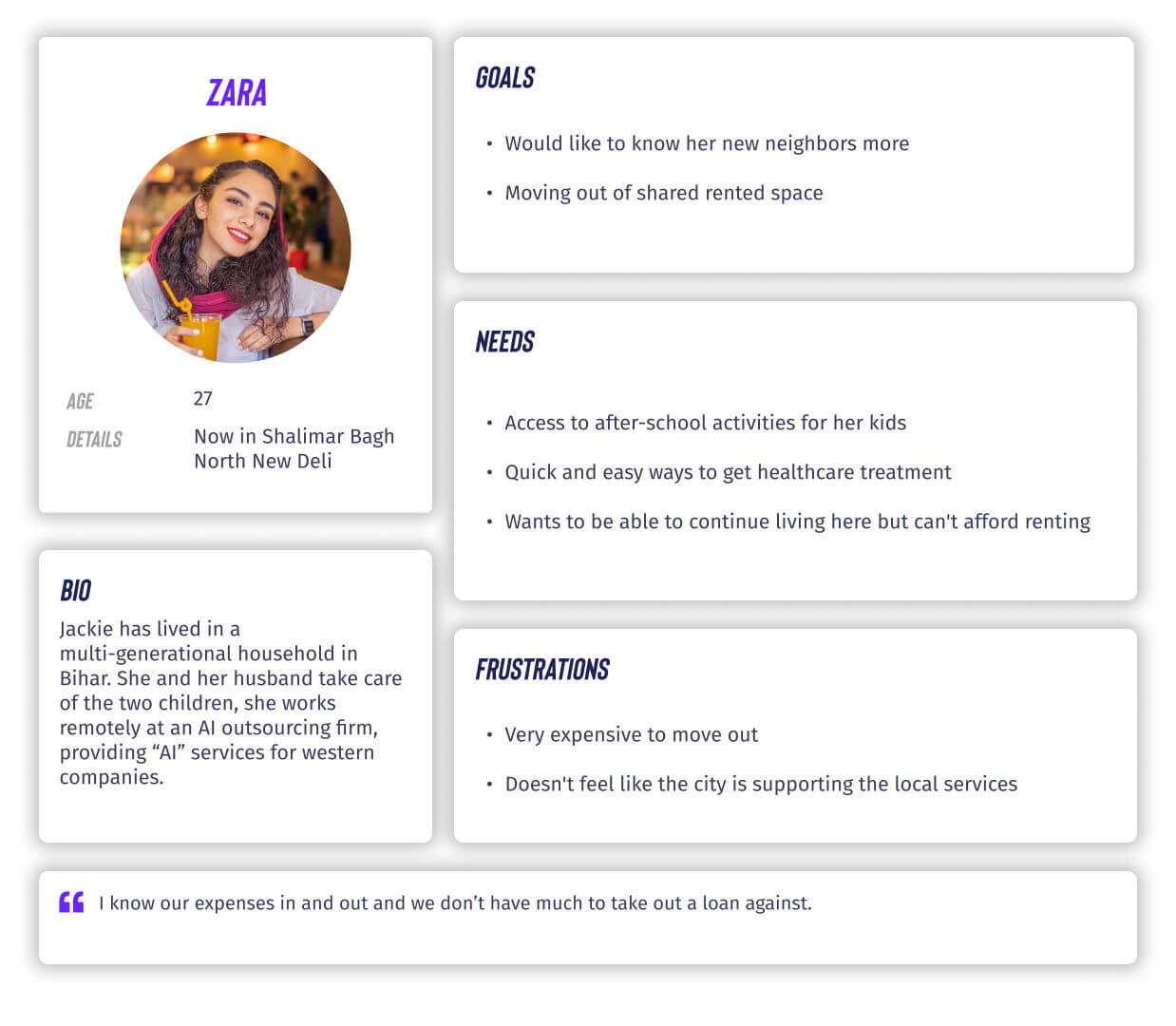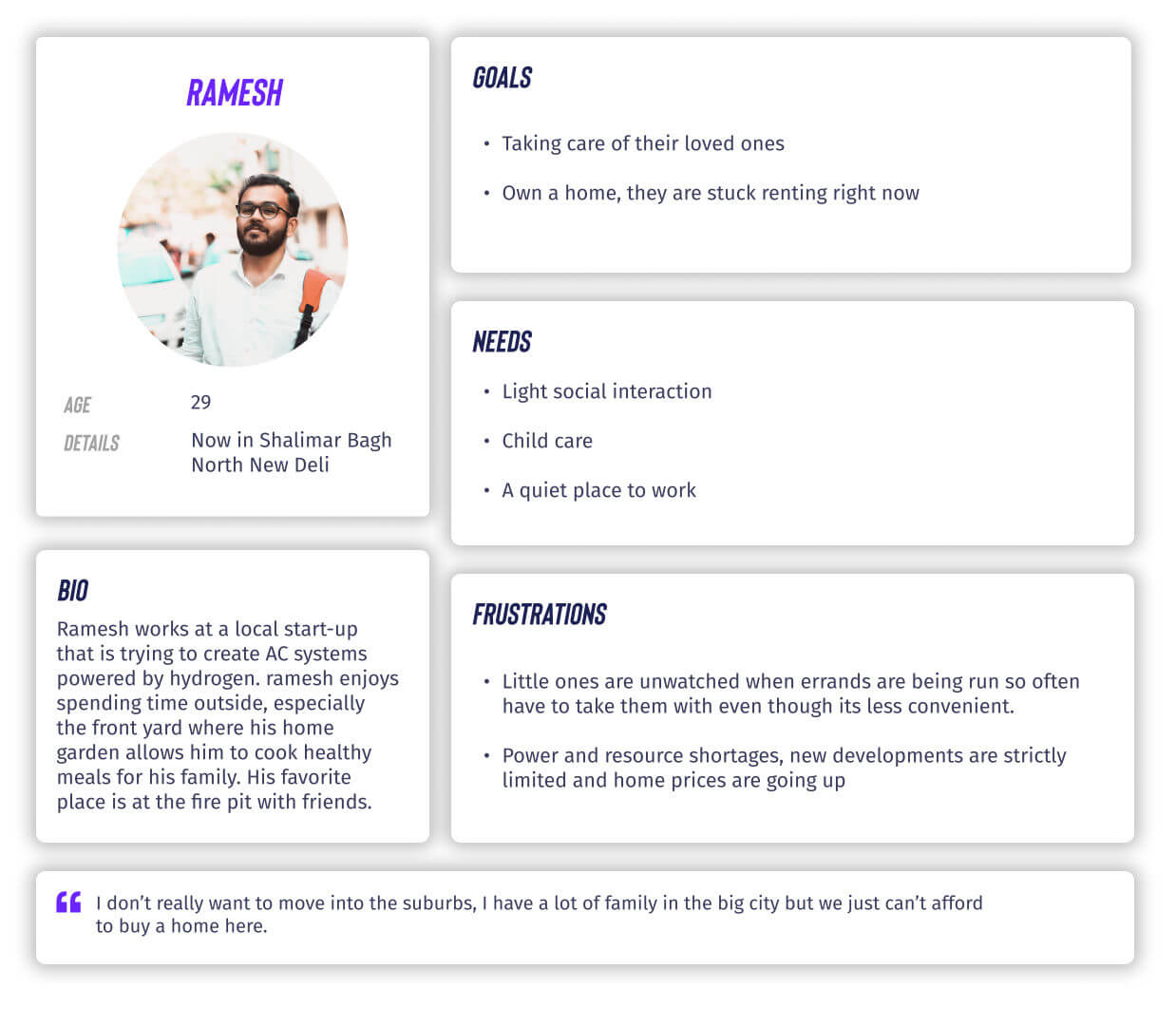 Ideation
We came up with our final design through exercises of writing and rewriting user stories that fit the needs of the personas that we had created. We also referred back to the research and methodologies we used to uncover themes and generate ideas..

Over the course of a week, we explored near-future scenarios and far-future scenarios.

For our near future ideas of a potential system, we ideated around user-stories around creating food pantries, music studios, community gardens, and local community movements like addressing climate change in Echo Park.

Some of our most interesting discussions happened when we ideated in near-future disaster scenarios. Forced urbanization due to global warming heatwaves in city centers, and global earthquakes that disrupt supply chains.

Here are some of those stories:
Near future - Music Studio
Alice is a mom of two from Highland Park, California.
She and her husband both work and so she's always looking for childcare to take care of her kids after school. Due to budget cuts, LAUSD cut the after-school music programs from her kids' school last year.
She hears about the "CalEarth for Cali" website through a poster down her street. She decides to visit the site to learn more.
Alice decides to submit a request for a music studio to be built in her neighborhood, as her kids all love music.
Alice goes through the onboarding process, using the portal to fill in metadata, and complete her proposal. The portal then tells her to build a team and she recruits local friends to support her idea.
After she posts her idea, it gets submitted for approval from the CalEarth team and they begin to help her in the process of getting the idea turned into reality. They help her select a public-use land lot to develop her music studio.
In the meantime, Alice goes through her community looking for donations and support. While that is happening, the CalEarth team goes through its Rolodex and pushes out marketing about Alice's project.
Within a few weeks, thanks to a donation from local community members that Alice recruited as well Pharrell Williams and the Adidas team, the Highland Park Music Studio has begun construction.
Thanks to the CalEarth team's partnerships with the local government, the city public library decides to sponsor the maintenance of the project.
Near future - Food Pantry
Their small community will often have food that is going to expire soon and isn't going to get finished, so many people post that to Nextdoor.
Allen has realized that there is an opportunity to create a small food pantry with refrigerator space and some shelves. He also knows that some of the local grocery stores and restaurants throw out tons of just day-old food and sometimes it's just misprinted.
In order to raise money for it he sets up a "Donation product" on Nextdoor, people in the neighborhood buy it and their money goes towards the money pot.
The system collects which ones are receiving the most attention (KPI is not necessarily $ amounts) and adds it to the list of up-and-coming projects on its platform for non-profits and philanthropists.
Within a month the project gets fully funded and Allen uses the system to schedule shifts and communicate when the pantry is open. The shifts are exclusively for the members of that community or the ones in the neighborhoods nearby as a way of getting everyone "their first job" and building valuable life skills.
Our feedback during this sprint was to see about picking the user stories that had told the best story together. For example, the school/music studio stories, and the food pantry/community garden stories.

We met for an extended meeting at the end of the sprint and discussed, taking into account the needs of our client CalEarth and what they could potentially grow to take it to the next level we decided on an assisted CalEarth designer available to everyone.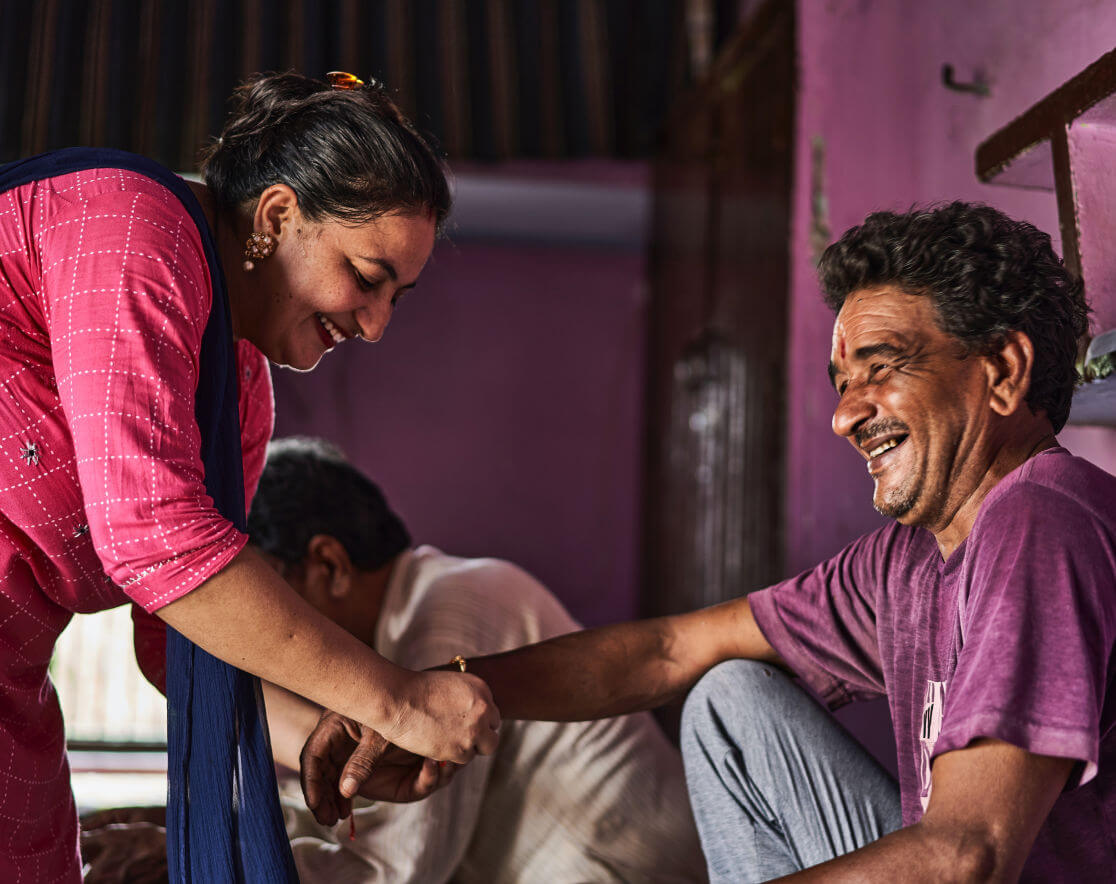 Zara and Ramesh are a Hindu-Muslim couple from the neighborhood of Shalimar Bagh in North New Delhi. Originally from Bihar, they migrated to Delhi to find work.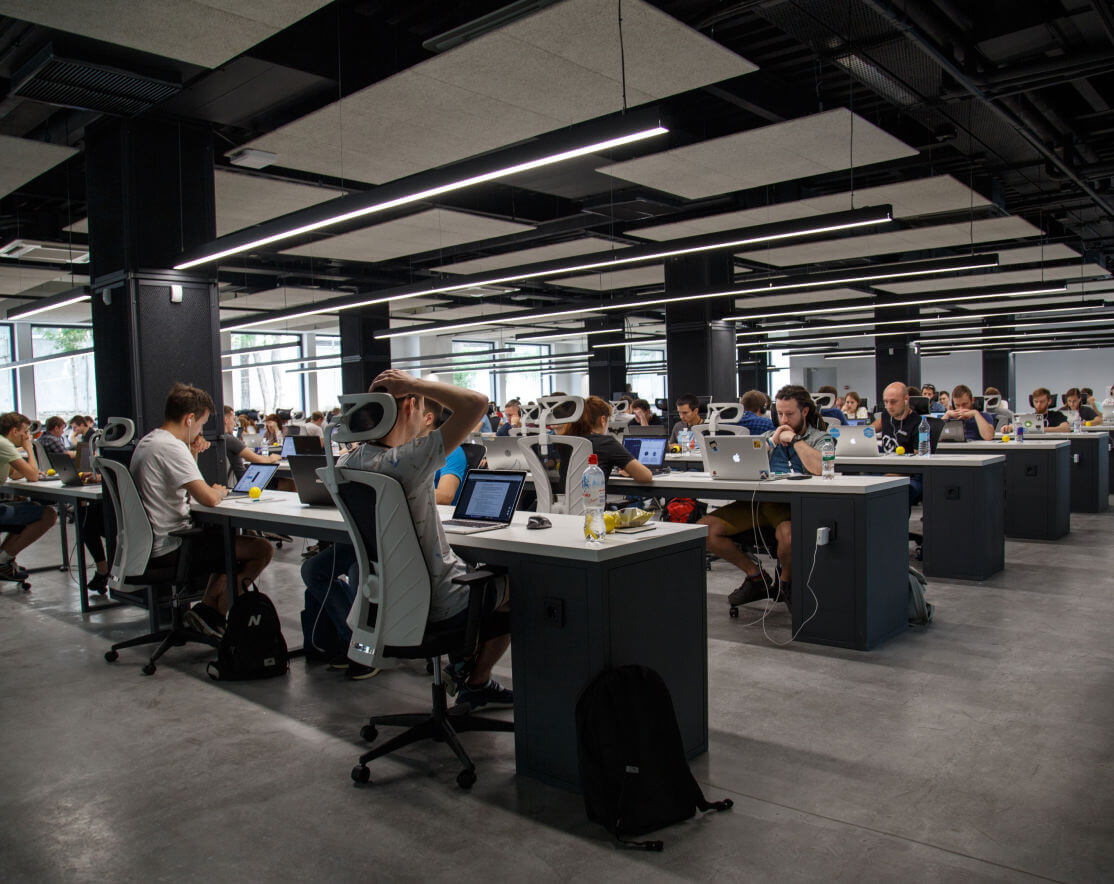 Zara currently works at an AI outsourcing firm, providing "AI" services for western companies. Ramesh works at a local start-up that is trying to create AC systems powered by hydrogen.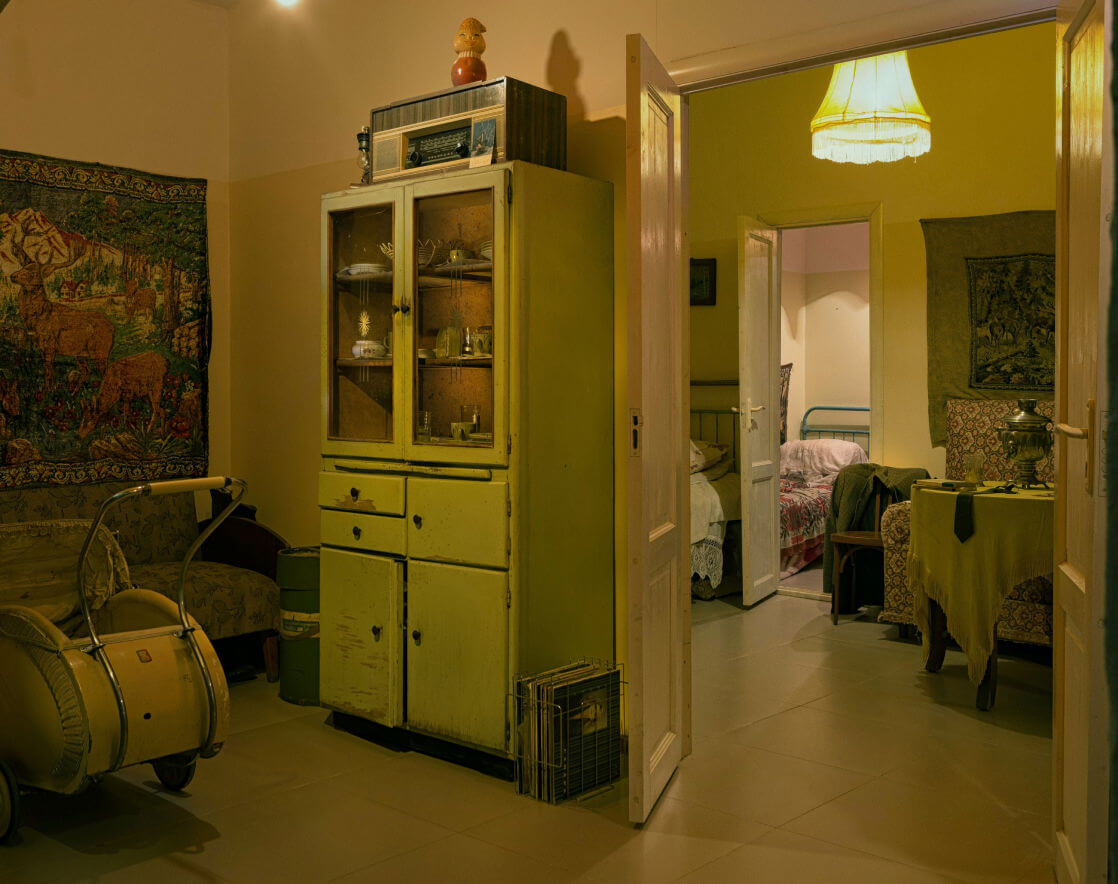 Despite their stable incomes, and middle-class status, due to a rising urban population and limited urban land, they're unable to afford a home. Currently, they're stuck living in a small apartment shared with a family.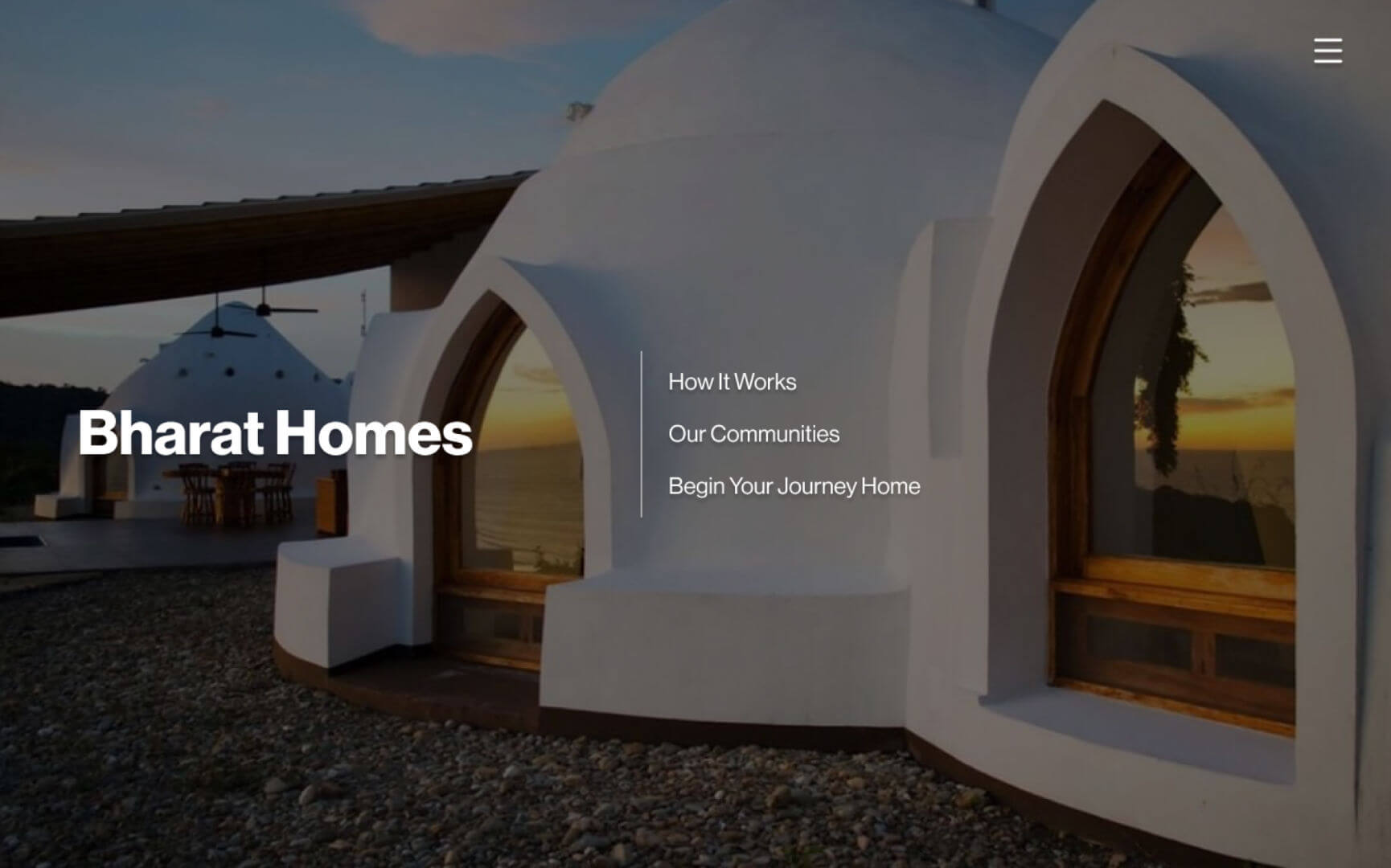 As trends in India have changed, more and more young families are moving out of their multi-family homes and into urban dwellings. Zara sees a poster for Bharat Homes, a new super-adobe start-up building homes in the outskirts of Delhi but connected to the new high-speed rail into the city.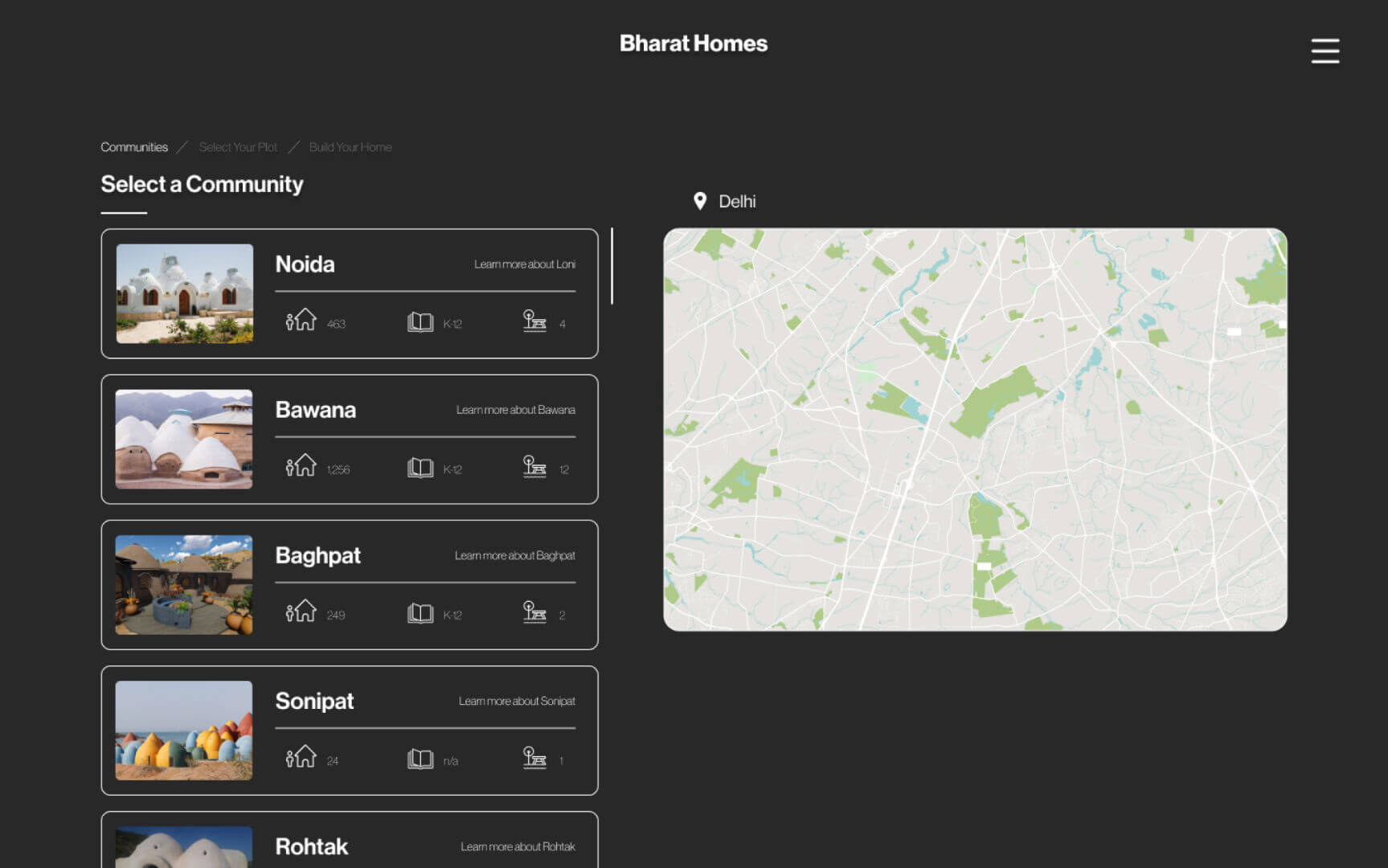 Zara and Ramesh go onto the Bharat Homes website on their mobile device and build their custom home. After going through a gallery of sample homes and communities they select their ideal location, a new suburb in Greater Noida along the high-speed rail corridor.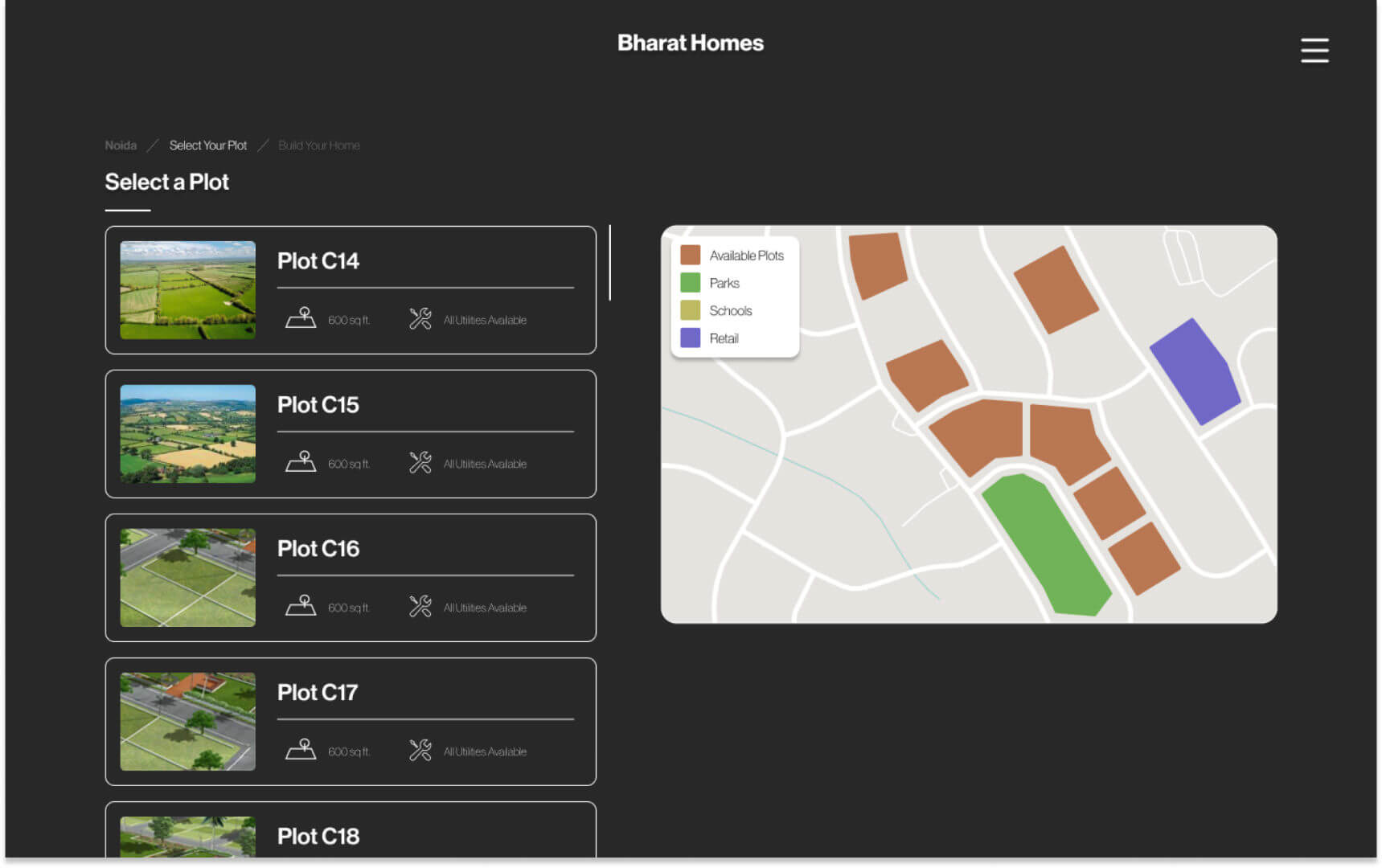 They go through the available plots and choose a corner location that has room to be expanded in the future.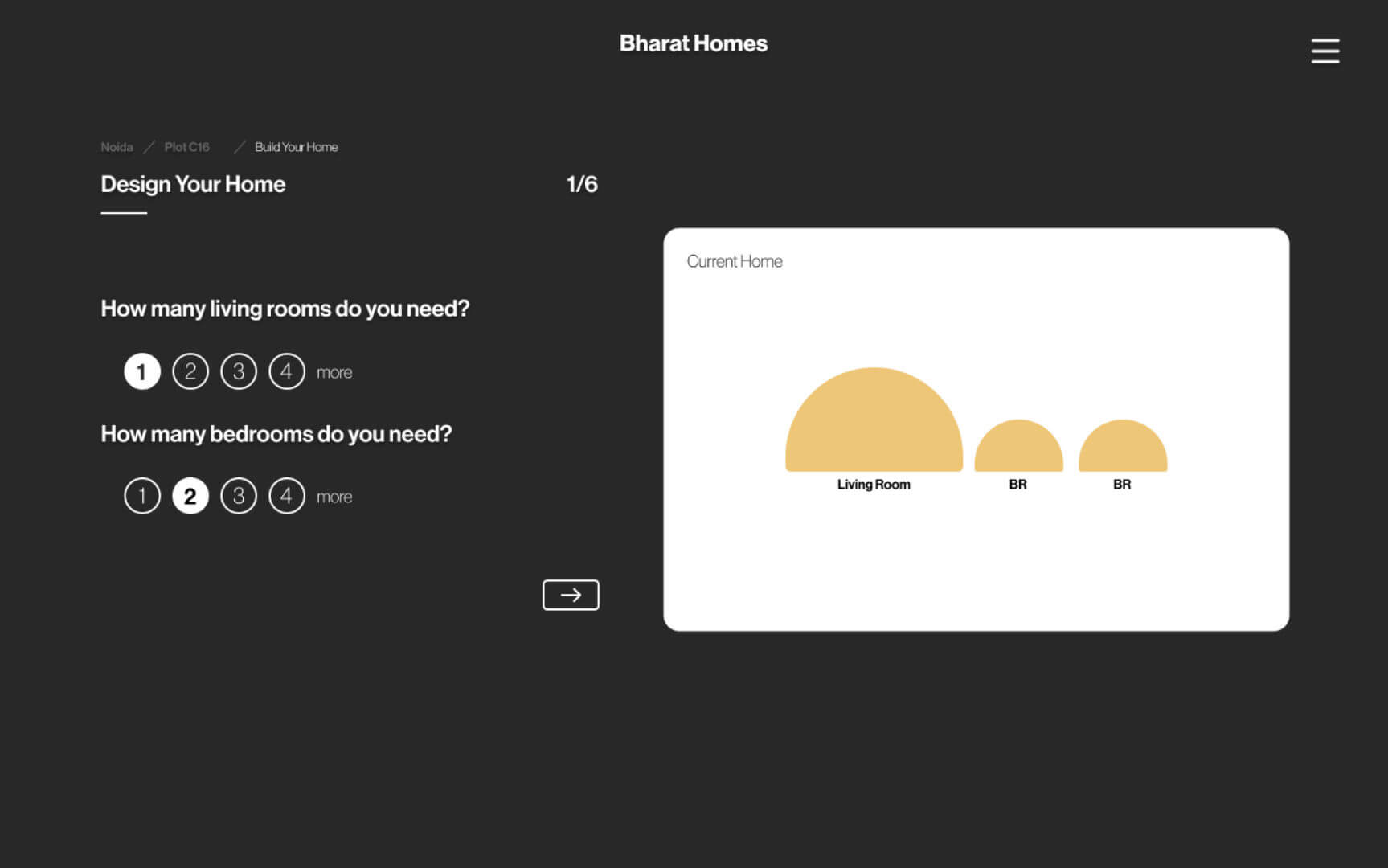 As they don't need much space now, they decide to only build 2 rooms currently.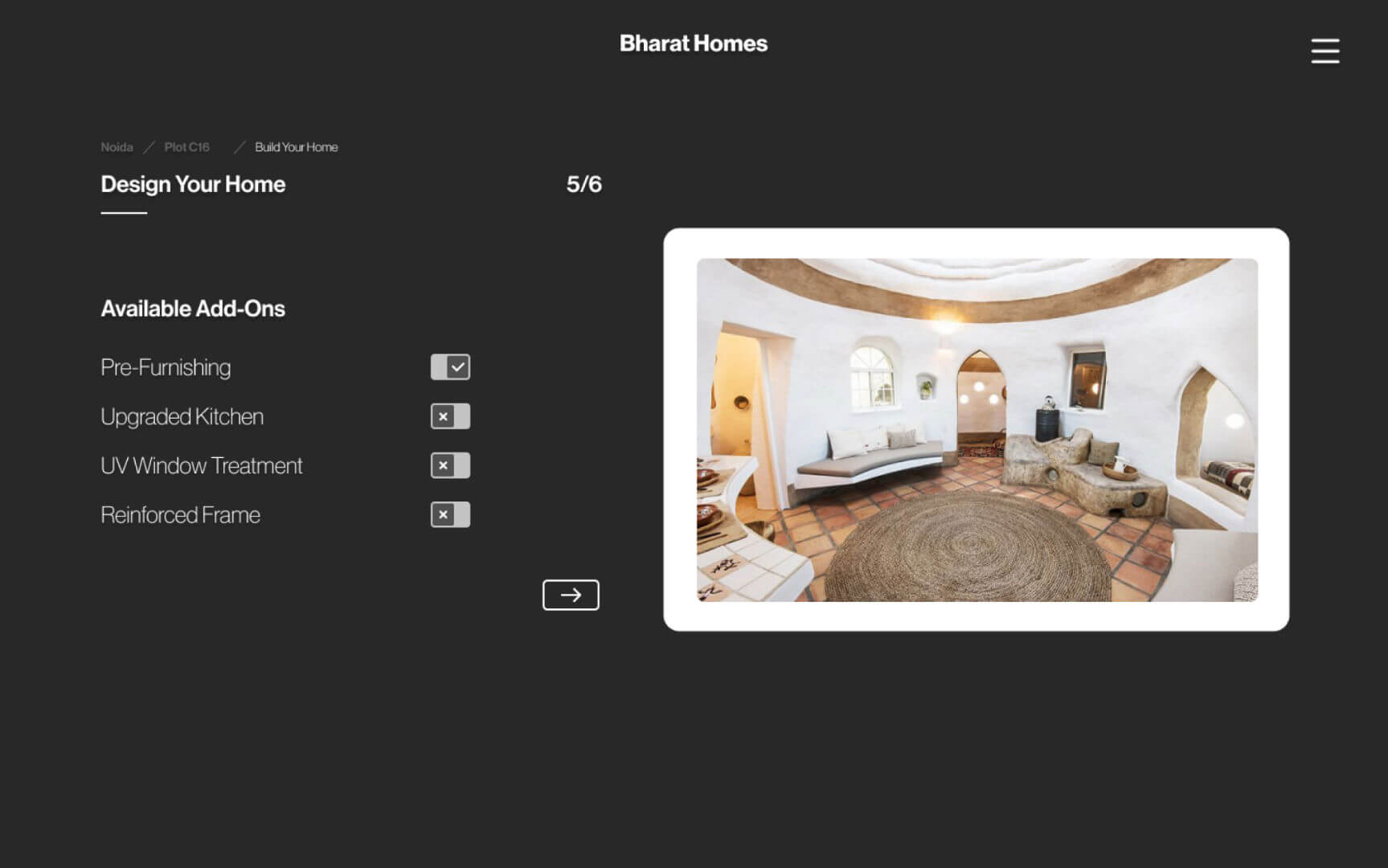 They also add in options including natural ventilation piping (a modern reinterpretation of ancient Persian Wind Catchers) and a reinforced frame.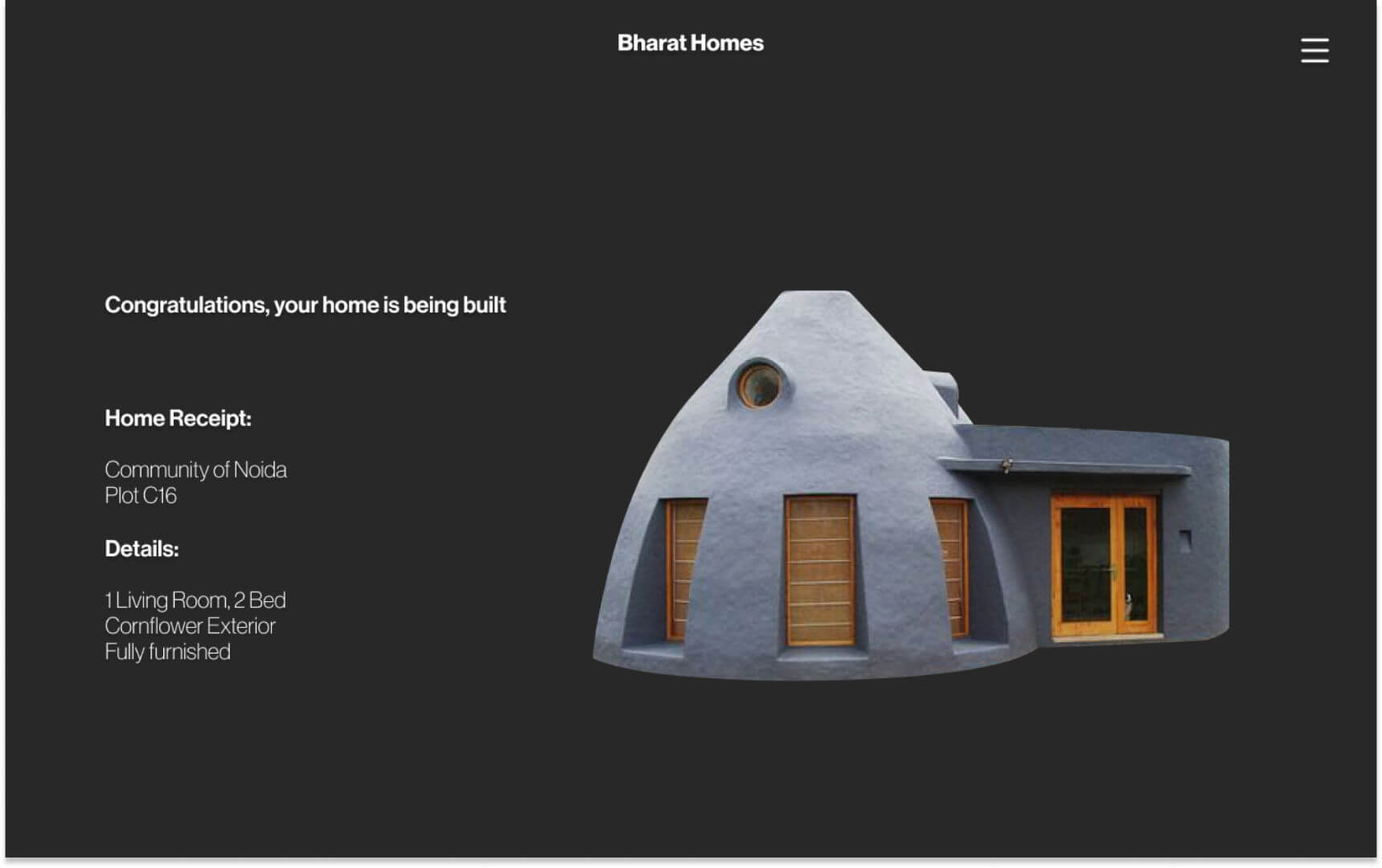 They place their order for their home and choose to pay for it with a new percent-of-income guarantee home buying program.
Takeaways and Next Steps
With more time and iterations our next steps would be to

Explore aspects of semi-autonomous permitting and building

An algorithmic-driven "project management system" that would issue work orders to masses to quickly populate areas.

Explore contexts in vast empty spaces here and on distant planets.

Explore touchpoints with the service after work has been completed and structures moved into.