Contents:
Foreword by Gordon Stott

The Near Future of Living and Working by Julian Scaff

Smart Office by Tobey Karpenko, Huangchen Qi, and Yujia Zhong

Smart Homes by Pengmao Li, Feng Ye, and Jiaying Wang

CalEarth by Dillon Chi, Mehar Nangia, and Mason Noboru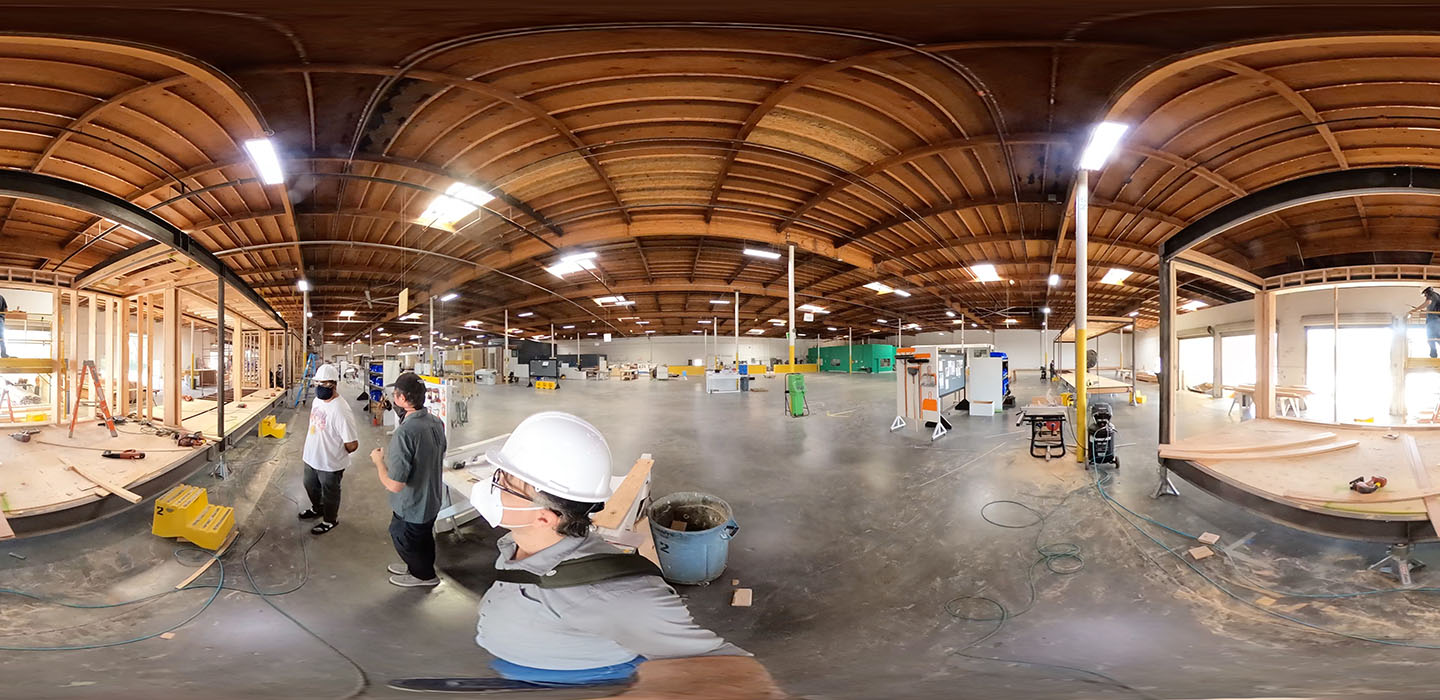 Foreword
by Gordon Stott, Architect & Co-Founder of Connect Homes
It's notable that Professor Julian Scaff chose two such fundamentally different approaches to building construction as case studies for this class.
Superadobe/CalEarth, is an ingenious update to millennia-old construction techniques, empowering the user with an unprecedented level of agency in the construction process – something that's totally out of step with today's highly specialized and regulated age. The high degree of assumed user participation in the process of building a Superadobe structure harkens back to a pre-industrial time, when people were actively involved in the tough work of building of their own homes. The aesthetics and structural behavior of the resulting construction system suggests an almost surreal pairing of indigenous structures and barbed wire – used here as a type of Velcro/rebar between courses of earth bags (resulting in structures that can conform to today's strict earthquake codes). It's remarkable to find a technique that so poetically pairs the iconography of indigenous architecture with barbed wire – the symbol of the settlers domination of the American West. (It's said that Native American cultures sometimes referred to barbed wire as "the devil's rope.")
But symbolism isn't the focus here, experience is. The UX of Superadobe structures includes the siting, design, material production, construction, and usage of the home. It's a total experience, and it's beautiful – straight out of Bernard Rudofsky's 1964 book/MOMA exhibit Architecture Without Architects: A Short Introduction to Non-Pedigreed Architecture. And just as this is an example of "architecture without architects," does it suggest an experience in place of a product and therefore a user experience without conscious UX design?
On the other end of the construction spectrum is the prefab housing company I co-founded, Connect Homes. Our goal is to spare users/clients the unpleasantness and unpredictability of the typical construction process; the user experience of building a house is something that's rarely discussed openly and can end in divorce or financial ruin. By turning architecture and its process into a product, the opportunity emerges to completely disengage from the perils of a terrible user experience: the standard construction process. It's an opportunity for pure UX; swipe right to order your home and have it delivered to site a few days later.
Because the process of home building remains one of the last products/processes to resist true industrialization (nearly all houses are still built on site and not in a factory, after all), and because home design has been under the architect's purview for the last century, it's largely escaped the lens of the UX designer. I hope that classes like IXD Futures change this. And that the work herein helps us think about what experience and UX means in the most important product we ever use: our homes.
So it seems like the end points are set: total experience on one end and total product on the other. Honestly, I don't know which future I'd rather live in? I'm just happy that the questions are being asked by students at Art Center.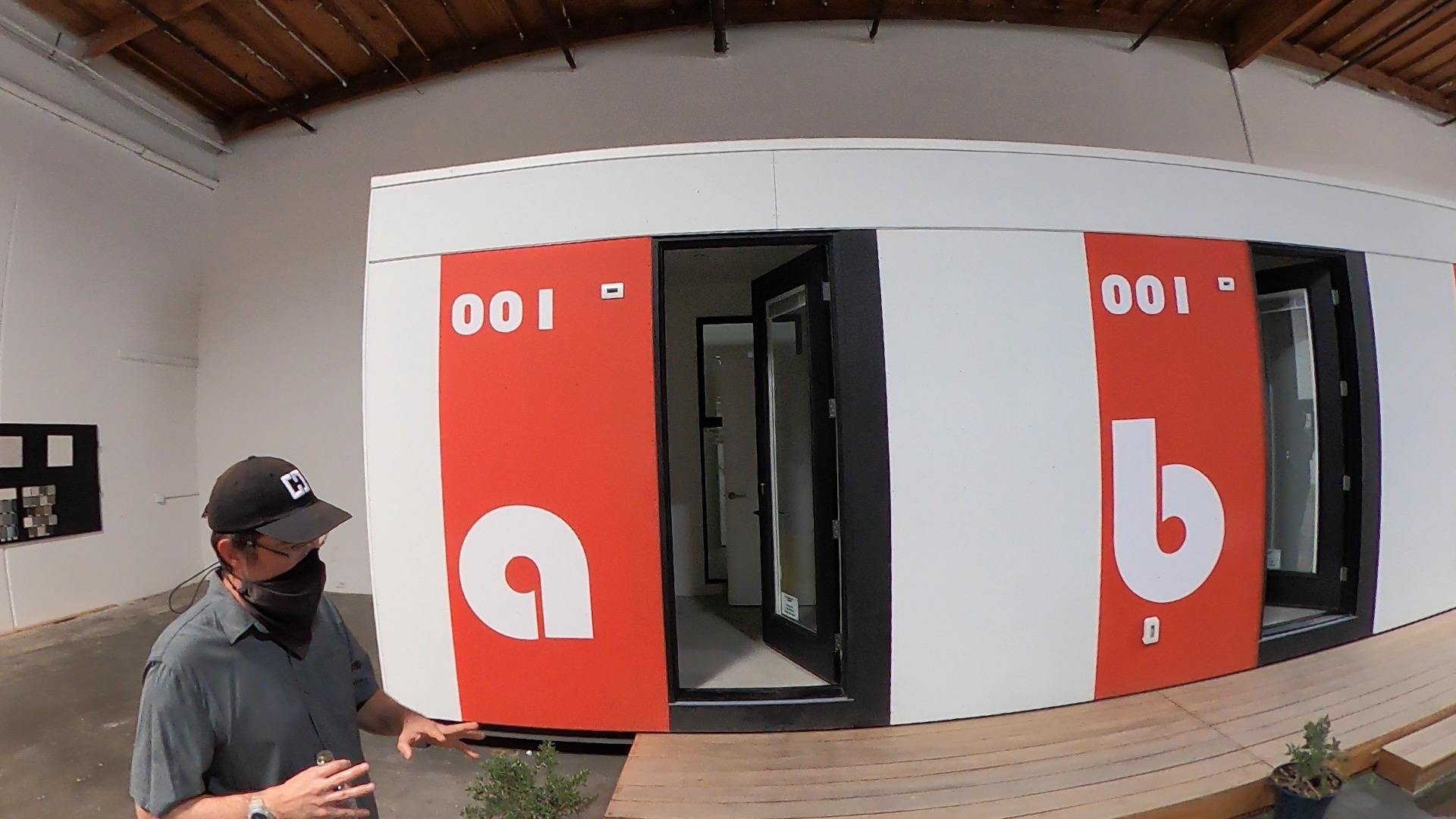 The Near-Future of Living and Working
by Julian Scaff, Associate Professor of Interaction Design at ArtCenter College of Design
The 2021 Intergovernmental Panel on Climate Change Report confirms what we have known for some time: the climate is getting hotter with a litany of catastrophic consequences, and it's caused by human use of fossil fuels. Nearly everything we do and every product we use relies on fossil fuels. Even organic, fair-trade, all-natural products rely on fossil fuels to be transported to customers around the globe.
At the same time, we are witnessing a fundamental shift in our relationship to work and life. Even before the COVID-19 pandemic, workers in the private sector and government service have been increasingly working flex schedules or fully remote, and we've seen the rise of 100% remote workforce with companies such as Automattic.
With old systems failing and an urgent need to address the self-inflicted catastrophe of climate change, there is an opportunity to radically innovate how we do nearly everything in our lives. The focus of the projects in this book center on the human-technology interactions in our physical living and working spaces, in particular solutions that are more sustainable, accessible and inclusive.
We began this project by examining two alternative architectural methods for building sustainable and affordable living and working structures. The first is eco-modular home design and manufacturing by the company Connect Homes, which was co-founded by acclaimed architects Gordon Stott and Jared Levy. This company has "productized" the modern home and based all of their models on standard steel-frame shipping containers. The modules are constructed on an assembly line and shipped to site using freight trucks, resulting in homes that are high quality, extremely energy efficient, and more affordable to build. The homes are designed around the mid-century modern architectural philosophy of simple, rectilinear lines and large windows that emphasize a strong relationship between indoor and outdoor spaces.
The second example we looked at is the Super Adobe method invented by the late visionary architect Nadir Khalili. Super Adobe, still taught by Khalili's non-profit California Institute of Earth Architecture, uses local fill material (dirt, sand or rubble) in long tubular sand bags to build domes and rectangular vaults with arched ceilings. The resulting structures are incredibly durable and energy efficient, and since most materials are sourced on-site, there are massive reductions in material transportation costs and carbon footprint. Super Adobe was originally designed for NASA as a sustainable way to build structures for human habitation on the Earth's moon and on Mars.
Our futures research uncovered some contradictory trends toward, on the one hand, smaller and more efficient living spaces such as the tiny homes movement, and the need to include more functional work and study spaces on the other hand. Various technologies, including AR/VR and AI personal assistants, might offer ways to add digital layers onto our physical spaces that allow more flexibility for small spaces to virtually morph based on the desired function.
Dillon Chi, Mehar Nangia, and Mason Noboru explored solutions for Super Adobe domes, including digital tools that could help people find land and plan their dome home or community project. Pengmao Li, Jiaying Wang, and Feng Ye examined solutions for Connect Homes structures that would enable people to efficiently live and work in the same spaces while reducing energy and resource usage and improving mental and physical health. Tobey Karpenko, Yujia Zhong, and Huangchen Qi took on the future of working spaces that address issues of sustainability, accessibility, collaboration, and human connection.
Our approach to this topic is a hybrid of several methodologies: Environmental Scanning and Trends Analysis to form a foundation of understanding; Delphi Method to ideate eventual outcomes of current trends; using trends data to create Future Proto-Personas (archetypes of people living in the future), and Causal Layered Analysis to map future phenomena and their underlying causes. At that point, we shifted into an iterative design process broken down into three sprints to visualize the various products, services, interaction patterns and use cases.
This decade, millions of new homes will need to be built around the world, to house more people as populations continue to rise, and to replace old housing that is outdated or destroyed by the effects of climate change. Many coastal cities will need to depopulate due to increased storm events and sea level rise. Millions of climate refugees will need to build new towns and cities in safer locations. We have a tremendous opportunity to build healthier and more sustainable housing and work spaces, with more humane technologies.
Our high level takeaways are that we have an immense need to build living and working spaces that are more sustainable, more durable, healthier and more usable. Designers, engineers and scientists of all disciplines need to collaborate more to design solutions. And designers need to incorporate various methods of futurecasting in their design processes in order to create solutions that are resilient and future-proof. The world has changed radically over the last decade, and it will change even more over this one. The need for future-forward human-centered design has never been greater.